Stephen Curry May Have Finally Found His New Klay Thompson at the Perfect Time
Stephen Curry, Andrew Wiggins, and the Golden State Warriors are ready for redemption.
Although injuries decimated the Warriors once again, the one-time Western Conference powerhouse never backed down. As Curry and teammates prepare for the NBA Play-In Tournament, they should be grateful for Wiggins' presence, especially during a season in which Klay Thompson never played.
Stephen Curry and the Warriors are ready for a playoff run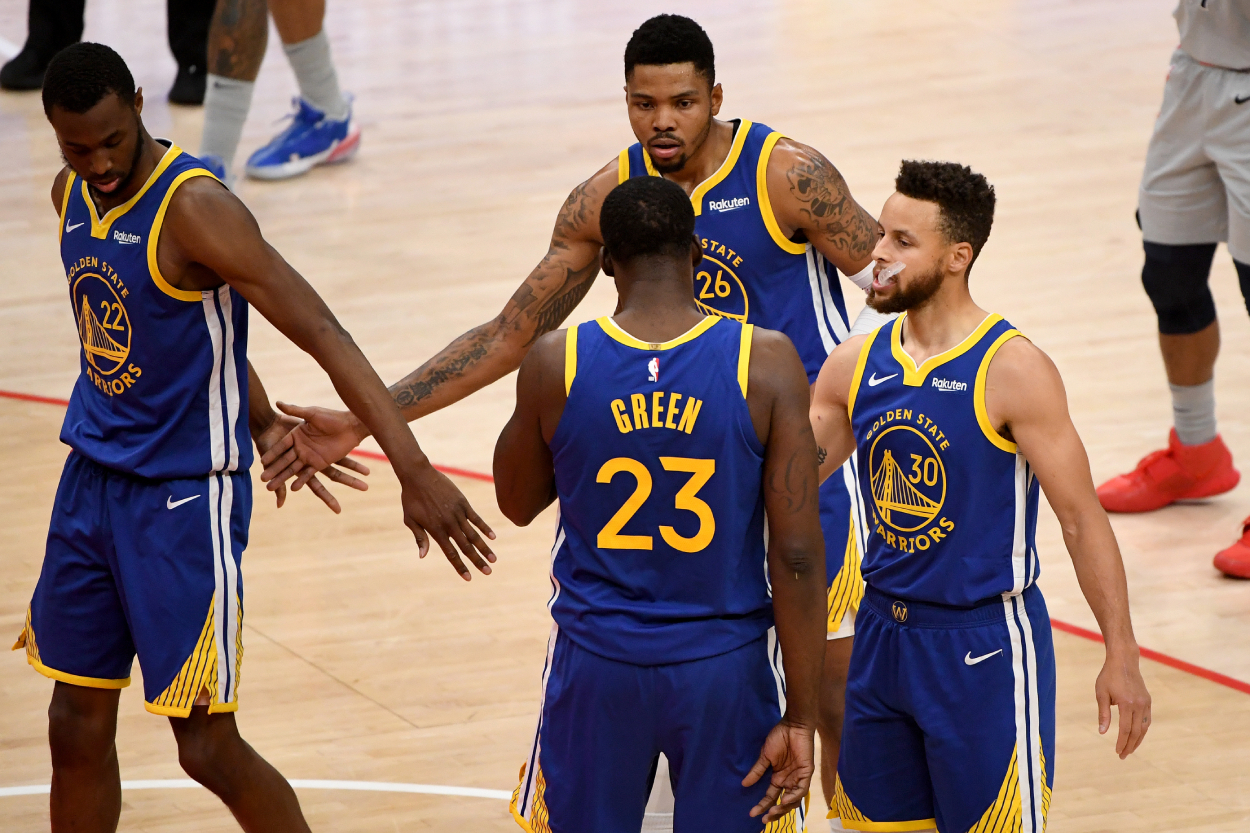 Less than two years ago, the trio of Kevin Durant, Klay Thompson, and Stephen Curry appeared ready to keep the Golden State Warriors' dynasty alive.
Then, everything changed in the 2019 NBA Finals. Thompson tore his ACL, Durant struggled to stay healthy, and the Toronto Raptors won the championship in six games. Durant soon left for the Brooklyn Nets, and Thompson still hasn't made it back to the court.
After their dismal 2019-20 campaign ended early and mercifully because of the coronavirus pandemic, Curry and teammates made the most of this season. The legendary sharpshooter scored an NBA-high 32 points per game and drilled 337 3-pointers.
Andrew Wiggins and Kelly Oubre Jr., two previous first-round picks elsewhere, started a combined 121 games and provided a significant boost in the rotation. Golden State finished 39-33 and will face LeBron James and the LA Lakers to start the play-in tournament.
Andrew Wiggins played a major role in the Warriors' revival
Curry turned 33 in March, and he's still among the league's most explosive players. The three-time champion has an excellent chance of winning his third NBA MVP Award after another historic season.
With Curry naturally getting the attention, it can be easy to forget about Wiggins. The 2014 No. 1 overall pick averaged 18.6 points and 4.9 rebounds in 71 regular-season games.
Although he'd averaged over 20 points per game in three of his first six seasons, Wiggins made a career-high 47.7% of his shots this year. He also drilled an even 38% of his 3-point attempts.
Wiggins may have a bright future with the Warriors
As things currently stand, Curry will become an unrestricted free agent after the 2021-22 season. If the Warriors don't win the Finals this year, next season might be their last opportunity to win a championship with the current core.
Wiggins appears to have earned a place in the Warriors' future plans. According to NBC Sports, Warriors coach Steve Kerr recently expressed excitement about having Thompson and Wiggins on the same court next year. Thompson tore his Achilles' tendon last fall and is expected to return at some point next season.
Kerr said he believes Wiggins has filled the No. 2 role behind Curry. Thompson held that role before the injuries hit.
"So what I love to think about is next year, having both guys in that role, two guys you can count on to be there night in and night out, because I think that's what's going to be the case with Klay. So, we start thinking about that; it gets pretty exciting. But we gotta take care of this year first."

Steve Kerr
The No. 8 Warriors face the No. 7 Lakers in Game 4 of the play-in tournament on Wednesday, May 19. The winner of that game will advance to the playoffs, while the loser has to face the winner of Game 3, a matchup between the No. 9 Memphis Grizzlies and No. 10 San Antonio Spurs.
Like Sportscasting on Facebook. Follow us on Twitter @sportscasting19.