Stephen Curry May Be 'the Baby-Faced Assassin,' but He Still Feels Insecure on the Court: 'I Get Nervous Right Before Training Camp Starts'
Stephen Curry is poised to begin his 13th season in the NBA. In the previous 12, the Golden State Warriors star has managed to win three championships, two MVP awards, and two scoring titles. He's also likely to leave the league as the greatest three-point shooter in basketball history.
Curry recently revealed how he manages the two biggest emotions that control him. One is the confidence and killer instinct that makes him great. The other, however, is insecurity that you might not expect to see in a future Hall of Famer.
Stephen Curry plays with a killer instinct
At 33 years old, Curry has had a tremendous career with more to come. Aside from the overarching accolades, Steph has had numerous game-winners and signature moments throughout his Warriors tenure.
In a conversation with The Athletic, Curry was asked about those big moments. When he is shimmying after a huge three or dancing his way to the bench, what goes on in his head?
"One, I've always had a kind of quiet killer instinct," Curry said. "Kob [Kobe Bryant] did an interview one time that was one of my favorite kind of comments about me, in terms of how he saw, like, that killer instinct behind the smile. I can have fun and have joy, but I'm out there to rip your heart out. It's just a different way that it looks."
A lot of work goes into building up Steph's disguised ferocity. But his confidence persists because of how much work he is putting in on a daily basis.
"So there's a confidence, no matter what situation you are [in], that I have the ability and the skill set to win any game, any night," he continued. "That's something that's only built on the shoulders of the work you put in. Not to be clichéd, but that's really how I gain that confidence and maintain that from year after year."
Curry also battles insecurity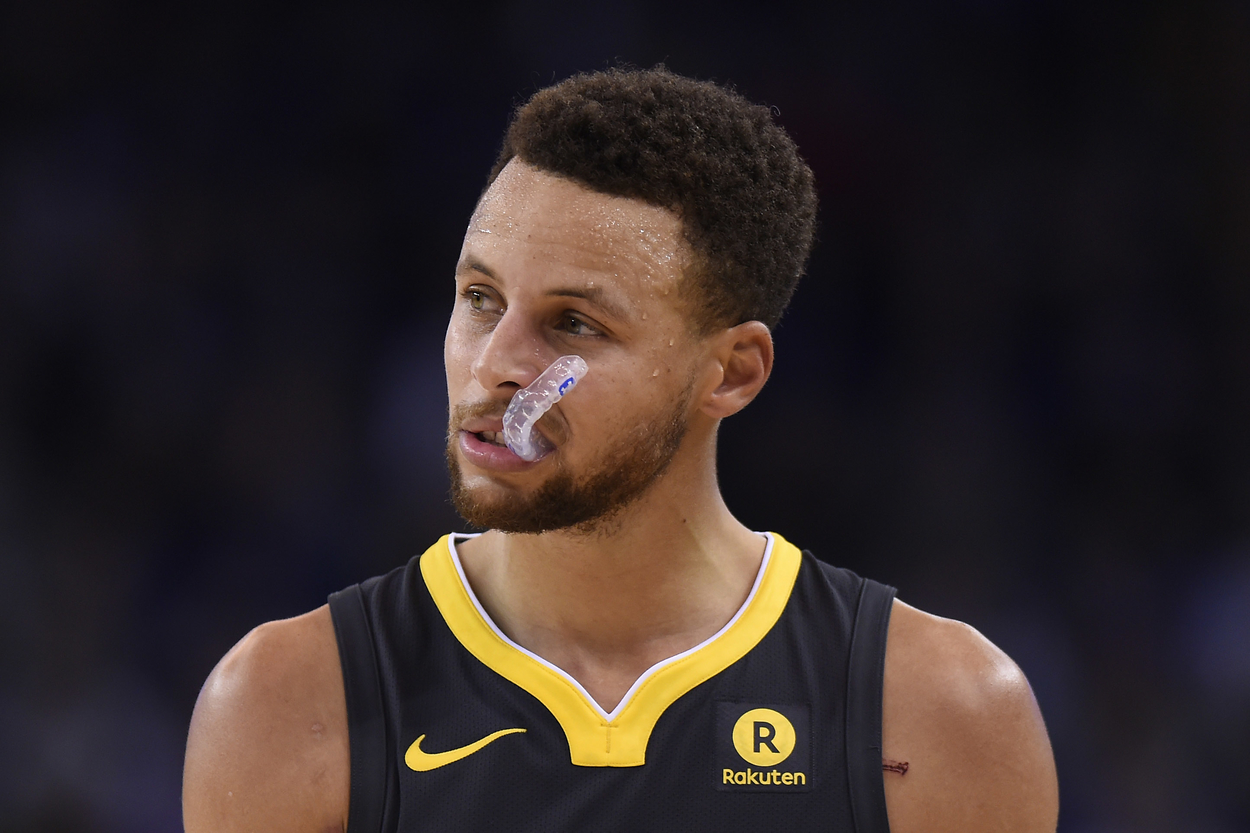 You wouldn't know it watching Curry play, particularly when it seems every shot he takes goes through the bottom of the net. But Steph said that as much as he has a quiet killer instinct, there's a quiet insecurity that's just as strong (h/t: The Athletic).
"But the second part is that there's also this quiet insecurity at the same time, that when you come to a training camp, that you've got to prove it all over again. There's something to that. I get nervous right before training camp starts. There's this, again, I call it an insecurity, throughout your summer workouts, where I really have to be intentional about what I'm doing, what I'm working on, what my mentals are like going into a season. Because there's no guarantee that what I've done before is just going to show up."

Stephen Curry
Curry's confidence and insecurity force the seven-time All-Star to create a balancing act in his brain.
"And so I have a fine balance between those two emotions," Curry said. "And it's always like a back and forth game. Because I know if I step on the floor, I've got this confidence, but it's built on the work. But if I don't have the insecurity about what the work means for what I'm doing on the court, then it doesn't work. So that's really my way of thinking and a way of summarizing all the different emotions."
Steph Curry has balanced those two emotions to produce an elite NBA career
The two competing emotions have been prevalent for Curry's entire career. He's even likened them to an angel on one shoulder and a demon on another, with special celebrities playing each role.
"Kevin Hart would be, like, the insecure side — like, 'Man, you ain't nothing. Ah, man, you're not gonna do nothing,'" Curry said. "Just ragging on you the whole time. It probably would be Kobe's voice on the other side, like that killer instinct, that you're ready for pretty much any situation, knowing who you are."
With Kobe Bryant and Kevin Hart on his shoulders, Curry has been able to lift an entire franchise. The Baby-Faced Assassin went from being a skinny kid from Davidson with a potent jump shot to a three-time champion spearheading a Golden State Warriors dynasty. In addition, his jump shot should make history later this year, as Curry needs 142 three-pointers to pass Ray Allen as the all-time leader. For context, Steph made 337 threes last season, leading the NBA for the sixth time.
This season, Curry is sure to hit countless jaw-dropping shots with a smile. And perhaps he still has another championship run or two with the Warriors in him. But no matter what, expect the confidence and insecurity inside of him to never go away.
All statistics courtesy of Basketball Reference.
RELATED: Steph Curry Said Draymond Green Is the Smartest Player He's Ever Played With: 'He's a Master'