Stephen Curry Committed 13 Turnovers in His First Collegiate Game … and Then Dropped 30 Points in His Second
At this point in his career, Stephen Curry is known as a two-time MVP (possibly three after this season) and three-time NBA champion. He's been the leader of a Golden State Warriors dynasty.
But before he became the steal of the 2009 NBA draft, Steph became an NCAA Tournament darling with Davidson College, carrying them to Elite Eight.
But he wasn't highly-recruited and ended up at the small North Carolina school as a slight guard who could shoot (obviously). And Steph wasn't Steph as an 18-year-old college freshman.
Steph Curry became an NCAA legend at Davidson
Curry stayed in state and played three seasons for the Wildcats. He averaged 21.5 points and shot 40.8% from three on 8.8 attempts as a freshman. Those numbers upped to 25.9, 43.9%, and 10.3 his sophomore season, respectively, according to Sports Reference.
Then Steph broke out as a junior. During the regular season, he scored nearly 29 points a game and expanded his arsenal, attempting a career-high in 2-pointers and free throws.
Then he exploded onto the national scene during the 2008 NCAA Tournament.
Davidson was a 10 seed and beat No. 7 Gonzaga in the opening round. Curry had 40 points, 30 of which came in the second half.
The Wildcats upset second-seeded Georgetown in round two, and Steph had 30.
Then the team went into halftime of a Sweet 16 game tied with Wisconsin, who, according to NCAA.com, led the country in scoring defense that year, allowing only 53 points per game. Steph didn't mind — Davidson outscored the Badgers by 17 in the second half, and Curry had 33 points in the win, with LeBron James sitting courtside.
The Cinderella story ended with a 59-57 loss to No. 1 seed Kansas. Curry entered the draft where he was selected at No. 6 by the Warriors.
It ended well, but things at Davidson didn't begin the way anyone would've wanted or expected.
Curry had 13 turnovers in his first collegiate game, but bounced back quickly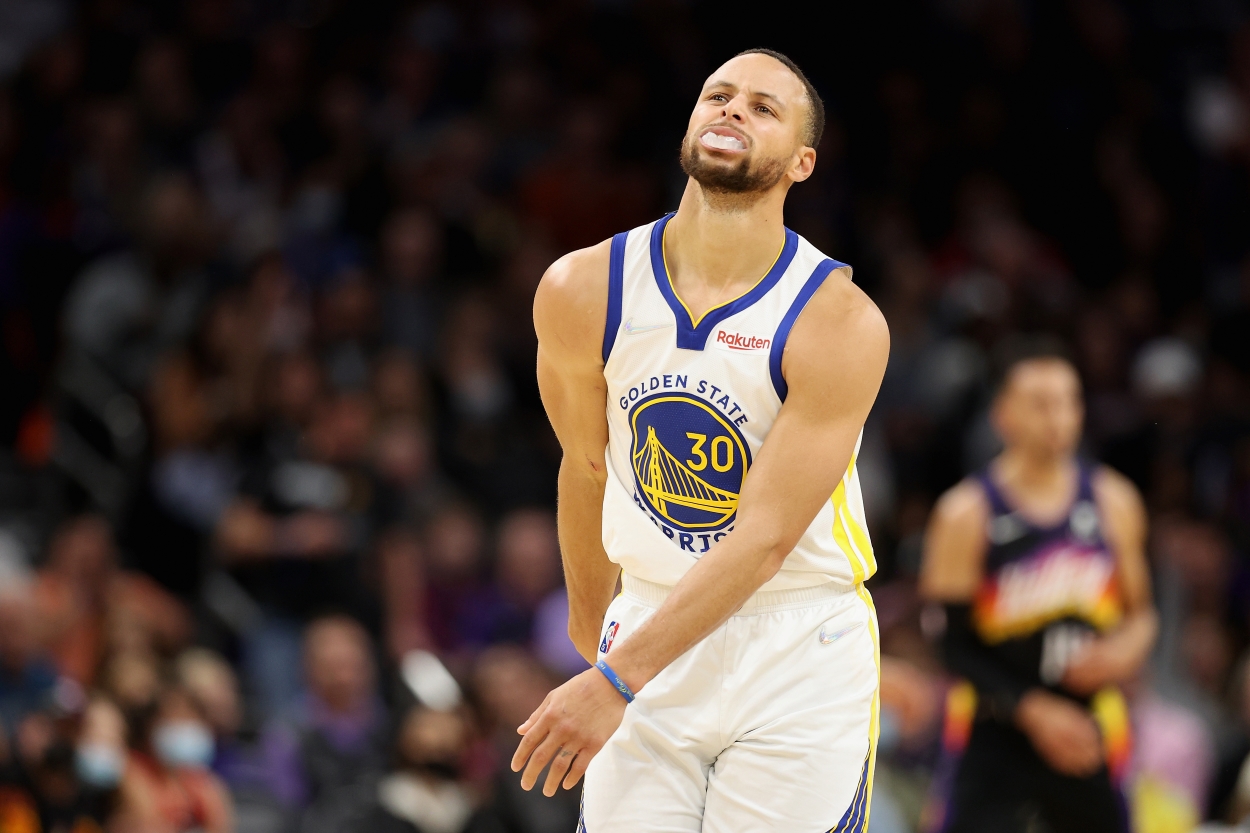 Bob McKillop was a long-time coach at Davidson and was at the helm when Steph took the Elite Eight in 2008.
McKillop told the story of Curry's first two games as a freshman — one where he had 13 turnovers (nine in the first 20 minutes of his career) to ESPN:
We played Eastern Michigan in his first college game. He has nine turnovers in the first half and we're down 18 points and he wasn't even playing the point guard. So I reflected back with our coaching staff at halftime and said, 'Should we take him out of the lineup?'

And then we just said, 'Well, he lives in the moment, he's going to come back in the second half.' And he wound up getting 15 and 13, I think. 15 points, 13 turnovers.

Not the kind of double double you want.

Davidson head coach Bob McKillop on Steph Curry's first college game
But McKillop continued with his story:
"The next night he dropped 30 on Michigan."
Steph scored 32 in that win over the Wolverines and added nine rebounds via ESPN. "The 6-foot-1 freshman went 6-for-13 to score 17 first-half points and was 4-for-9 in 3-pointers," the game recap stated.
And we were off and running.
The former Wildcat has become the greatest shooter in NBA history
The Baby-Faced Assassin is 10 3-pointers away from breaking Ray Allen's all-time NBA mark in 3-pointers made going into Golden State's Dec. 11 game against Philly.
No one would've been shocked if he had broken the record on Dec. 8 when he needed 16 threes.
Steph will also eventually become the league's all-time leader in attempts but sits seventh in 3-point shooting percentage as well. He's going to take and make more threes than anyone in NBA history.
And by the time he retires, there's a good chance those records are all untouchable.
Curry eventually changed the way the game of basketball is played entirely. He proved that even us "normal" human beings could score (granted, not the way he can. We're not worthy. But still).
And he even started like all the rest of us — with 13 turnovers in an NCAA Division 1 game.
Although I'm willing to bet most of us wouldn't have dropped 30 on Michigan.