Stephen Curry's Reported Connection Could Help an Underrated NBA Guard Become a Big-Time Talent: 'He Thinks That Kid Is Going to Be a Flat-out Star'
Some NBA stars' opinions carry a lot of weight; when they speak, we should all listen. 
Stephen Curry's success with the Golden State Warriors has turned him into one of those stars.
Curry has become one of the greatest guards in NBA history, which means we should take anything he says about the game seriously. And apparently, the Warriors legend has been enamored with the play of a young guard. According to a recent report, Curry loves how Cleveland Cavaliers star Darius Garland plays the game and even supposedly reached out to him.
Obviously, having someone like Curry impressed with you is big, but a connection with the two-time MVP could also pay off big-time for Garland's career.
Warriors superstar Stephen Curry reportedly loves Cavs guard Darius Garland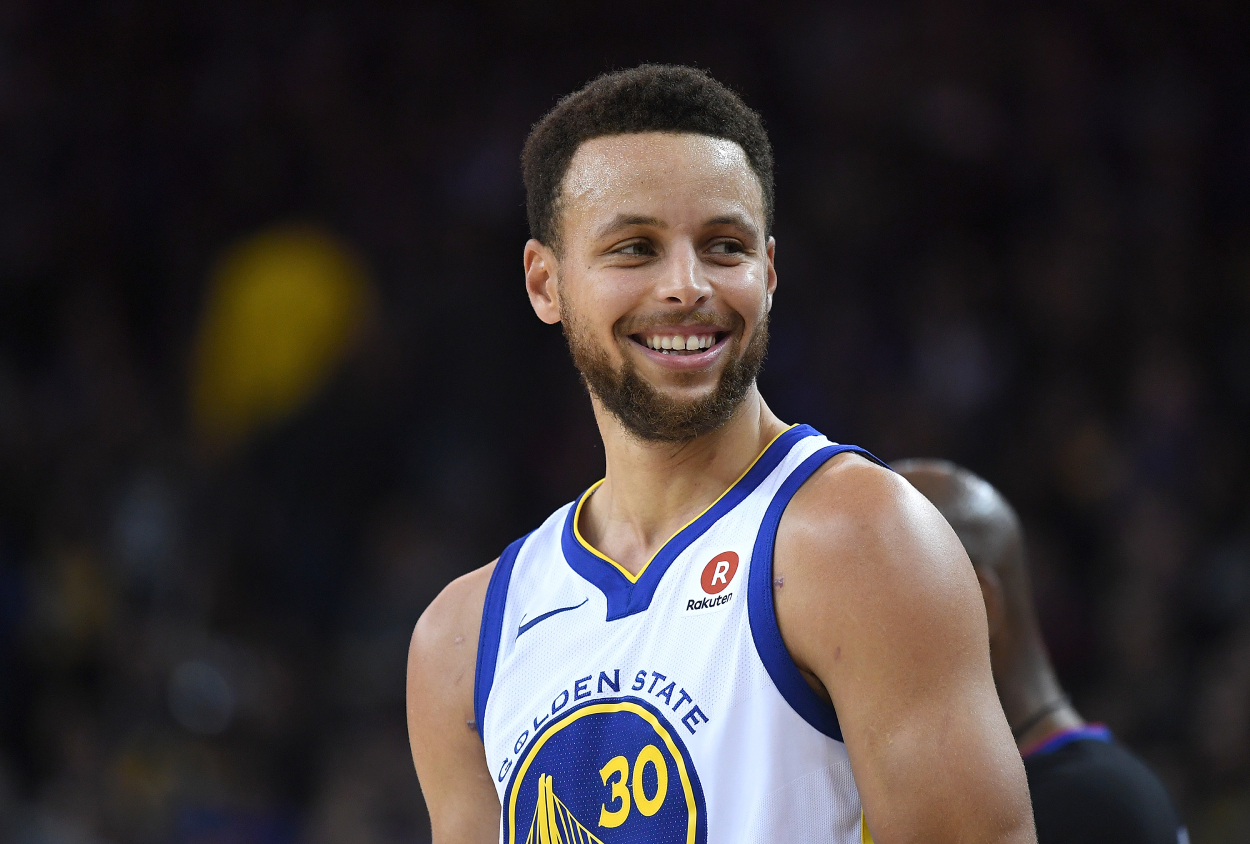 Longtime NBA reporter Jackie MacMullan recently appeared on The Bill Simmons Podcast, and she revealed the news that Curry apparently loves Garland's game.
In response to Simmons saying he and ESPN reporter Zach Lowe both "secretly love the Cavs," MacMullan discussed an interesting conversation she had with Curry.
"I talked to Steph Curry a couple of weeks ago for something I'm doing for The Ringer … and I was asking him about young players that he may have reached out to. And guess who he said: Darius Garland," MacMullan said on the Sept. 22 episode. "… He loves Darius Garland a lot. A lot, a lot, a lot. He thinks that kid is going to be a flat-out star."
Obviously, MacMullan didn't expand on the extent of Curry's interaction with Garland. It could have just been a quick message. But if Steph establishes any kind of relationship with the young guard — who has been somewhat underrated given that he plays in Cleveland — it could pay off big time for the Cavs star.
Darius Garland improved in 2020-21 for the Cleveland Cavaliers
The Cavs selected Garland with the No. 5 overall pick in the 2019 NBA Draft out of Vanderbilt after he only played in five total games at Vandy due to injury. He averaged 16.2 points in those contests while shooting 47.8% from 3-point range.
Garland then had a nice rookie year with the Cavs, but it took some time for him to get accustomed to the NBA.
Through his first 28 games, he averaged just 10.9 points and 3.1 assists on an abysmal 38.2% shooting. In his final 31 of the season that was cut short due to COVID-19, though, Garland recorded 13.6 points and 4.6 assists per game, and he improved his shooting percentage to 41.5%. His final rookie averages were: 12.3 points, 3.9 assists, and a 40.1% shooting percentage.
In his second year, however, Garland's game took a giant leap. He averaged 17.4 points and 6.1 assists with Cleveland, proving to be the facilitator between him and his fellow young Cavs guard Collin Sexton. Garland also shot 45.1% from the field and improved his 3-point shooting from 35.5% to 39.5%.
All in all, the former Vandy star proved why there's a lot to be excited about with his game. And he can improve even more if he and Stephen Curry form some sort of relationship.
Stephen Curry can help the Cavs guard become a big-time star
If Curry's knowledge about being a successful guard can rub off onto Garland at all, we may just have a new star on our hands.
Similar to Garland, Curry himself improved tremendously over his first few seasons. After averaging 17.5 points and 5.8 assists through his first three years (he only played in 26 games during his third season), Curry became one of the best players in the league in 2012-13. The No. 7 overall pick in 2009 averaged 22.9 points and 6.9 assists that year. He also increased his 3-point attempts from under 5.0 per game to over 7.5. Curry hasn't shot fewer than 7.7 long-range shots per game since then, either.
The Warriors legend has become a seven-time All-Star, two-time NBA MVP, and a three-time NBA champion. He has also led the league in scoring twice, averaging 32.0 points last season, and he is second in NBA history in 3-pointers made with 2,832.
No, Garland likely won't become a player like Curry. But if they form a strong relationship and the young hooper can soak up any of Steph's basketball greatness, he can, as MacMullan said, become "a flat-out star."
Stats courtesy of Basketball Reference
RELATED: Stephen Curry Makes Strong Comments About His New but Old Warriors Teammate: 'The Dude's Motivated'