Stephen Curry Should Be Ecstatic His Teammate 'Handled His Responsibilities' As the Golden State Warriors Try to Re-Claim Their Place Atop the NBA
The Golden State Warriors are set to have a breathtakingly interesting season. Stephen Curry led the NBA in scoring last year and nearly dragged his team to a play-in game solo. Klay Thompson is expected to return around Christmas, but he's coming off a torn ACL and Achilles.
Longtime Curry partner Draymond Green is still around but has become somehow even more limited offensively. The rest of the functional roster primarily consists of players with little-to-no NBA experience. (Some of them are literal teenagers).
That's why Andrew Wiggins — the recently vaccinated Andrew Wiggins — is going to be even more critical for Steph and the Dubs.
Andrew Wiggins is now vaccinated and available to play in Warriors home games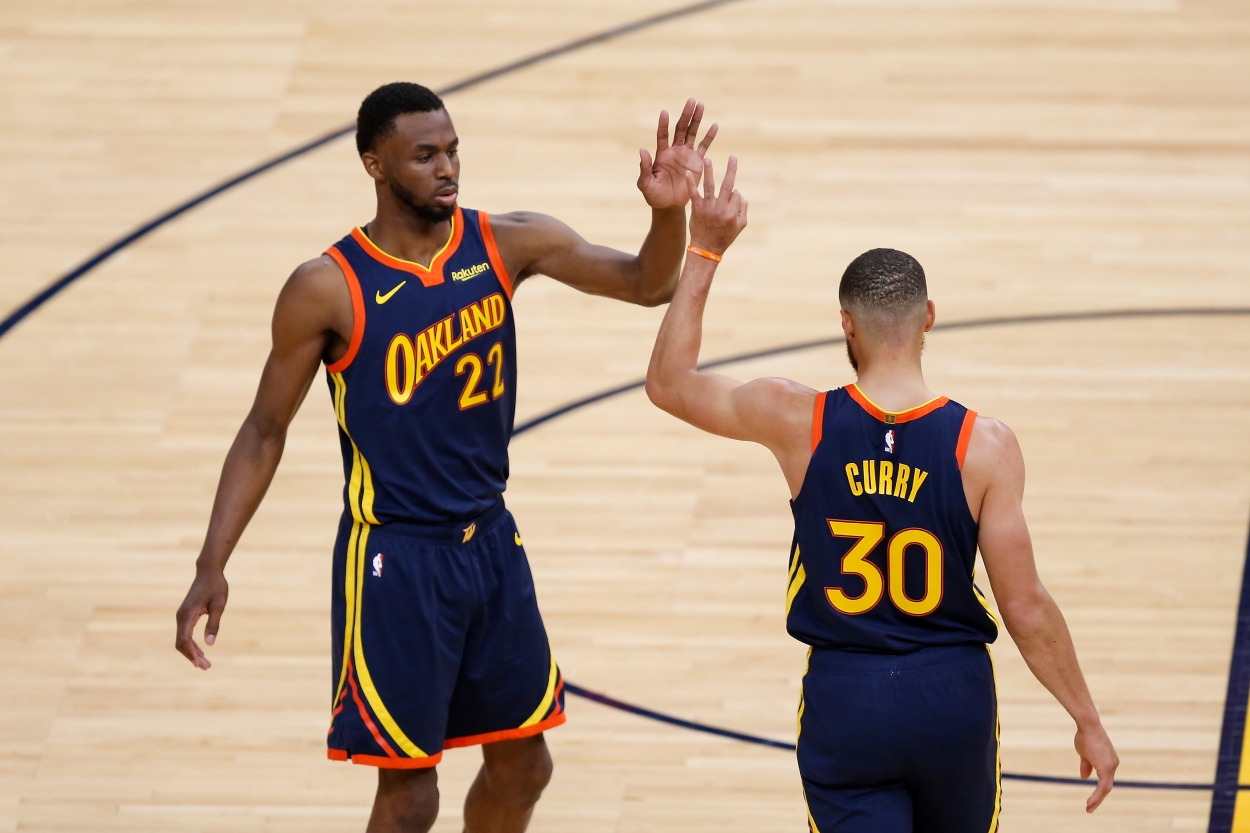 Wiggins was denied a religious exemption for the coronavirus (COVID-19) vaccine. It was unclear whether or not he would soften his stance; if he chose not to receive it, he would have been ineligible to play in Golden State's home games or participate in practices, per San Francisco city mandate.
The former Kansas standout remained private throughout the process — and still is — but he acquiesced, and Curry was thanking his lucky stars, according to NBCSports:
"Obviously, I think it's great that he is going to be available. Whatever process he went through to get to that decision, he'll be able to speak on that. We're excited to have him. I think that was a whole conversation, to begin with. It's a good sign of just handling his responsibilities as a member of the team."

Steph Curry on Wiggins' decision to receive the coronavirus vaccine
Wiggins is now free to join the Warriors, and that's good news for both the team and its star point guard.
Curry and Golden State are desperately going to need Wiggins this season
Wiggins was the No. 1 pick in the 2014 draft. He was selected by the Cleveland Cavaliers, but LeBron James and the Cavs shipped him off to Minnesota in exchange for Kevin Love. LeBron was trying to bring a championship home and had no time or patience to develop a rookie.
The 6-foot-7 wing spent the first four seasons of his career with the Timberwolves before being sent west to Golden State.
Wiggins has been unfairly labeled a bust. He hasn't performed like a No. 1 overall pick is expected to, but he hasn't been a bad NBA player by any means.
The 2014-15 Rookie of the Year has career averages of 19.5 points, 4.4 rebounds, and 2.3 assists. He's never been a great outside shooter, although he did hit 38.0% of his threes last season next to Curry. Wiggins is an above average league starter. That may not sound like much, but the Warriors could use some of those at the moment.
Wiggs is durable, having started every game he's played in during his NBA career. He started 71 times last year in Golden State and has only played fewer games in two of his six seasons. Steph and Co. can count on Wiggins to be in the lineup every night.
Thompson is out and will need to shake off some rust when he returns in another few months. The other options on the wing for the Warriors are 37-year-old Andre Iguodala, journeyman Otto Porter, and 19-year-old rookies Moses Moody and Jonathan Kuminga.
A steady hand — even an unspectacular hand like Wiggins — will work.
The Warriors are trying to re-claim their spot atop the NBA's perch in 2021-22
Golden State's two-time MVP is 32 years old. He hasn't started to slow down yet, but there's urgency within the organization to get back in title contention right now.
With Wiggins' playing status clarified, all the Warriors need to worry about is getting Thompson healthy. And Green's offensive game. And developing a couple teenagers. And incorporating new rotation players. And returning to the playoffs.
If they check those boxes, Curry and Golden State can worry about trying to re-claim their championship status.
All statistics courtesy of Basketball Reference.
RELATED: Jonathan Kuminga's and Moses Moody's Summer League Performances Are Good Signs for the Golden State Warriors