Stephen A. Smith Ridiculously Throws Stephen Curry Under the Bus for Kevin Durant-Draymond Green Squabble
ESPN talking head Stephen A. Smith can take off on some tangents sometimes. But he may have outdone himself with his latest move. In the wake of a frank conversation between Kevin Durant and Draymond Green about their infamous meltdown in 2018, Smith heard the discussion, evaluated the evidence, and assigned the blame. It's all on Golden State Warriors star Stephen Curry.
Wait, what? Durant and Green had more than one visible conflict while Durant was with the Warriors from 2016–19. But given the blowup against the Clippers happened during Durant's final season with Golden State meant that KD going to Brooklyn was all Green's fault. From the conversation the pair had to how they played together at the Tokyo Olympics, it's clear the dynamic between them is just fine; thanks for asking.
Kevin Durant and Draymond Green pointed the finger at management
During an appearance on Draymond Green's Chips podcast, Kevin Durant talked about many topics. Durant re-emphasized he'd make the same decision to leave Oklahoma City and go to the Bay Area. Green said he figured Durant would leave Golden State after his second year there in 2017–18. As for how Stephen Curry fits? It is more complicated than it might seem at first glance.
And then they talked about the end of regulation time in an eventual overtime loss to the Los Angeles Clippers. On Nov. 12, 2018, it was a tie game when Lou Williams missed a go-ahead jumper for the Clippers. Green got the rebound, ignored Durant's pleas for the ball, and eventually lost the ball without Golden State getting off a shot.
That triggered a reasonable, rational discussion during the break before overtime. By "reasonable and rational," of course, we mean screaming at each other.
Durant was clear about what he thought about how the handling of the situation. He blamed coach Steve Kerr for trying to gloss over the incident as if it never happened. He was also unhappy with general manager Bob Myers believing a one-game suspension would solve everything.
Neither Green nor Durant is known for hiding their feelings. Get two people like that in a room (or an arena), and sometimes there will be fireworks. But Stephen A. Smith had a different take. It is one of the most ridiculous arguments of Smith's sometimes absurd career. That will become apparent.
Stephen A. Smith calls out Stephen Curry
On ESPN's First Take the day after the Kevin Durant-Draymond Green interview, Stephen A. Smith found the culprit. It was Stephen Curry.
"With all due respect, where was Steph Curry, the Baby-Faced Assassin, the greatest shooter that God has ever created, the clear absolute superstar player for this team, the face of the franchise? Where was he at in all of this? I found it very, very conspicuous that Kevin Durant and Draymond Green never mentioned his name, not one time."

Stephen A. Smith
In the video of the incident, DeMarcus Cousins takes Green aside. Andre Iguodala does the same with Durant. Nowhere is Curry seen.
In the wake of the argument, Curry may have played a role in mediating the tension between Durant and Green. We don't know that because those interactions aren't on camera. On the podcast, neither Durant nor Green talked about how the rest of the team handled the situation. Their focus was on how management mishandled it.
But there is a more fundamental reason Stephen Curry might have been hesitant to jump in.
Stephen Curry wasn't even there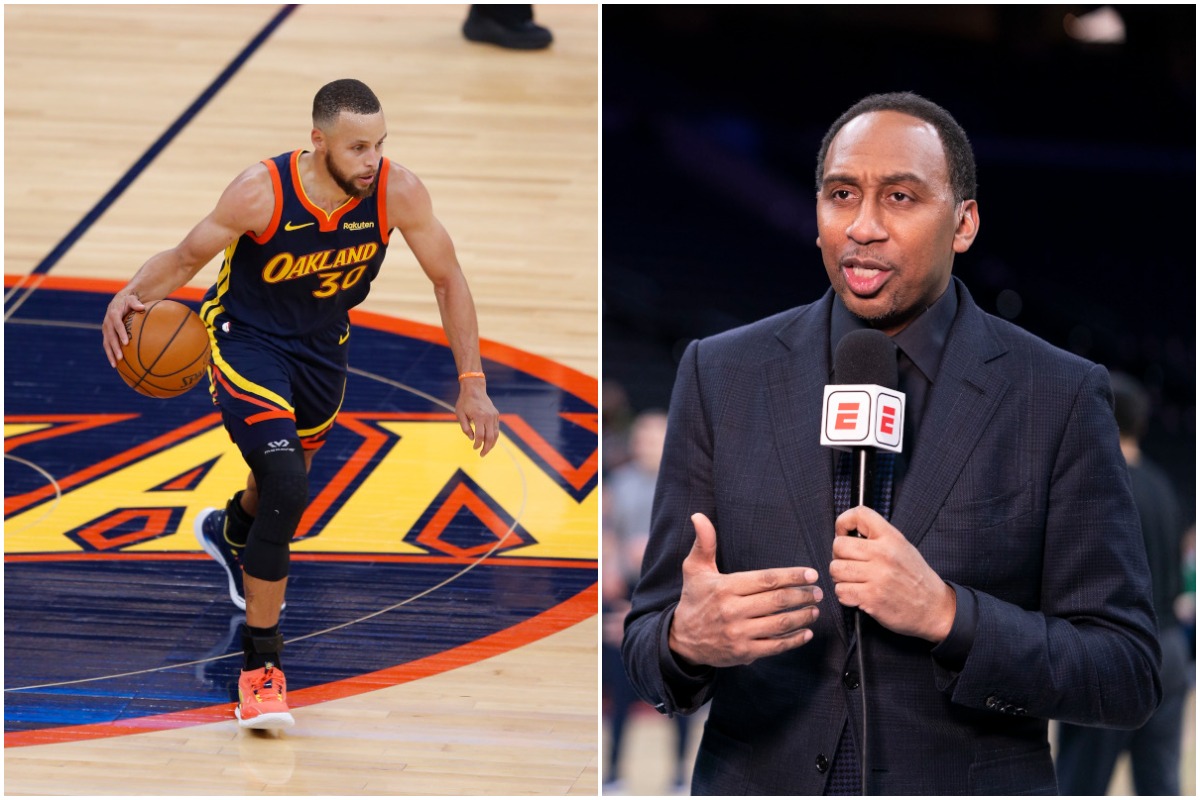 In watching the Warriors-Clippers video, one thing was — to borrow Stephen A. Smith's phrase — very, very conspicuous. Stephen Curry was very, very conspicuously not even there.
Curry did not play in the overtime loss to the Clippers. It was the second of 11 straight games he missed in November 2018. He left a loss at Milwaukee with a groin injury on Nov. 8. Curry didn't play again until Dec. 1.
But more to the point is where Curry was, or was not, on Nov. 12, 2018.
The Warriors went to LA for a one-game trip before returning home to play the next night. Curry was not active for the game, the same as he was inactive two nights earlier. He stayed home to rehab and waited for the team to return for the second game of the back-to-back at home against the Hawks.
One would have to agree that it's challenging to intervene in an argument between Kevin Durant and Green in LA while Stephen Curry is more than 350 miles away.
Stephen A. Smith needs to fill a lot of time on his show. Sometimes he swings and misses. But blaming a guy who wasn't present? That's an ice-cold hot take.
Like Sportscasting on Facebook. Follow us on Twitter @sportscasting19.