Stephen Curry's Golden State Warriors May Add a Retired Guard Who Hasn't Played in Over 2 Years to Help Bolster Their Bench
Golden State Warriors star Stephen Curry should finally have his brother back in 2021-22 — his Splash Brother, Klay Thompson — as the latter will likely make his way back to the floor this upcoming season. But Thompson's return doesn't just mean that one of the league's greatest players will be on court again after a two-year injury absence. It also raises the Warriors' expectations for this upcoming season and could potentially help them contend for a title.
However, if Golden State hopes to vie for a championship in 2021-22, it needs solid role players who can be productive when the stars need a rest. And it appears that's exactly what the team is currently looking to add.
According to a recent report, the Warriors could bolster their bench by signing a guard who, like Thompson, hasn't played in two years but can still give them a strong ball-handler and can score when called upon: Darren Collison.
Darren Collison was a solid point guard before retiring in 2019
Darren Collison was a first-round pick in 2009, and he eventually proved to be a solid point guard for several NBA teams.
After earning All-Rookie honors in 2009-10 with 12.4 points and 5.7 assists per game on the New Orleans Hornets, Collison averaged 11.9 points and 5.0 assists in two seasons with the Indiana Pacers between 2010-11 and 2011-12. He then played a season each with the Dallas Mavericks and Los Angeles Clippers the next two years before having his best campaigns with the Sacramento Kings.
Collison averaged a career-high 16.1 points to go with 5.6 assists in 2014-15 with the Kings and then continued to put up decent numbers in a slightly reduced role the next couple of seasons. He averaged 13.6 points and 4.4 assists combined in 2015-16 through 2016-17 with Sacramento.
However, following two seasons with the Pacers, where he even led the NBA in 3-point shooting in 2017-18 at 46.8%, Collison surprisingly retired in 2019. He averaged 11.2 points and a career-high 6.0 assists in his final season.
"While I still love basketball, I know there is something more important, which is my family and my faith," the guard wrote in 2019, per NBC Sports. "I am one of Jehovah's Witnesses and my faith means everything to me. I receive so much joy from volunteering to help others and participate in a worldwide ministry. The joy I feel is unmatched. With that being said, I have decided to retire from the NBA." 
But Collison's playing career may not be 100% over just yet.
The Golden State Warriors could team him up with Stephen Curry and company
Many people started speculating whether Collison could return to the NBA during the 2019-20 campaign when he sat courtside at a Los Angeles Lakers game with team owner Jeanie Buss. He never returned, though, but worked out with the Lakers again just recently. LA, however, appears to be bringing Rajon Rondo back, per ESPN, which likely ends any chance of Collison going to the Lake Show.
But he could still join another title contender, as Chris Haynes of Yahoo Sports reported that Collison will work out with the Golden State Warriors sometime this week.
The news doesn't mean Collison is definitely coming out of retirement, but it's reasonable to assume that he's open to it if the right situation presents itself.
And playing with Stephen Curry on the Warriors could be that right situation.
How much would Darren Collison help Stephen Curry and the Warriors?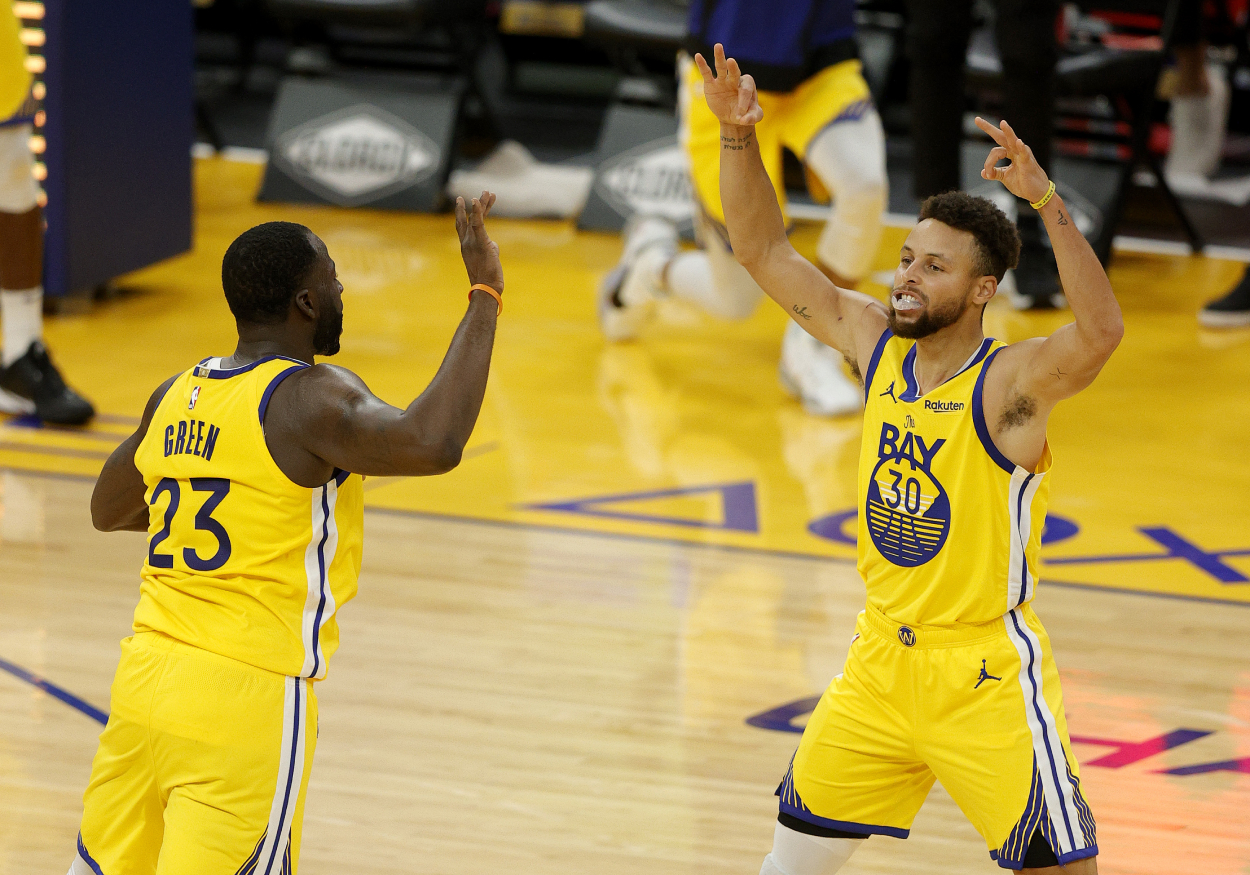 The Warriors are known for one thing: 3-point shooting. If they add Collison, he would bring them more of that off the bench.
Of course, they already have the greatest shooter of all time in Stephen Curry, and they will likely get arguably the second-greatest shooter ever in Klay Thompson back. But Andrew Wiggins is only shooting 34.1% from long range for his career, and backup guard Jordan Poole only posted a 35.1% shooting percentage from beyond the arc in 2020-21, albeit a significantly better mark than his 27.9% in the previous season.
The newly-acquired Otto Porter Jr., on the other hand, is a 40.2% shooter from deep for his career, but he has only played in 42 games combined in the last two seasons.
So, to put it simply, the Warriors could definitely use a little more shooting, especially when considering their style of play, and Collison, a 39.4% career 3-point shooter, can give them just that.
The UCLA product is a decent facilitator as well, averaging 5.0 assists for his career. So, he can also be a guy who can run the offense successfully when Curry needs a breather.
No, Collison won't make a difference in the Warriors contending for a title or not if he signs, but he can help them win a few games here and there and can give them some big performances in the postseason.
The Warriors are already a team no one wants to play if fully healthy. Give them another solid 3-point shooter like Collison, though, and they could be a force to be reckoned with in 2021-22.
Stats courtesy of Basketball Reference