Stephen Curry Has Golden State Steamrolling Again, but the Warriors' Starting 5 Is Bizarrely Being Outplayed by the Most Random Team in the NBA
Last year, the Golden State Warriors were dismantled by the injury bug and limped to a 39-33 record. This year, with the help of star guard Stephen Curry, the Dubs have come out guns blazing. But in an incredibly odd twist, Golden State's starting five is somehow being outproduced by that of … the Orlando Magic and point guard Cole Anthony.
I bet you just said some form of "What?" or "Huh?" The two teams could not be more different. The Warriors are bordering on a dynasty, and Curry is a future Hall of Famer. The Magic haven't been a threat in a decade, and Anthony is far from landing on most NBA radars.
But it's true. Anthony and the Magic's starting five have outproduced Curry and the Warriors — and every other five-person lineup in the league.
Stephen Curry has the Golden State Warriors off to the best start in the NBA
Golden State is 10-1 in its first 11 games. The Warriors are atop nearly every team statistic across the NBA, both offensively and defensively. Similarly, Chef Curry finds himself at or near the top of most individual categories.
The two-time MVP is second in the league in scoring at 27.4 points per game. He trails only former teammate Kevin Durant.
The 6-foot-3 sharpshooter is hitting 38.5% of his 13 3-point attempts per game. He's grabbing 6.5 rebounds and dropping 6.5 dimes to boot.
As a team, Golden State ranks first in the league in points, assists, and defensive rating. Curry's squad is in the top five of several other categories as well.
Orlando, meanwhile, is 14th in the Eastern Conference standings with a record of 3-9. For comparison's sake, the Magic are second to last in points, 25th in assists, and 25th in defensive rating.
The whole thing is an incredible conundrum. But it's true.
The Warriors' starting five is being outplayed by the starting five of the Orlando Magic, of all teams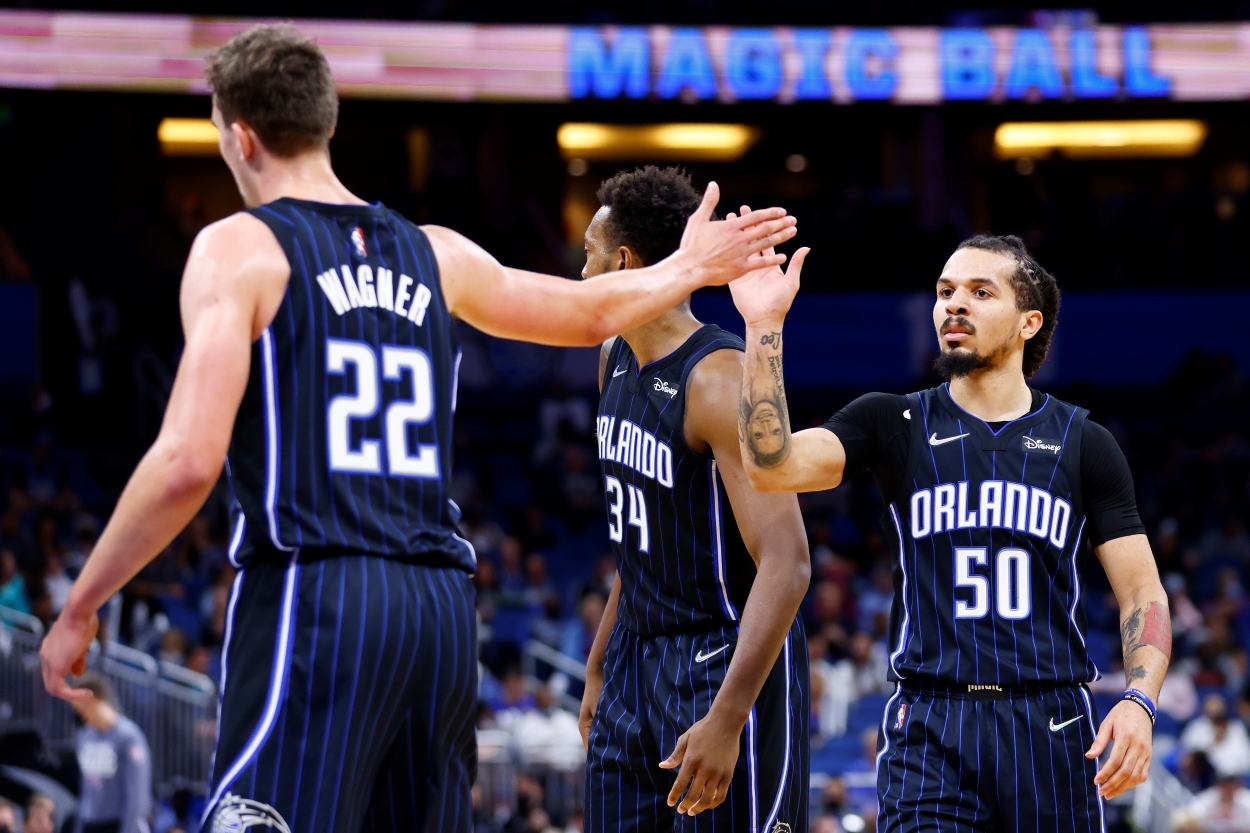 Orlando's starting five of Anthony, Jalen Suggs, Franz Wagner, Wendell Carter Jr., and Mo Bamba leads Golden State's starters in plus-minus, defensive rating, net rating, 3-point percentage (shockingly), and free-throw percentage, according to NBA.com.
(No one would blame you for checking to verify that.)
They turn the ball over less, and when the two groups' minutes are extrapolated to 100 possessions, Orlando's five has a plus-minus of 15.4, while Curry and his band sit at 7.8.
Per 48 minutes, the Magic have a 15.4 to 8.1 advantage.
Anthony is no Babyfaced Assassin. He is, however, near the top of the Most Improved Player Award conversation. He's averaging 19.3 points, 7.2 rebounds, 4.9 assists, and 1.3 steals while shooting 39.1% from three, 44.0% from the floor, and 85% from the line.
Those are all drastic improvements over his rookie season.
Again, this entire idea is perplexing yet factually accurate.
Golden State is the better team, Curry is the better player, but Anthony and his magnificent five are providing hope for Orlando
The Warriors are back to their old selves, running roughshod over the league. And that's without Klay Thompson or James Wiseman.
But the development of Anthony, the impact of rookies Suggs and Wagner, and the dramatic improvements from Bamba and Carter Jr. have given Magic fans hope – something that's been frustratingly absent since Dwight Howard led the franchise to the NBA Finals in 2009.
It's not paying off in terms of wins and losses yet, but the fact that first-year head coach Jamahl Mosley is developing a core that can compete with any lineup in the league is a sight for sore eyes in Orlando.
All statistics courtesy of NBA.com.