Stephen Curry: The Most Incredible Shots of His Career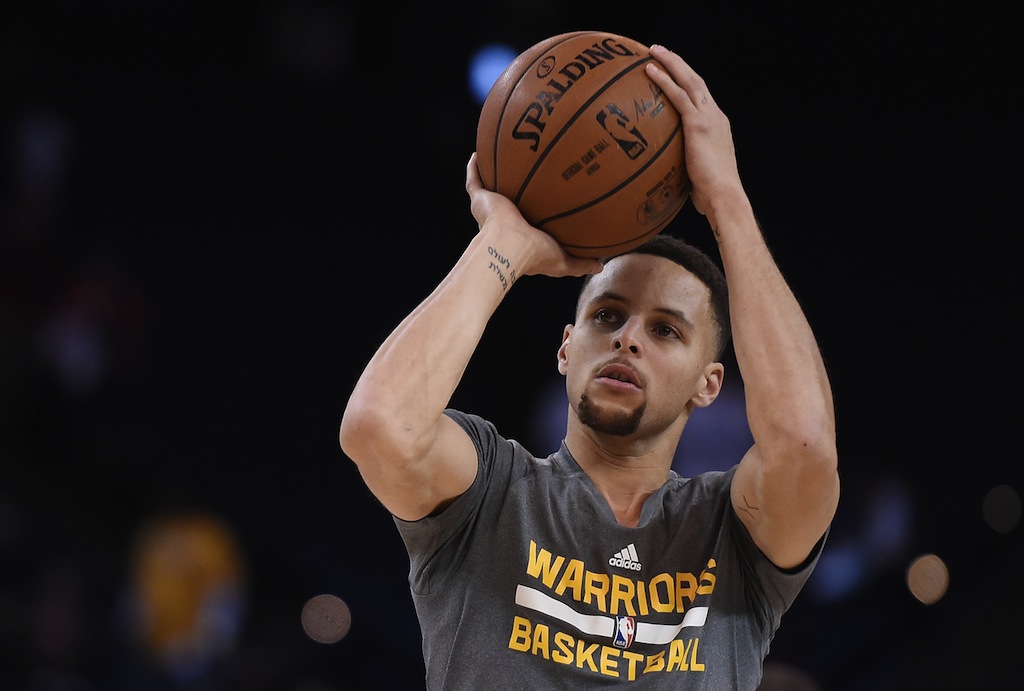 When you bear witness to reigning MVP Stephen Curry's onslaught from well beyond the three-point line, you get the feeling that anything is possible. Just ask the Utah Jazz. Curry may have only scored 12 points during the Warriors' 115-94 victory over the Jazz during the 2016 season, but three of them came by way of a 55-foot buzzer-beater to end the first half. Perhaps almost as impressive as the shot itself was the way Curry created space with his ridiculous handle and high basketball IQ.
Then again, this is hardly the first time No. 30 has used gifts to make the impossible seem commonplace. In a career that seems destined to end with his place in the Basketball Hall of Fame, Curry has already knocked down some pretty remarkable shots. While it would be futile to try and showcase them all, we've decided to select a few of our favorites from the bunch.
Curry sinks the Mavs in OT
Date: April 1, 2014
Final Score: Golden State Warriors 122, Dallas Mavericks 120 (OT)
Dallas' Jose Calderon tried his best to stop Curry from lifting the Warriors to victory in overtime. Unfortunately, if Curry is going to hit a step-back jumper while moving to his left, well, there's just nothing you can do about it.
Curry stuns Memphis from his own three-point line
Date: May 15, 2015
Final Score: Golden State Warriors 108, Memphis Grizzlies 95
We kind of feel bad for Jeff Green on this play. Not does he not receive the foul call, but he has to watch as Curry picks up the loose ball and heaves a shot from his own three-point line that hits nothing but net. This ridiculous triple may have come as the buzzer sounded at the end of the third quarter, but let's be real, Game 5 of the 2015 Western Conference semifinals was already over.
Curry has the Magic
Date: December 2, 2014
Final Score: Golden State Warriors 98, Orlando Magic 97
Just when it looked as if Orlando was about to deal the Warriors a rare loss at home, Curry picked up the long rebound, with Golden State trailing 97-95 and no timeouts remaining, brought the ball up the floor, stuttered to create separation at the three-point line, went left, and nailed a go-ahead trey with 2.2 seconds left on the clock. Clearly Curry had the magic that night.
Curry hits it from half against the Pacers

Date: January 22, 2016
Final Score: Golden State Warriors 120, Indiana Pacers 110
If at first you don't succeed, try, try, again. That was Curry's motto during Golden State's meeting with the Indiana Pacers on January 22, 2016. His buzzer-beater at the end of the first quarter was waived off. Yet, his attempt from half court at the end of the second quarter was nothing but bank shot. You really can't stop Curry when he's cooking.
Curry beats Boston

Date: January 10, 2014
Final Score: Golden State Warriors 99, Boston Celtics 97
Guarded by Boston's Avery Bradley with the clock winding down, Curry used a screen to get the matchup he wanted. Then it was all she wrote. Left to right crossover, quick release, long jumper, splash. Sorry Celtics fans. This was just an example of Curry being Curry.
Curry forces OT against the Pelicans

Date: April 23, 2015
Final Score: Golden State Warriors 123, New Orleans Pelicans 119 (OT)
Remember that brief moment when it looked like the New Orleans Pelicans were going to defeat the Warriors in Game 3 of the first round of the 2015 playoffs? That was adorable. It's too bad that Curry decided enough was enough and proceeded to drain a contested three from the corner with the clocking winding down, forcing the game into overtime. Some people have all the luck.
Curry puts Chris Paul on skates

Date: March 31, 2015
Final Score: Golden State Warriors 110, Los Angeles Clippers 106
It's hard to imagine anyone making Chris Paul look silly. Yet, that's exactly what Curry did showdown with the Clippers at the Staples Center on March 31, 2015. With Curry dribbling along the baseline, Paul went to reach for the rock. Big mistake. The Chef went behind his back twice, first right to left then left to right, Paul went down with "broken ankles," and Curry splashed a jumper like it was nothing. The noise from the Los Angeles crowd and reaction from the Warriors bench said it all: Dirty.
Curry cooks the Cavs

Date: June 14, 2015
Final Score: Golden State Warriors 104, Cleveland Cavaliers 91
There was no stopping Curry during Game 5 of the 2015 NBA Finals. He finished the evening with 37 points, seven rebounds, four assists, and seven triples. Putting together a performance like this, on a stage of this magnitude, makes it almost impossible to put one highlight above the other. However, we have to admit, there is something said to for knocking down a three and then "mean mugging" the camera. Just saying.
Curry embarrasses the Clippers

Date: March 8, 2015
Final Score: Golden State Warriors 106, Los Angeles Clippers 98
Once again, the Los Angeles Clippers fell prey to the excellence of the Baby-Faced Assassin. He gets the ball at the three-point line, splits the defense, puts it between his legs, behind his back, and then hits a turnaround three in traffic from the top of the three-point line. There is nothing human about this sequence. And we'll just leave it at that.
Statistics courtesy of Basketball-Reference and ESPN.