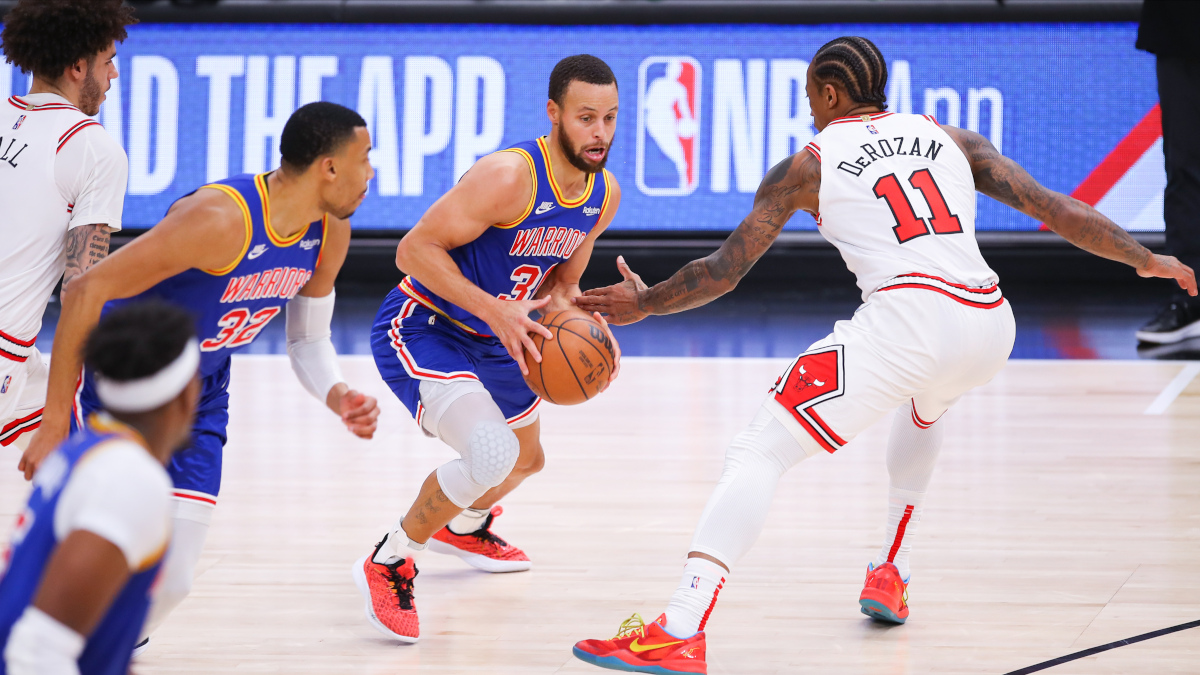 Stephen Curry Injury: Golden State Warriors Breathing A Sigh of Relief After Favorable Diagnosis
Stephen Curry broke his left hand in a 2019 fall on a drive and the Golden State Warriors had some scary flashbacks after a similar incident on Jan. 14.
It appears the Golden State Warriors dodged a significant problem with 3-point king Stephen Curry. The 33-year-old star is in one of the most prolonged shooting slumps of his career. But he avoided serious injury when he fell awkwardly during Golden State's blowout win at Chicago on Jan. 14. The incident eerily resembled a similar fall that wrecked his 2019–20 season.
This time, Curry's right hand bore the brunt of the fall. He scored 19 points in 28 minutes in the 138–96 pummeling of the Bulls. Curry didn't play on Jan. 16 when the Warriors closed a 1–3 road trip with a 119–99 loss at Minnesota, but the Warriors hope to have their superstar back sooner rather than later.
Stephen Curry landed hard on his shooting hand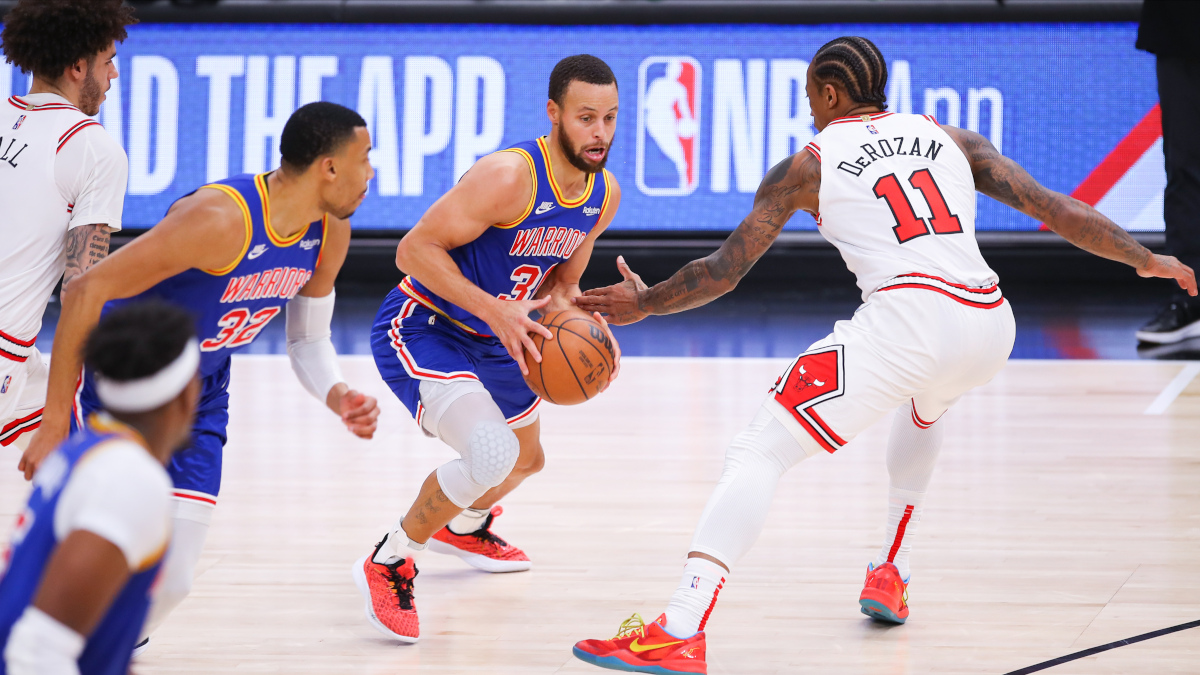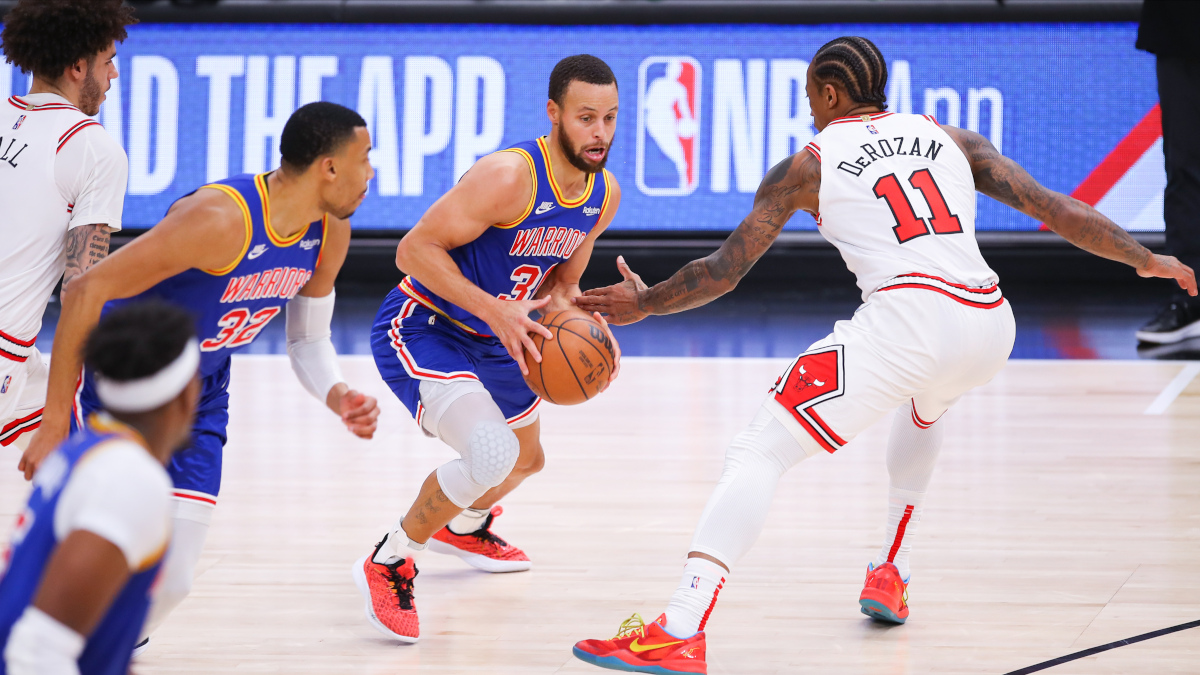 In the second quarter, Stephen Curry drove past Bulls defender DeMar DeRozan for a layup attempt. Lonzo Ball attempted to challenge the shot and fouled Curry, who fell hard on his right hand.
On Oct. 30, 2019, Curry broke his left hand in a fall during a game against the Phoenix Suns. While attempting to split a pair of defenders, Curry lost his balance and fell forward on his left arm.
He missed all but one game the rest of the season. The Golden State Warriors, already struggling to start their first season without Kevin Durant, collapsed to a league-worst 15–50 record. Curry appeared in five games, just one after returning from the injury. The pandemic shut the NBA down for four months, and Golden State was not among the teams invited to the Orlando bubble for the restart.
In Chicago, Curry returned and finished 7-of-15 overall and 4-of-10 from 3-point range, one of his stronger shooting performances in recent weeks.
Curry is shooting 35.9% overall in his last nine games and a dismal 30.9% from long range. He's scoring 21.4 points per game in that span, and Golden State is 5–6 (Curry rested against the Pelicans on Nov. 6 and did not play at Minnesota).
Golden State Warriors are optimistic Stephen Curry can play on Jan. 18
The Golden State Warriors open a seven-game homestand at Chase Center on Jan. 18 against the Detroit Pistons.
The team listed Curry out with left-hand soreness against the Timberwolves on Jan. 16. Curry admitted he was scared after the fall in Chicago, per NBC Sports Bay Area.
"There was some (post-traumatic stress disorder) from two years ago when I landed," Curry said. "It felt kind of the same. Anything that involves the hands especially is a little concerning. But the feeling came back; the strength came back."
Anthony Slater of The Athletic tweeted that coach Steve Kerr hopes to have Curry when they open the homestand against Detroit.
Curry broke Ray Allen's career record for 3-pointers on Dec. 14. While he's considered a front-runner for the NBA MVP award, he's struggled recently and is posting the worst shooting numbers of his career, save for his five-game 2019–20 campaign.
He's shooting 42.1% overall and 38.4% from 3-point land. It's worth noting Curry is a 43.0% career shooter from deep and hits 47.4% overall. During his recent frigid spell, Golden State has lost as many games — six — as it did in its first 30 games. The Warriors have fallen 2.5 games behind the Western Conference-leading Phoenix Suns in the process.
The Golden State Warriors have other injury concerns
Besides Stephen Curry's injury scare, he's not the only significant name on the injury report for the Golden State Warriors. Draymond Green is battling calf and back problems and has missed four straight games and played just seven seconds in Golden State's last six. He started against the Cleveland Cavaliers on Jan. 9 when Klay Thompson returned to the court and immediately checked out after committing a clock-stopping foul.
The Warriors said on Jan. 17 that Green is out at least two more weeks, per Jamal Collier of ESPN.
Journeyman Gary Payton II, who emerged as a key rotation player, has missed the last two games with back issues. He's already posted career highs of 40 games and 668 minutes this season after logging only 71 appearances and 808 minutes in his first five seasons.
The son of Hall of Famer and Bay Area native Gary Payton has discovered his jump shot this season. After shooting 26.7% from distance entering this season, the younger Payton is knocking down 41.4% from long range this season (29-of-70). Throw in defense reminiscent of the original Glove, and he's been valuable for the Warriors.
While it appears Stephen Curry avoided a significant injury, the Golden State Warriors have a reason for concern. Curry's poor shooting has grown from a blip to a trend with the season past the halfway point. Their hopes for a return to title contention begin with Curry again finding the range.
Statistics courtesy of Basketball Reference.
Like Sportscasting on Facebook. Follow us on Twitter @sportscasting19.