Stephen Curry and Klay Thompson Were Recently 'Impressed' by Their Newest Golden State Warriors Teammate
Many fans and experts thought the Golden State Warriors would trade their two top-15 picks in the 2021 NBA Draft for a star or a couple of veterans to help Stephen Curry and company contend for titles yet again. Golden State, however, didn't do that, as the team ultimately used both its picks to look ahead toward its future but (maybe) still help its present.
What about Curry, though? Although the Warriors didn't 100% help his title chances, what does he think of his new teammates? Well, he's at least "impressed" by one.
The Golden State Warriors selected Jonathan Kuminga and Moses Moody
Ahead of the 2021 NBA Draft, a plethora of rumors — and questions — surrounded the Golden State Warriors. Would they trade their two picks? Would they include their No. 2 pick from last year, James Wiseman, in those trades? If so, who would they trade for? Bradley Beal? Damian Lillard? Myles Turner?
Those questions now seem silly in a post-draft world.
The Warriors ultimately kept their picks and used them to draft Jonathan Kuminga from the G League Ignite at No. 7 and Moses Moody out of Arkansas at No. 14.
"I'm ecstatic," Warriors owner Joe Lacob said after the draft, per The Athletic. "Ecstatic. We'll probably never have two lottery picks again. If we do, we'll have a problem. The thing that's most amazing to me is how it worked out. I shouldn't say where they were on our board, but it's hard for me not to say it. I'll just tell you they were both clearly in our top 10. We feel like we got really fortunate on Kuminga. Then with Moody, I think it's pretty common knowledge we were seriously considering him at seven. So it's pretty astonishing to me that we could get him at 14."
Warriors stars Stephen Curry and Klay Thompson were 'impressed' by Moody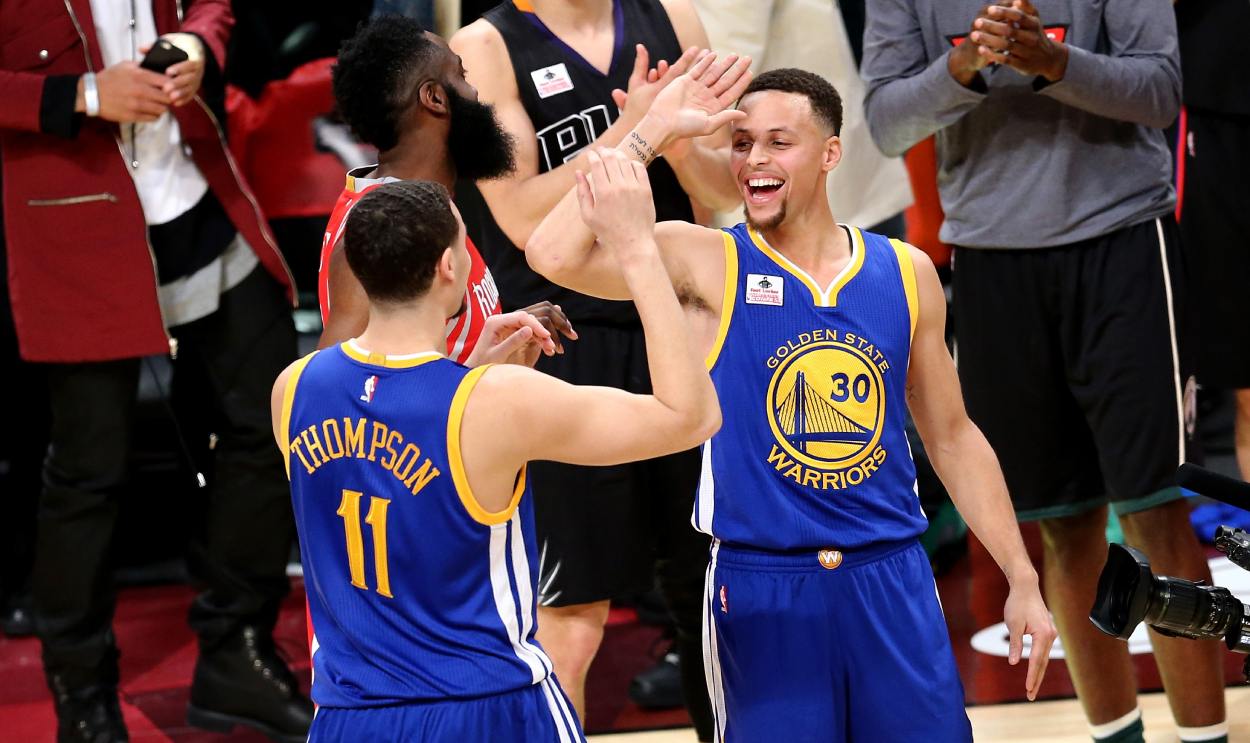 Golden State's front office certainly likes its new players, but what about the team's stars?
It's hard to 100% know what Stephen Curry, Klay Thompson, Draymond Green, and any of their other Warriors teammates think of the team's draft picks, especially since the selections won't necessarily help them now. But, a recent report says Curry and Thompson were actually pretty "impressed" by Moody.
According to NBC Sports, Moody revealed at his introductory press conference that both Curry and Thompson were at one of his workouts and that he "talked to them a little bit afterwards."
Anthony Slater of The Athletic then reported on 95.7 The Game that Curry and Thompson liked what they saw.
"And from what I heard, Klay and Steph were at the workout that Moody was at, and they were impressed by him," Slater said on The Morning Roast, per NBC Sports.
Green supposedly likes his team's picks, too.
"Draymond, I talked to at 4 in the morning in Tokyo, at 5 in the morning, 6 in the morning," Warriors general manager Bob Myers said of Green, who is at the Tokyo Olympics, per NBC Sports. "While we were picking, he texted me after the third or fourth pick, and he said 'Kuminga.' And I said 'We'll see if he's there.' So he's happy. And then at about the ninth pick, he said 'Moody.' And I said 'I don't think he's going to be there.' And I didn't even give him those names. So, he gave me a big thumbs up. That's good."
The Warriors' stars may be happy with the prospects their team picked. But how much will these two players actually help them contend for titles?
How much will Jonathan Kuminga and Moses Moody help Stephen Curry and the Warriors?
The interesting part about Kuminga is that many don't see him as a guy who will help the Warriors right away. He has a lot of upside but may potentially be more of a project who needs time to develop.
Kuminga — a 6-foot, 6 inch wing — averaged 15.8 points and 7.2 rebounds in the G League last season.
Moody, on the other hand, may be able to help Curry and company relatively soon, and some experts look at him as a guy who should have gone off the board in the top 10.
Moody is another 6-foot, 6-inch wing, and he played high school ball with No. 1 pick Cade Cunningham. He averaged 16.8 points and 5.8 rebounds for Arkansas last season while also shooting 35.8% from 3-point range. He was easily one of the most talented players in the SEC.
All in all, the Warriors certainly got two players with a lot of potential, but the biggest question will be if they can help them win now. Curry (33), Thompson (31), and Green (31) aren't getting any younger, so, before we know it, their title window will be closed.
If Golden State can't help those guys contend for titles, we may ultimately see a Last Dance-like split between the franchise and its stars. Get the documentary cameras ready.
Stats courtesy of Sports Reference and Basketball Reference
RELATED: Chris Bosh Adamantly Lobbies for Warriors to Keep James Wiseman