Stephen Curry and Klay Thompson Have Reportedly Made Their Offseason Wishes Clear to Warriors Management, and Their Requests Could Lead to NBA Title Contention
The Golden State Warriors were the kings of the NBA for five straight years; they made five consecutive trips to the NBA Finals and won three championships. However, in the last two years, Golden State has been left out of the playoffs altogether. So, how can they get back atop the NBA? Stephen Curry, Klay Thompson, and Draymond Green appear to have an idea, and they have reportedly made it known to Warriors management.
The Golden State Warriors have two lottery picks in the 2021 NBA Draft
After not having Stephen Curry or Klay Thompson for most of the year in 2019-20, the Warriors claimed the No. 2 overall pick in the 2020 draft. They then eventually used it to select James Wiseman. 
In 2020-21, though, they were much better on the court.
Curry averaged 32.0 points in 63 games and helped Golden State go 39-33, but the Warriors still barely missed the playoffs, losing in the play-in tournament.
However, missing the postseason helped them get the No. 14 pick in the 2021 NBA Draft, in addition to the No. 7 pick they received in a trade from the Minnesota Timberwolves. The franchise now heads into an offseason where it hopes to get its big three — Curry, Thompson, and Draymond Green — completely healthy and either draft young stars or use their picks to add a talented veteran.
Stephen Curry and his teammates have reportedly told the Warriors what they want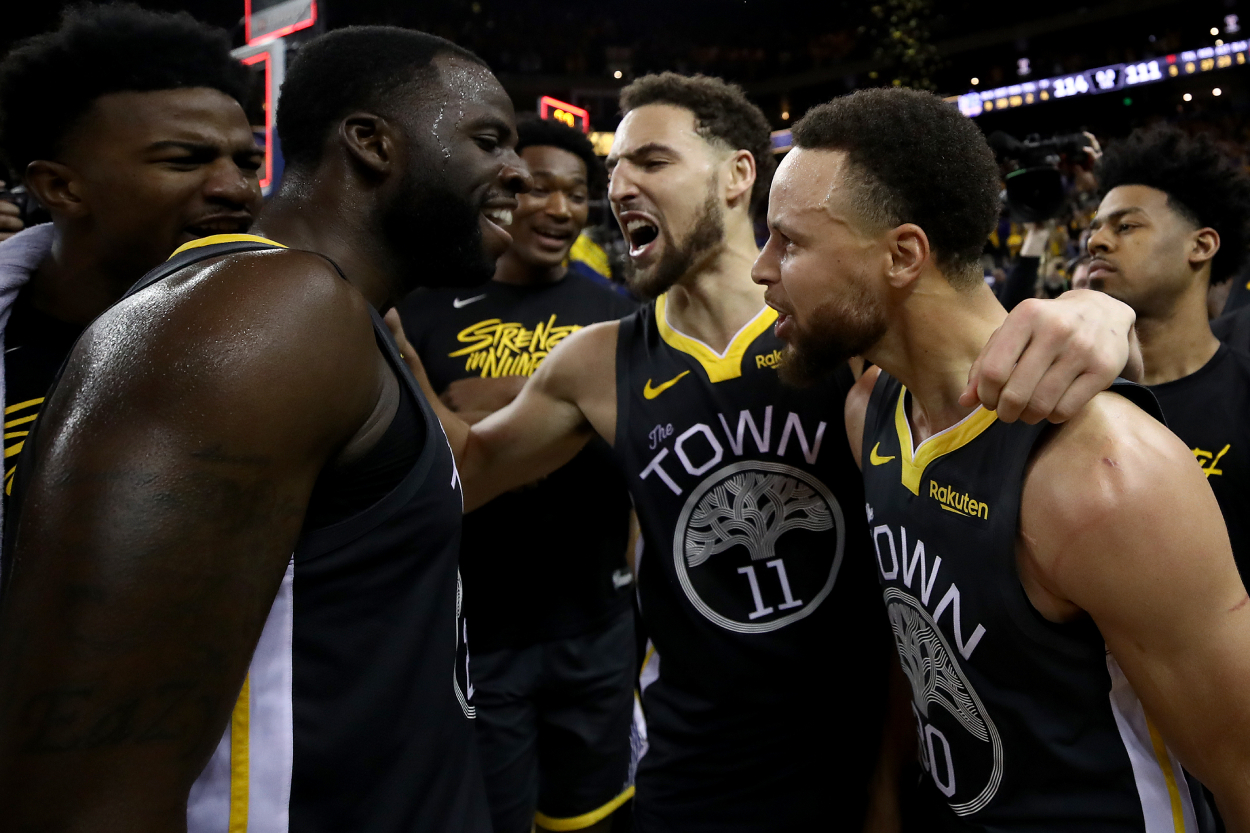 Curry and the Warriors most likely want to get back into championship contention next season, and Thompson returning to the court will certainly help. But the team's stars don't want to just stop there.
According to Marcus Thompson II of The Athletic, Curry, Klay Thompson, and Green have reportedly "made it clear" to Warriors management that they want the focus this offseason to be on winning a championship. Golden State could do this by using the team's lottery picks to get immediate help. The three stars would reportedly rather the Warriors "go all-in" throughout the next few seasons instead of drafting players who may not be ready to contend for titles right away.
So, who would Golden State add? Marcus Thompson reported that Bradley Beal, if he becomes available, is at the very top of the team's wishlist. Beal has two years left on his contract with the Washington Wizards and has a player option for 2022-23. 
The Warriors would most likely have to include their two lottery picks in a trade for Beal and potentially a future pick or two. Andrew Wiggins would probably also have to be involved to match salaries, and the Wizards would likely want Wiseman in there as well.
So, what would Beal bring to Golden State?
Bradley Beal would be unstoppable with Stephen Curry and the Warriors
As of right now, Beal seems dedicated to making it work with the Wizards. But if he were to become available and the Warriors were to acquire him this offseason, they would immediately become championship contenders.
Curry led the NBA in scoring last season at 32.0 points per game. The league's second-leading scorer? Beal at 31.3 per game. He also had a slightly better field goal percentage than Curry, shooting 48.5% in 2020-21, compared to Curry's 48.2%.
Curry and Beal would already make the best backcourt in the NBA, but having a healthy Thompson would put it over the top. Thompson averaged 20.0 points or more in five straight seasons before his first injury in the 2019 NBA Finals, meaning the Warriors would have three 20-plus points per game scorers and three guys who can carry the team on any given night. 
That would instantly take a lot of pressure off Curry and give Golden State a chance whenever he's off the court. Curry had a career-high 34.8% usage percentage in 2020-21, and the Warriors were 2-7 in the games he didn't play. Just a bit more help for Curry this past season would have made the Warriors a playoff team; who knows what two All-Star caliber players in Thompson and Beal would mean for them.
The Warriors are no longer the kings of the NBA, but they can reclaim their throne with just one landscape-altering move this offseason.
Stats courtesy of Basketball Reference