Is Stephen Curry's Knee to Blame the Warriors' WCF Struggles?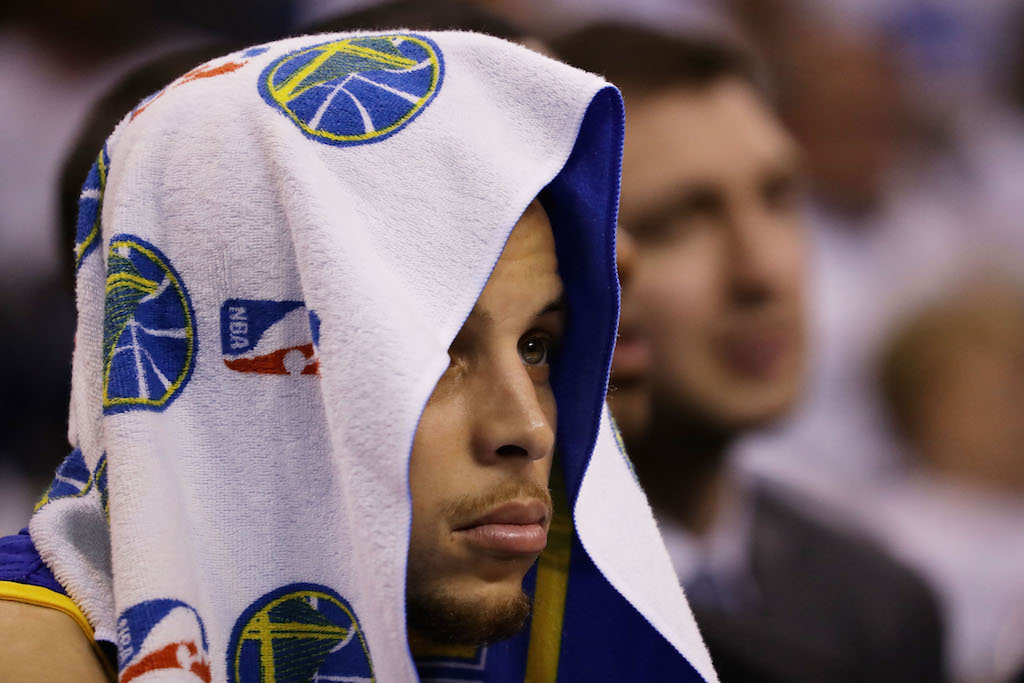 The Golden State Warriors are in trouble. It's impossible to hide. For the record, it's not just that they currently find themselves down three games to one in the 2016 Western Conference Finals. Plenty of teams have faced this sort of adversity before, only to rise to the occasion and overcome the seemingly insurmountable deficit. No, this feels bigger than that. The Dubs have lost their mojo, and it couldn't have come at a worse time.
The Warriors entered the 2016 NBA Playoffs as the team to beat. They dropped 114.9 points per game, led the league with an offensive rating of 114.5, and shot lights-out all year, averaging 48.7% from the field and 41.6% from beyond the three-point line (both tops in the NBA).
By the time the 2015–16 campaign concluded, this group had set the standard for regular-season victories with a record-setting 73, and Stephen Curry (30.1 PPG, 402 three-pointers) had solidified his place as arguably the best player on the planet. Unfortunately, as Curry has faltered during the Western Conference Finals, so has the West's No. 1 seed.
Through four games, the Chef's cooking has been anything but up to par. He's averaging just 24.3 points per game, knocking down 37.2% of his triples, and has turned the ball over 17 times. With their best player looking Baby-Faced minus the "Assassin," the Warriors are putting up less than 105 points per contest and getting completely outworked by a fresher OKC team.
We can't help but connect the dots. As Curry goes, so do the Warriors. And while this club would never make excuses, we have to believe the two-time MVP's knee has something to do with it.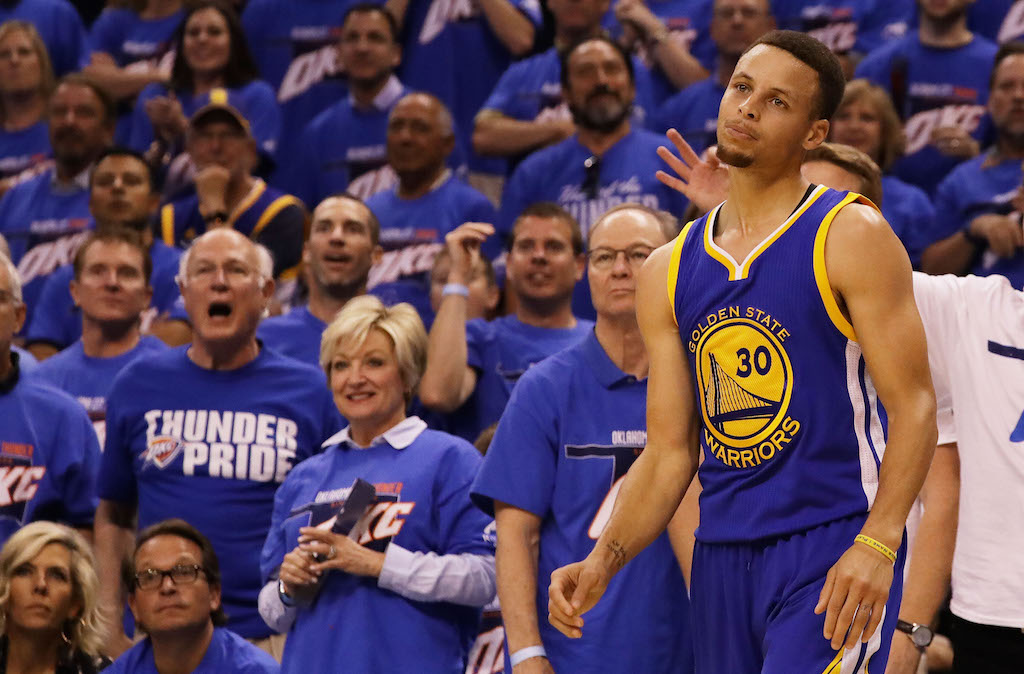 From the moment Curry suffered a sprained MCL during the opening round of the playoffs, you got the sense that this year's Golden State squad wasn't going to experience the same sort of luck it had last year.
Winning a title is hard, but going back-to-back is even more challenging. And these Warriors were going to have to really earn it. Yet, as we've seen throughout the history of the National Basketball Association, if a team's best player is struggling to perform, it doesn't bode well for the team as a whole.
In the last two games of this series, Curry's surprisingly poor play (7-of-17 shooting in Game 3, 6-of-20 with six turnovers in Game 4, a combined 5-for-21 on 3s, per ESPN) has folks wondering about his health. According to The Vertical's Adrian Wojnarowski, this may actually be a legitimate concern:
Curry has been a shell of himself — missing shots, throwing away passes, losing his dribble, and completely unable to prove that there's Curry-esque agility in that knee. "He's playing at 70 percent, at best," a source close to Curry told The Vertical. Curry refuses to make excuses, but privately the Thunder see something — no explosion, no ability to make the bigs switching onto him pay a price. Nineteen points on 20 shots Tuesday night bore no resemblance to the two-time NBA Most Valuable Player.
With their playoff lives on the line, this is the last thing the Warriors need floating around. They need to be focused on finding a way to get back into the series, not answer questions about Curry's health. Unfortunately, this topic does not seem to be going away.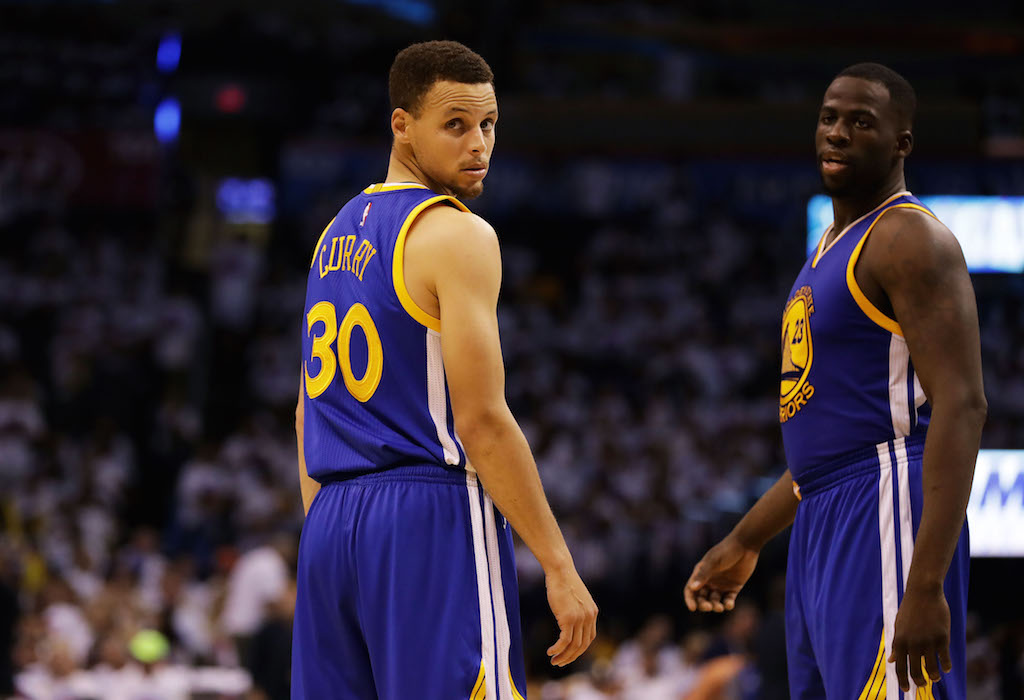 After this report came out, Warriors head coach Steve Kerr was forced to reiterate a point he made following his team's loss in Game 4: Curry's not injured. "I know he's not injured — if he were injured, he would not be playing," Kerr said. "Is he bothered a little bit, perhaps by the layoff when he went three weeks without a game? He may not be quite where he needs to be, but it's not an injury, and that's the important thing."
The Warriors have never made excuses. And we don't expect them to start now. Whether Curry is legitimately injured or not, it makes no difference. This group is well aware that it's being outplayed in the Western Conference finals. The Thunder are stifling the champs with their length, performing with a sense of urgency, and feeding off of the energy provided by an MVP-like performance from All-Star Russell Westbrook.
Oklahoma City has Golden State off of its game and on the ropes. The Dubs need to respond. And they need to respond quickly. We don't know if Curry is being bothered by his knee. It's clear, however, that something is not right with the two-time MVP.
Maybe with the series shifting to Oracle Arena, Curry and the rest of the Warrior players will be rejuvenated enough to get back into the series. Either way, this team will fight to the bitter end. Injured or not, so is Curry. That much we know for sure.
Statistics courtesy of Basketball-Reference.com, ESPN.com, and The Vertical.