Stephen Curry Gets MVP Endorsement From a Former NBA Champion
Stephen Curry has a trophy case full of honors. The Golden State Warriors star is a two-time NBA MVP, a six-time All-NBA selection, a three-time champion, and a scoring champ. But the 2020–21 season might be Curry's masterpiece as an NBA player. The Warriors are likely to be consigned to the Western Conference play-in field and are barely better than .500. That's not usually where MVP candidates emerge. But it's not hard to imagine what a dumpster fire this season would be in the Bay Area without Curry.
Curry scored 41 points while leading the Warriors to a win Monday night over the New Orleans Pelicans in the first game of a Bayou back-to-back. Since March 29, Curry is averaging a ridiculous 36.8 points per game while shooting 50.8% overall and 45.9% from 3-point range. For the season, he's leading the NBA with 31.4 points a game. Golden State is 33-32 with seven games left, eighth in the Western Conference. There's precedent for a player from a middle-of-the-pack team to win the MVP award, but it's rare. At least one former NBA champion endorses Curry for the honor.
Imagining the Warriors without Stephen Curry isn't difficult
Stephen Curry missed almost all the 2019–20 season. He broke his left hand in Golden State's fourth game of the season on Oct. 30, 2019, and didn't return until March 5, 2020. Curry appeared in one game before the NBA shut down due to the coronavirus. The Warriors were just 15-50 at the time, the worst record in the NBA, and didn't qualify for the restart bubble in July.
Golden State was also without All-Star Klay Thompson last season. Draymond Green missed 22 games, while rookie Eric Paschall was the only Warrior to play in 60 games. D'Angelo Russell – acquired in the sign-and-trade arrangement that sent Kevin Durant to the Brooklyn Nets – was their leading scorer before going to the Minnesota Timberwolves for Andrew Wiggins.
It was a long fall from five consecutive appearances in the NBA Finals, to be sure.
It's been an enormous revival for Curry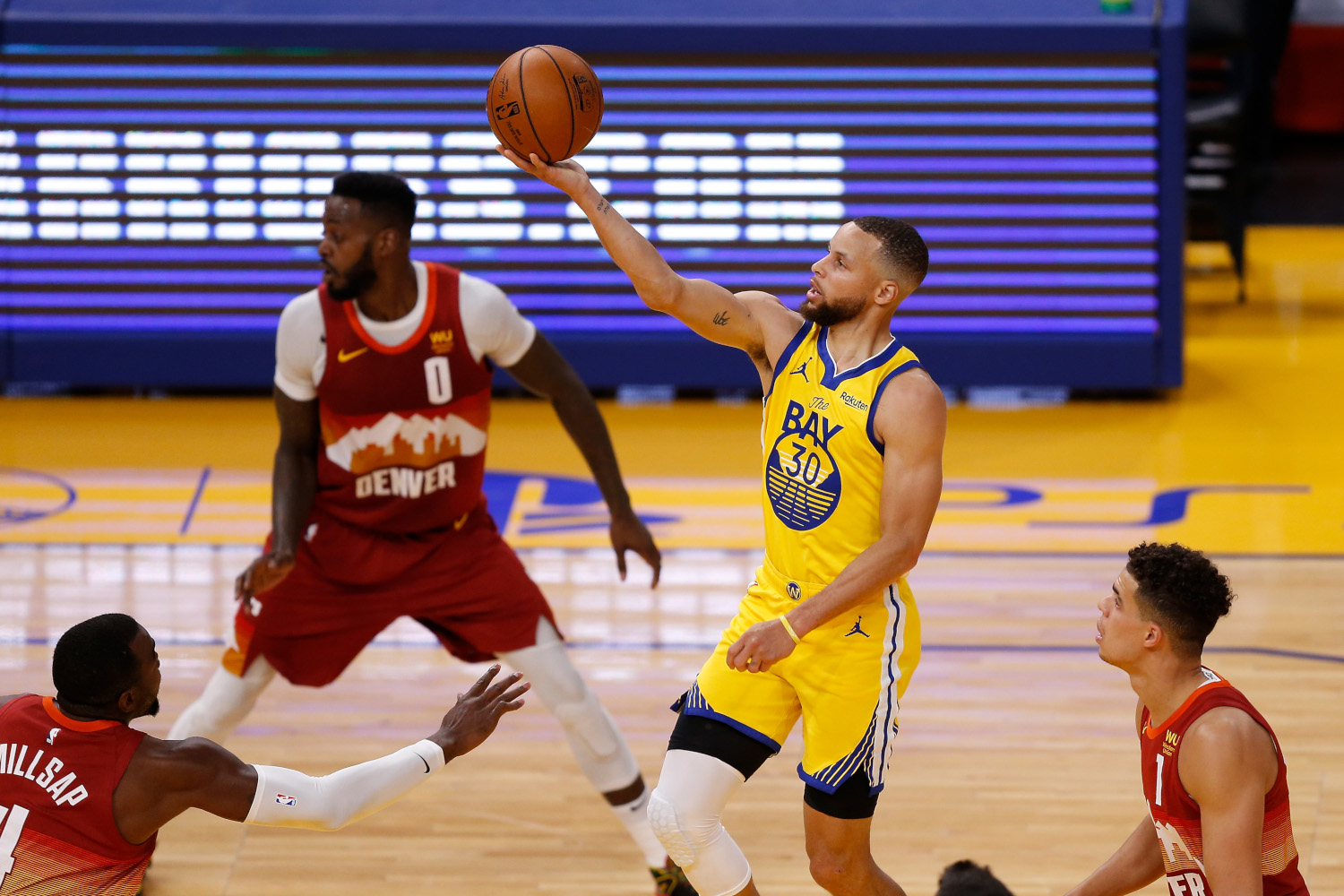 This season, Curry has missed eight games (the Warriors are 1-7 in those contests), and he is at least on the periphery of the MVP conversation. The lengthy break following the shutdown of the NBA last March worked to Curry's advantage this year.
"I had nine months to recharge and rejuvenate the battery," Curry told ESPN's Ramona Shelburne. "So now I'm in pretty good shape to just go play and enjoy what I get to do."
He's doing it well. Curry's scoring binge began March 29 following a five-game absence with a bruised tailbone, and he's scored at least 30 points in 16 of the 18 games he's played. He has topped 40 points six times during the run – including Monday – and had 53 points in a win over the Denver Nuggets on April 12.
Green told ESPN Monday night that Curry is opening a lot of opportunities for the Warriors.
"Anytime you step on the floor with Steph Curry, there's an advantage there," Green said. "So, teams are terrified of him – and everywhere he runs on the floor, with or without the ball, teams are terrified. That type of gravity, he pulls a lot of weight. … We all know what he's capable of. The guy can take over a game and make it hard for any team in the NBA on any given night."
Stephen Curry has convinced one former NBA champion
After Shelbourne's article was published, Metta World Peace endorsed Stephen Curry as a legitimate MVP contender. For his part, Curry told Shelbourne he should be in the mix as well.
"Yeah, I do [feel deserving of the MVP]," Curry said. "But even if you don't win it, being in the conversation, top five; those type of acknowledgments show what you're about, no matter what the situation is, year to year."
Curry hasn't had Thompson, who will miss his second consecutive season. He tore his Achilles' tendon during an offseason workout after missing 2019–20 with a torn ACL sustained in the 2019 NBA Finals. No. 1 overall draft pick James Wiseman is out for the season since a meniscus injury on April 10.
Curry will be back at work Tuesday night as Golden State tries to leave New Orleans with a two-game sweep. A win would leave the Warriors one game from clinching at least a play-in bid (they currently lead the Pelicans by four games and would own the tiebreaker with a victory Tuesday).
Nikola Jokić of the Nuggets will likely be the NBA MVP. But what Stephen Curry has done to drag the Golden State Warriors as far as he has warranted strong consideration.