Stephen Curry Is Once Again Proving His Golden State Warriors Are On Par With Michael Jordan's Chicago Bulls
Michael Jordan's six Chicago Bulls championship squads are now the standard by which NBA teams are measured. But Stephen Curry is putting another one of his Golden State Warriors teams right alongside MJ's Bulls.
The 1995-96 Bulls team is considered by most to be the greatest team in league history. It dominated in almost every statistical category on the way to 72 wins and an NBA championship.
But in some of those categories, Curry's Warriors have either matched or surpassed Jordan's squads. And the two-time MVP has his 2021-22 Golden State team right on par with The GOAT's Bulls once again.
Stephen Curry and the Warriors are off to the best start in the NBA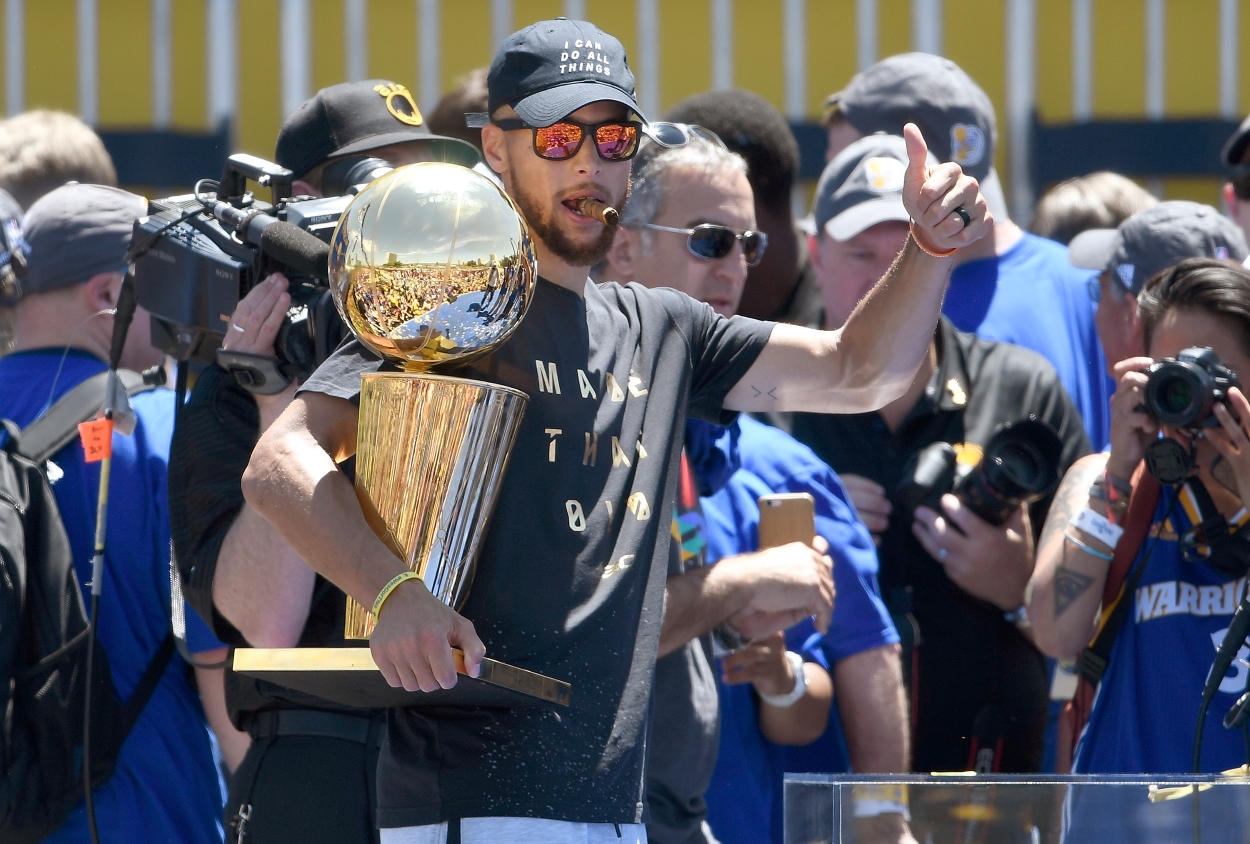 Golden State suffered a surprising loss to Lamelo Ball and the Charlotte Hornets on Nov. 14. It was only the team's second defeat of the year.
Two nights later, though, the Warriors rebounded to rout Kevin Durant, James Harden, and the Brooklyn Nets 117-99.
The win marked the ninth time in 14 games Golden State has scored more than 115 points, and the sixth time it's held a team to fewer than 100.
The Dubs are 12-2 through the first month of the season, one game better than the Phoenix Suns in the Western Conference standings.
The surprising Washington Wizards lead the East at 10-4.
Golden State is at or near the top of the league in almost every numerical category. The team's start is reminiscent of what Chicago did in '95-'96.
In fact, only three teams in NBA history have ever been as statistically dominant as Steph's team has been so far 2021-22.
All three of those games have gone on to win a title.
The Golden State Warriors are on pace to accomplish for the third time what Jordan's Bulls did only once
Golden State currently sits inside the top two in the NBA in both offense and defense. The Warriors are averaging 115.2 points per game (first) and allowing only 101.6 (tied for second with Cleveland).
The team's defensive rating of 98.9 leads the league, and its offensive rating of 112.0 is third behind Philadelphia's 112.2.
The Warriors' rating of 13.1 is only 0.3 off the pace of those '95-'96 Bulls. That Chicago team led the NBA in points with 105.2 and allowed only 92.9, which was third in the league that year.
The Bulls' offensive rating (115.2) and defensive rating (101.8) led the NBA.
But Curry has led his team to the top of the league in offense and defense twice before. In 2014-15, the Warriors led the league in scoring (110.0) and defensive rating (100.4).
In 2016-17, Golden State averaged 115.9 points, which was first in the NBA. It was also second in defensive rating (102.9).
What do the 1995-96 Bulls, 2014-15 Warriors, and 2016-17 Warriors all have in common? They won an NBA championship.
Curry has his team on pace for a fourth title
Steph has this year's Golden State team on another championship trajectory.
He's already doubled up Jordan in this specific category. A 2022 Warriors championship would make it Curry three, MJ one.
Do Steph, Draymond Green, Klay Thompson (when he returns), and the rest of their squad have a chance at bypassing Jordan's best Bulls team as the greatest of all time? Perhaps not.
But Curry is proving once again that he's capable of leading a group of players into historic territory and putting himself on par with His Airness.
All statistics courtesy of NBA.com.