Stephen Curry on Pace to Give Himself an Incredible Christmas Gift
At the start of the season, Stephen Curry of the Golden State Warriors was 142 3-pointers away from breaking Ray Allen's record of 2,973. It's not a surprise Curry is threatening Allen's mark, but it's remarkable how quickly he's gotten there. Curry is at the forefront of a revolution in the NBA, where 3-pointers continue to fly at a record pace.
No one can match the volume with which Curry splashes down 3 balls. Since the NBA added the 3-point line in 1979, no player has led the NBA more often than Curry, who has led the league in long bombs seven times. The following two players on the list, Allen and James Harden, did it three times each. Curry also has the single-season record, the 402 triples he made in 2015–16, and is also third, fourth, sixth, and seventh on that list.
Stephen Curry is the lone member of the 400 3-pointer club
In 2018–19, Harden broke Stephen Curry's record for 3-point attempts in a season, becoming the only player in NBA history to launch more than 1,000 shots from behind the arc (1,028). But despite topping Curry's old mark by 142, he didn't get particularly close to Steph's record of 402 makes, finishing with 378.
Curry has never averaged less than 2.1 made 3s per game and has hit 3.9 a night in his career. While he's never led the league in 3-point percentage, Curry is 7th all-time with a 43.2% mark from deep. He leads the league with 34 makes and 91 attempts this season, a substandard (for him) 37.4% clip.
The increased pace of 3-point attempts is reflected most clearly in this statistic. Hall of Famer Reggie Miller was one of the best long-range snipers of his era. Miller retired in 2005 with 2,560 3-pointers, which stood as the record before Allen passed him. In 1,389 career games, Miller made eight 3s in a game just twice. Curry has 62 such games. Times, they have a' changed.
Miller set career highs for makes and attempts in 1996-97, the last of three seasons during which the NBA moved the line to a uniform 22 feet all the way around. He was 229-of-536. Those are numbers Curry regularly eclipses well before the All-Star break.
Curry won't quite break Allen's record in half the time, but it will be close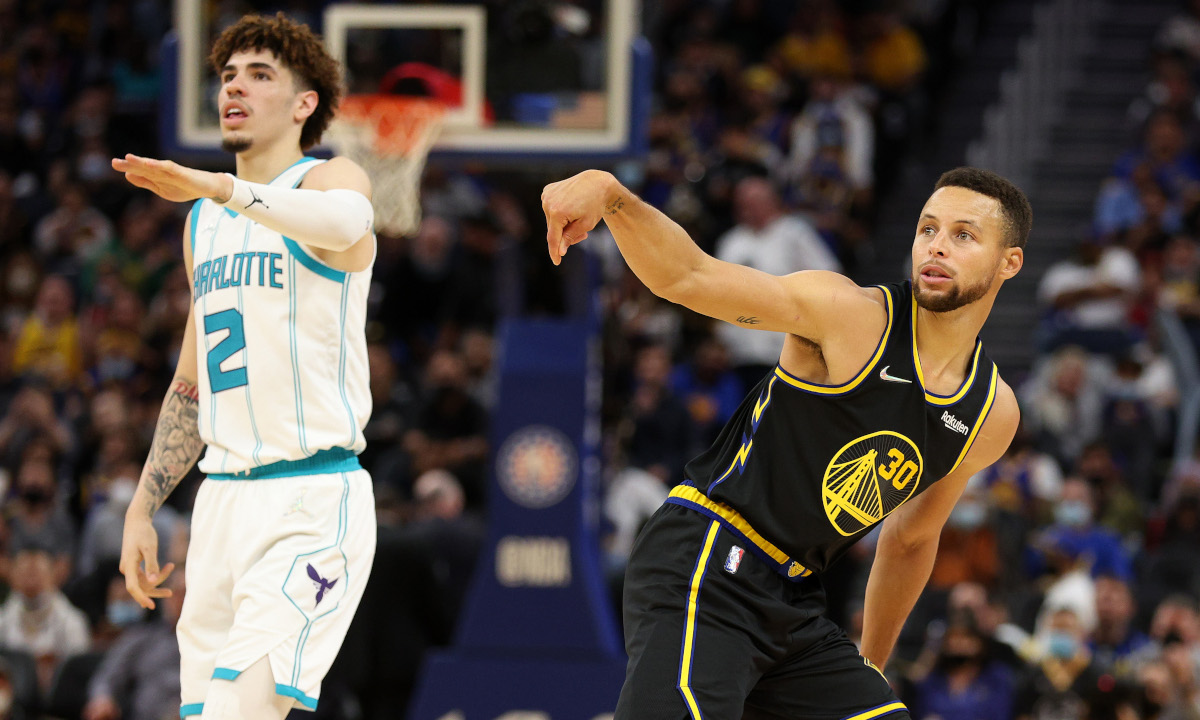 Allen last played in the NBA in 2013–14 and made 2,973 3-pointers in 1,300 career games. Stephen Curry needs another 107 to pass Allen.
At his pace this season of 4.9 makes per game, Curry would break the record on Dec. 17 at the Boston Celtics. That is dependent on health and rest. If Curry stays on that pace, he will break Allen's mark in his 791st career game, a little more than 60% of Allen's total.
It's the same level of statistical absurdity as Wayne Gretzky blitzing Gordie Howe's scoring records in the NHL. Howe scored 801 goals and posted 1,850 points in 1,767 NHL games over 26 seasons. In 20 seasons, Gretzky lit the lamp 894 times and piled up 2,857 points in 1,487 games.
Barring some career-ending injury, it's a question of if, not when, Curry passes Allen on the all-time list. From there, the excitement will come in watching how far out of reach Steph puts the record.
Curry will be 34 in March, so he's at least nearing the finish line. He battled ankle injuries early in his career and missed double-digit games in three of the last four seasons.
But he's still an elite scorer, and the likelihood is that his jumper will remain pure as long as he wants to keep shooting it. In four or five more seasons with decent health, Curry could easily flirt with the 4,000 plateau for career 3s.
In the pace-and-space NBA, how long will Stephen Curry's record stand?
Stephen Curry has redefined 3-point shooting in the NBA, but the rest of the league followed. In seven seasons, Buddy Hield of the Sacramento Kings already has 1,187 3-pointers. But he was a late starter, making his NBA debut less than two months before his 24th birthday.
While it's easy to look at the pace Curry is making 3-pointers and conclude whatever record he ends up with will be virtually untouchable, the game in the current era revolves around the deep ball. Look no further than the controversy surrounding Ben Simmons. He's a generational talent as a 6-foot-10 point guard and defender, but his inability to shoot consistently stunts his career growth.
Centers now make a living at the 3-point line. Stretch 4s are in constant demand. It's nearly a requirement for wings to have the deep ball in their arsenal to have any success.
Stephen Curry will soon be the NBA's 3-point king. But given the game's current state, one can legitimately question how long he'll hold the title.
Statistics courtesy of Basketball Reference.
RELATED: Stephen Curry's Disappearing Act in the 4th Quarter Bizarrely Proves the Golden State Warriors Are Legitimate Contenders