Stephen Curry Should Be Praising Warriors GM Bob Myers for Finding Him the Perfect Pick-and-Pop Partner
Golden State Warriors point guard Stephen Curry is likely ecstatic about signing a four-year, $215 million extension, but he should be even more thrilled with Bob Myers for signing stretch-4 Nemanja Bjelica.
The Warriors have often lacked stretch-big types and haven't had many power forwards and centers capable of shooting from the perimeter since Kevin Durant made his presence felt alongside the "Splash Brothers." Bjelica's range and passing ability make him the perfect pick-and-pop partner for Curry and could unlock a new element of Golden State's offense.
The Warriors signed Nemanja Bjelica to a one-year deal
Golden State was a team of interest heading into the 2021 NBA Draft. The Dubs had the No. 7 and No. 14 picks to play with, and whispers suggested they could try to package the picks for a star.
However, president of basketball operations and general manager Bob Myers ultimately said the team would make its selections. Knowing the Warriors would have to pay the first-rounders and map out an extension for Curry, Myers now had to find under-the-radar additions to help the team win.
Bjelica fits that description perfectly.
The 33-year-old might not seem like a needle-mover, but that's not really what the Warriors need, especially once Klay Thompson is back and healthy. Rather, Golden State needs Bjelica's skill set.
Bjelica is shooting nearly 39% from beyond the arc for his career and shot over 40% in three straight seasons between 2017 and 2020. That ability to stretch the floor is imperative, as is his ability to make the right basketball play. The Serbian averaged 4.2 assists per 36 minutes last season. He is a tremendous passer and should be an asset for a Warriors offense predicated on ball movement.
Finally, Bjelica signing for the veteran's minimum allows the Warriors to use the full taxpayer mid-level exception. He's cheap and suits the roster well. This was a masterclass from Myers.
Bjelica should make Stephen Curry more dangerous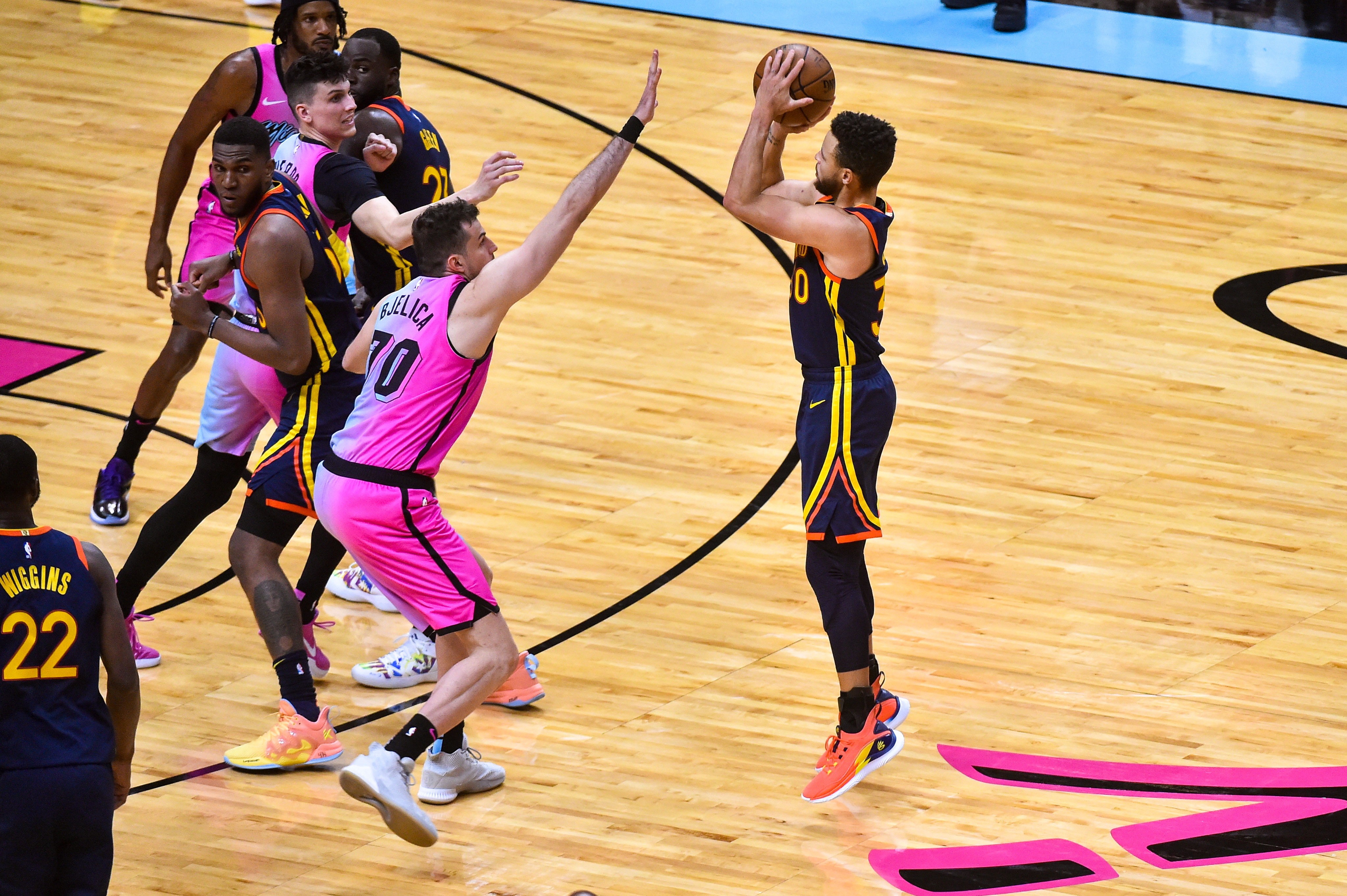 Stephen Curry is probably the toughest player to guard in pick-and-roll.
According to NBA.com, the Warriors averaged 1.13 points per possession on Curry pick-and-rolls. That was the best mark in the league last season. Yet, it's possible Curry and the Dubs will be even more dangerous on pick-and-roll sets next season.
Opposing defenses usually tried to hedge hard on Curry, knowing Draymond Green and Kevon Looney weren't really threats to score from the perimeter. Bjelica changes the complexion there. His ability to knock down open jumpers will force defenses to be more cautious and open up more driving lanes for Curry to get into the lane.
Additionally, Bjelica's vision benefits Curry in his hunting space and coming off screens for open jumpers. The two would really seem to complement each other on the floor.
Curry performed at an MVP level this past season despite defenses constantly keying in on him, especially at the end of games. However, the return of Thompson and the addition of Bjelica should make the Baby-Faced Assassin that much more lethal this upcoming season.
Myers and the Warriors probably have more moves to make
Curry made it clear after signing the extension he is intent on reestablishing the Warriors as perennial winners. He also understands that the Warriors cannot afford to sign all their targets because of Golden State's tax situation.
However, Myers has proven himself one of the more creative executives in the NBA and tends to have a clear understanding of what the Dubs need. The Bjelica signing is a reflection of that idea.
Myers and Co. probably have a couple more moves to make. The Warriors may try to facilitate a sign-and-trade involving Kelly Oubre Jr., which could nab them quality assets. Eric Paschall is another trade candidate in that regard.
Regardless of what the Warriors have planned, it's clear Myers knows how to cater to Curry's strengths and surround his star with complementary players.
Stats courtesy of Basketball Reference unless otherwise noted.
RELATED: What is the Golden State Warriors' Plan for Steph Curry and the Rest of their Post-Draft Roster After the Selections of Jonathan Kuminga and Moses Moody?