Stephen Curry Reached a Massive NBA Milestone in 2020-21 and Then Talked to His Favorite Childhood Player on Zoom Directly After
Golden State Warriors superstar Stephen Curry has easily cemented his legacy as the greatest shooter in NBA history. A former player, though, was the one who inspired him to become the greatest marksman the league has ever seen: former Indiana Pacers great Reggie Miller.
Like Curry, Miller knew how to shoot the long ball. And when Curry reached a massive 3-point shooting milestone in 2020-21, the two hoops legends talked on Zoom directly after.
Reggie Miller was Stephen Curry's favorite childhood player
While Michael Jordan was the player most kids raved about in the 80s and 90s, Stephen Curry's favorite player growing up was Reggie Miller.
Miller was a lights-out shooter with the Pacers, as he shot 39.5% from long range for his career and averaged as many as 24.6 points in a season. He ended up earning five All-Star and three All-NBA selections during his NBA tenure, and he finished his career with the most 3-pointers in NBA history (2,560) before Ray Allen passed him in 2011.
Curry has since taken the league by storm with his shooting abilities. And he has essentially changed the game forever, as the Davidson product averages 8.6 long-range attempts per game for his career, while Miller only averaged 4.7.
The Warriors star passed Miller on the all-time 3-pointers list in January 2021, and the NBA then released a tribute video, which included the various occasions Curry has praised Miller over the years. It even started out with him saying, "My favorite player growing up was Reggie Miller."
"The way that Reggie moved without the ball was second to none," Curry said in the video. "And he had that clutch gene that everybody wants."
Steph talked to Reggie on Zoom right after he passed him on the all-time list
Given that Curry loved Miller growing up, it was a big accomplishment for him to pass the Hall of Famer on the all-time 3-pointers-made list in January 2021.
It's something he will remember forever.
"I knew I was closing in on it; I knew that night I was going to shoot enough to have a shot at it," he said in a conversation with Miller that TNT aired on Oct. 21. "It was kind of a perfect play to pass your number just because it required a lot of running around. It's one that when it's all said and done, I look back, there will be moments that'll pop off, obviously championships and all the other things; that will be a moment that I will remember vividly just because of how much it meant, from shooter to shooter."
Miller then revealed during their conversation that they talked via Zoom right after the game.
"The Millers are very proud of you, especially this little guy (Miller's son); he is your number one fan," Miller said on the Zoom call after the game, via TNT. "So, thank you so much for what you have done my friend."
Curry then responded: "I appreciate that a lot. It means a lot to be right there with the whole Miller family. So, I appreciate you, bro."
It certainly had to be a surreal moment for Curry. He not only added to his already tremendous legacy that includes two NBA MVPs and three championships, but he talked to his favorite childhood player directly after.
Now, though, he's on the hunt for another milestone.
Stephen Curry can break Ray Allen's 3-point shooting record this season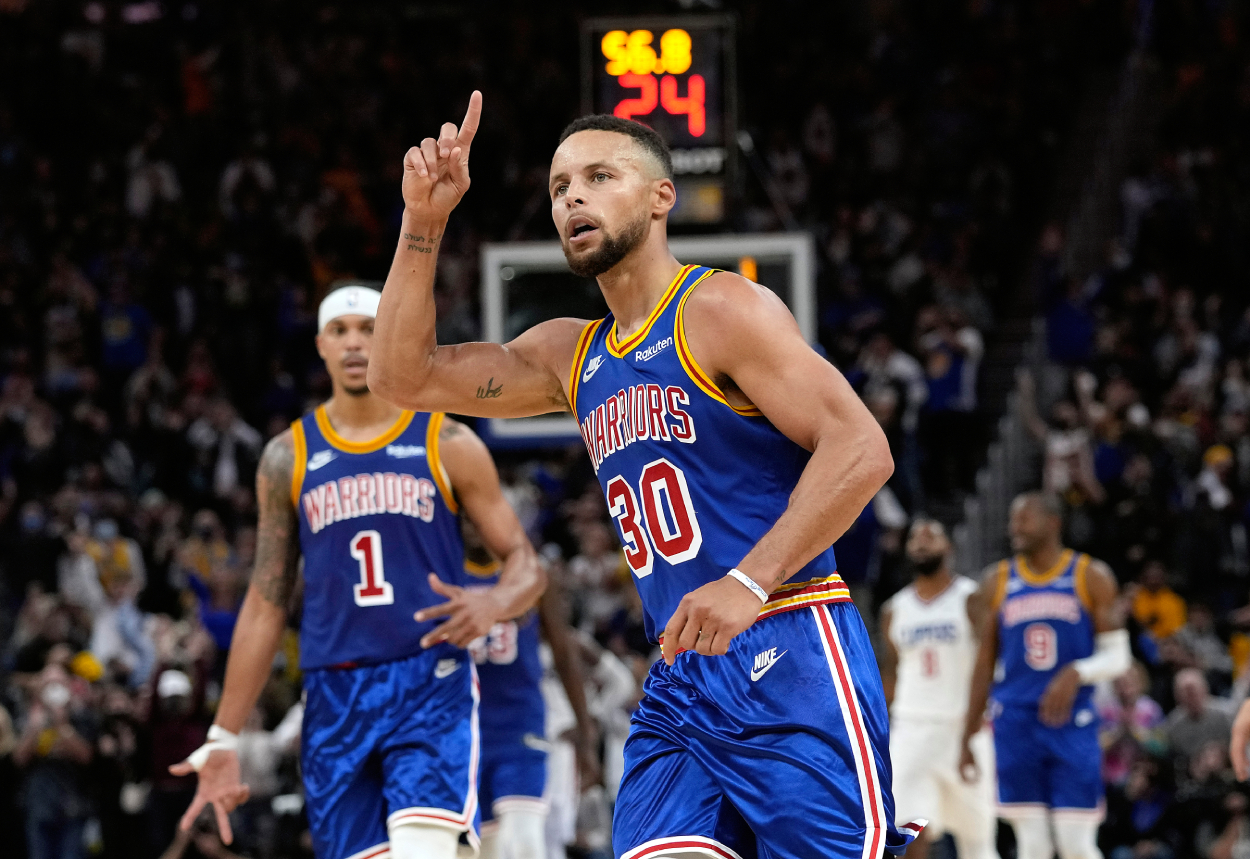 Now that Curry sits alone at second on the all-time 3-pointers list, he has a chance to surpass Ray Allen's all-time record of 2,973. As of Oct. 22, Curry only needed 131 more to tie Allen. He has made more than 300 three-pointers in four of the last six years, so as long as he stays healthy, Curry should break the record with ease this season.
"I'll have some emotions for sure if and when it happens just because it all goes back to how many shots have I shot in my life to have that moment," he said to Miller on TNT. "That's a pretty cool thing to think about."
Stephen Curry is the greatest shooter in NBA history. Who knows where he would be, though, had Reggie Miller not paved a path before him.
Stats courtesy of Basketball Reference
RELATED: Golden State Warriors Make Risky Decision by Reportedly Going Against Stephen Curry and Draymond Green's Wishes Yet Again