Stephen Curry Receives Brutal Reality Check From Tracy McGrady
Stephen Curry is one of the greatest players in NBA history. However, hoops legend Tracy McGrady recently gave the Golden State Warriors star a bold reality check.
Stephen Curry is one of the greatest players in NBA history, but does he deserve to be mentioned in the same breath as LeBron James, Michael Jordan, and Kobe Bryant? That's a difficult question.
Curry has changed the game maybe more than anyone. His ability to make everything from long-range has resulted in players improving their three-point shooting and teams focusing on perimeter scoring rather than points in the paint. However, some question the legitimacy of Curry's championships, especially considering he doesn't have a Finals MVP. And NBA legend Tracy McGrady appears to be one of those critics.
McGrady doesn't seem too impressed with Curry's rings and, in turn, won't put him up there with GOATs like MJ.
Tracy McGrady discussed Stephen Curry's greatness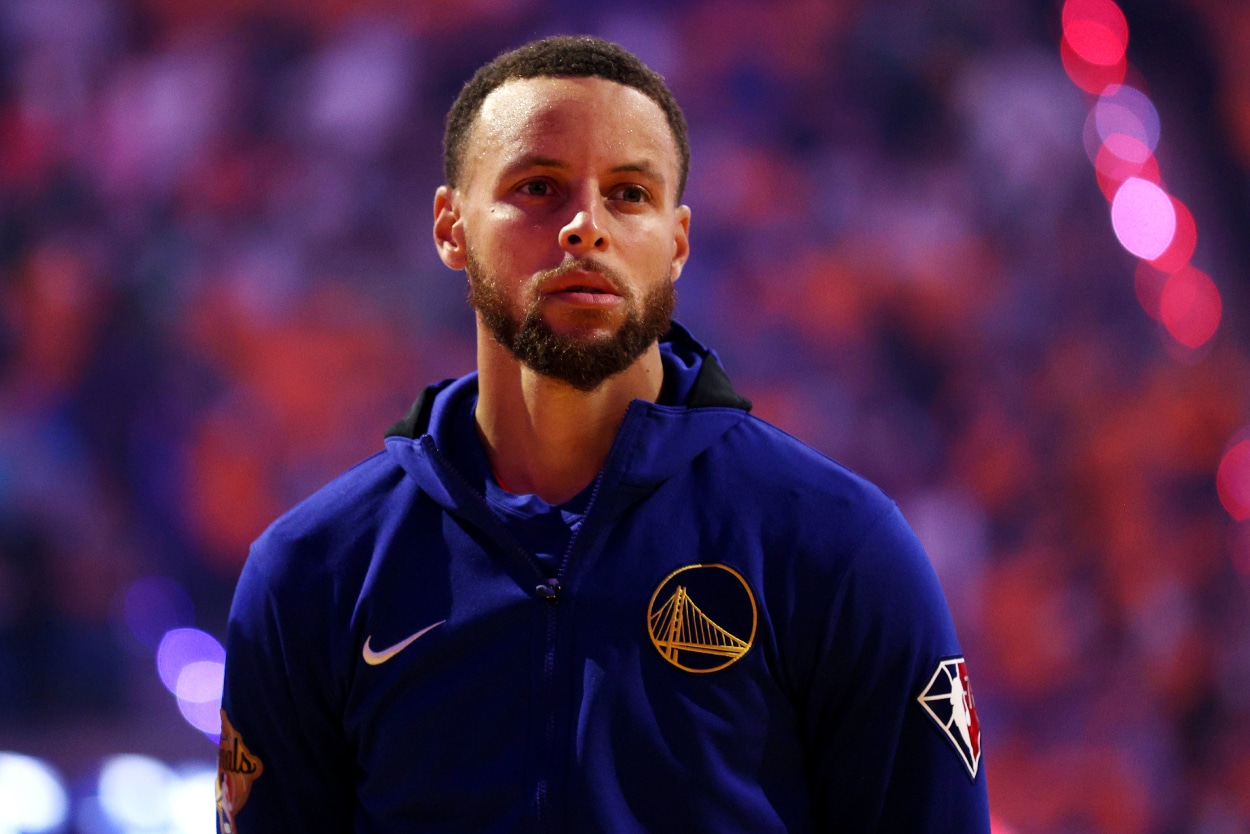 Tracy McGrady was one of the greatest offensive threats the NBA had ever seen during his career. He led the league in scoring twice and earned seven All-Star selections.
T-Mac's resume allows him to speak on today's game without being questioned. And he recently had a bold take about Stephen Curry, who is playing in his sixth NBA Finals in eight seasons with the Golden State Warriors.
"That's a tough question," McGrady said to NBC Sports Washington when asked where Curry ranks in NBA history. "Because he has his career individually and with what he's accomplished with his team is tough. Because you've gotta think, he won a championship, right, against LeBron [James] that didn't have Kyrie [Irving], that didn't have Kevin Love. He didn't win the [Finals] MVP, right? Then he loses a 3-1 lead to LeBron, gets KD, KD comes and wins two championships, so that gives Steph three championships but KD wins the two MVPs, right?"
He continued: "We know Steph is like the three-point God. But when it comes to putting him with [Michael Jordan] and these guys that won that level of championships; Kobe [Bryant] and Magic Johnson, I don't know where to rank him. I know he's pretty high. But I think those guys are in a different class than Steph Curry based off of [all of that]. They're on championship teams. KD came and joined the Warriors and became the best player and helped Steph win two more championships. But Steph wasn't the best player on that team."
Tracy McGrady is correct, but Stephen Curry can prove him wrong
You may not like Tracy McGrady's take, but he is right. Stephen Curry had an easy path to an NBA championship in 2015. The Cleveland Cavaliers were without two of their three stars in Kyrie Irving and Kevin Love, and they still took the Warriors to six games. In 2016, Curry and the Dubs blew a 3-1 lead to a healthy Cavs squad.
His other two championships came with Kevin Durant as the Warriors' best player (KD won both Finals MVPs during his two title runs in Golden State).
Legends like Michael Jordan, LeBron James, Kobe Bryant, and Magic Johnson won titles as the best players for their respective teams. They didn't necessarily have the easiest paths to winning those championships, either. Their careers just simply have them on a level above Curry.
But Steph can prove McGrady wrong. If he can lead the Warriors to an NBA championship this season — as their best player and against a tough Boston Celtics team — he will shut up a lot of haters. He maybe won't crack the group MJ and LeBron are in, but Curry will instantly receive more respect with a title this season.
Tracy McGrady may have sent a harsh reality check Stephen Curry's way, but the two-time league MVP can rewrite the narrative by winning a championship within the next week-and-a-half.