Stephen Curry Says He Recently Confronted Michael Jordan About His Past Controversial Take, and It Appears MJ Has Changed His Tune: 'That Was the First Question'
Not many people get to meet Michael Jordan, and if they do, there's a good chance they won't be brave enough to confront him about something he has said or done. Stephen Curry, though, isn't your average person.
If you haven't seen it, Curry and Jordan — who both love golf — recently sat down and did an interview together for the Ryder Cup. But Curry has since revealed that he actually confronted the GOAT about something he said two years ago.
What were Jordan's comments? MJ claimed that he didn't think the Golden State Warriors star was a Hall of Famer yet.
Michael Jordan previously said Stephen Curry wasn't a Hall of Famer
While appearing on the Today show in 2019, Michael Jordan had a scorching-hot take about Warriors star Stephen Curry.
"He's still a great player," Jordan said when asked about whether Curry should be offended by him not putting the Warriors star on his fantasy five-man pick-up squad, per ESPN. "Not a Hall of Famer yet, though. He's not."
Curry then responded two days later.
"I love MJ. That's my guy. He's obviously, he's the GOAT," Curry said on SiriusXM NBA Radio, per ESPN. "But I don't know if it was a wordsmith thing or if he just kinda got in his own way, but I'm sure if you ask him that question now, like straight-up, does he think I'm getting in there, he probably would have a different answer. If he put the dot, dot, dot, 'yet,' then I'm cool with that."
The 2020-21 league scoring champ also took somewhat of a lighthearted shot at Jordan a few weeks later when he received a question on Sole Collector's Full Size Run about whether he ever sends shoes to his haters.
"Not yet. I might have to set up a little service like that though. Might have to send 'em to MJ," Curry said, per NBC Sports.
Now, two years later, Jordan's comments have been brought up again.
Stephen Curry confronted the NBA legend about his hot take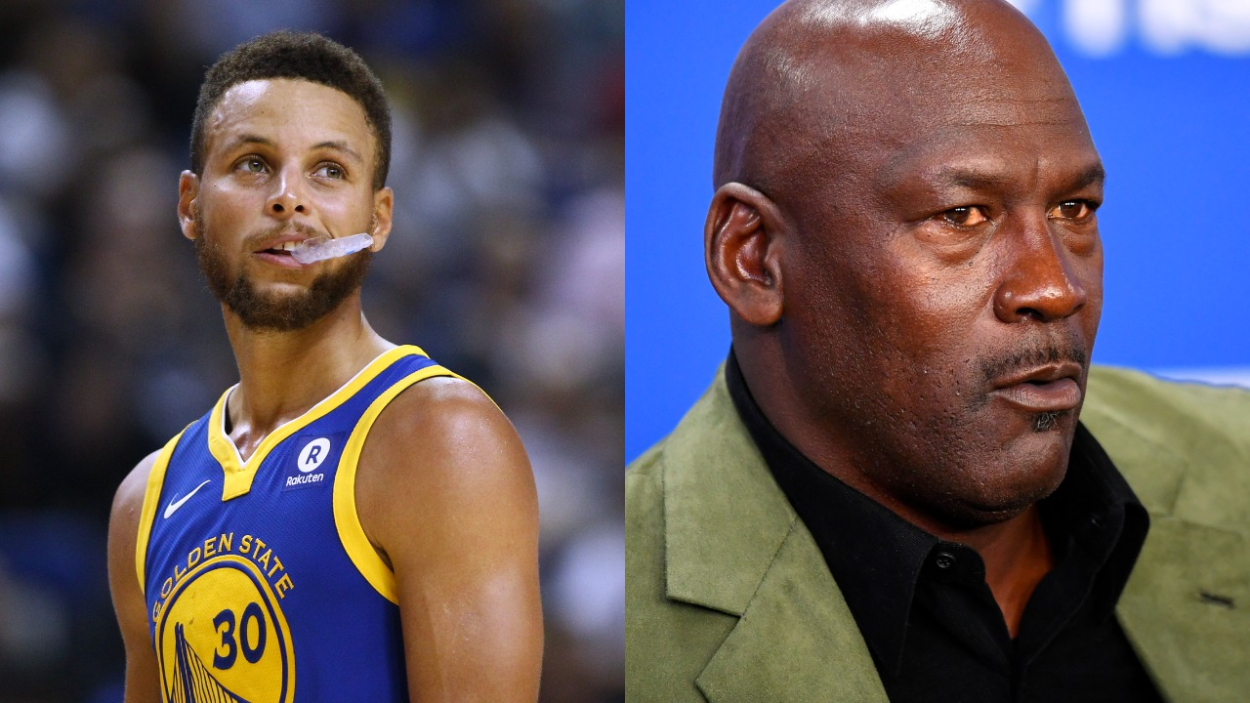 Ahead of his 13th season with the Warriors, Stephen Curry recently appeared on The Athletic NBA Show, and he discussed his and MJ's interview for the Ryder Cup. During the discussion, one of the hosts asked Curry whether he talked to Jordan about his Naismith Memorial Basketball Hall of Fame status.
"That was the first question; they just edited it out," Curry said while he and the hosts laughed on the Oct. 6 episode. "He said, 'First-ballot Hall of Fame, no problem.'"
OK, so it sounds like Jordan has changed his tune a bit. It would have been nice to actually see the clip of Curry asking him the question, but it turned out to be a great interview, so maybe the fact that Steph put it out there from the get-go allowed them to set any potential awkwardness aside for the rest of their chat.
Is Jordan right, though, or were his initial comments correct?
Is NBA and Warriors star Stephen Curry a Hall of Famer?
So, since we're here, let's ask the question: Is Stephen Curry a Hall of Famer?
Without question.
Curry has not only earned seven All-Star selections and helped lead his Warriors to three championships and two other trips to the Finals, but he's also a two-time league MVP. After leading the NBA with 32.0 points per game in 2020-21, he's a two-time scoring champ as well.
That's not all, though. Curry is known for being one of the greatest shooters of all time, and it shows up in the record books. He is second in NBA history in total 3-pointers made with 2,832.
All in all, players who have accomplished a lot less are in the Hall of Fame, so Curry should be a shoo-in. Basketball Reference says he has a 99.96% chance of making the Hall, and only 34 other players in NBA history currently have or have had a higher probability. Chris Bosh and Paul Pierce, who both entered the Hall of Fame this year, actually rank lower than him.
It's unclear why Jordan changed his opinion. Since the Chicago Bulls legend's initial comments, Curry only played in five games in 2019-20 but then led the league in scoring in 2020-21. He hasn't been back to the Finals since then, though, nor has he even made it to the playoffs. Maybe last season's performance was just so incredible that MJ decided to give him the nod.
Either way, we can all expect to see Curry in the Hall of Fame whenever he decides to hang up the sneakers. Maybe he'll send them over to Jordan when he's done, too.
Stats courtesy of Basketball Reference
RELATED: Michael Jordan's Famous Competitive 'Philosophy' Actually Came From Someone Else: 'He's Just Adding Some Different Adjectives or He Might Cuss'