A Baby-Faced Stephen Curry Sent an Ominous, Prophetic Warning to the Rest of the NBA When He Nearly Won the 3-Point Contest as a Rookie
Stephen Curry is two threes away from becoming the NBA's all-time leader in career 3-point makes heading into the Golden State Warriors game at Madison Square Garden. It's a fair bet the two-time MVP blows past Ray Allen at the Mecca.
And one particular night during Steph's rookie season foreshadowed this very moment.
Steph Curry is about to make 3-point shooting history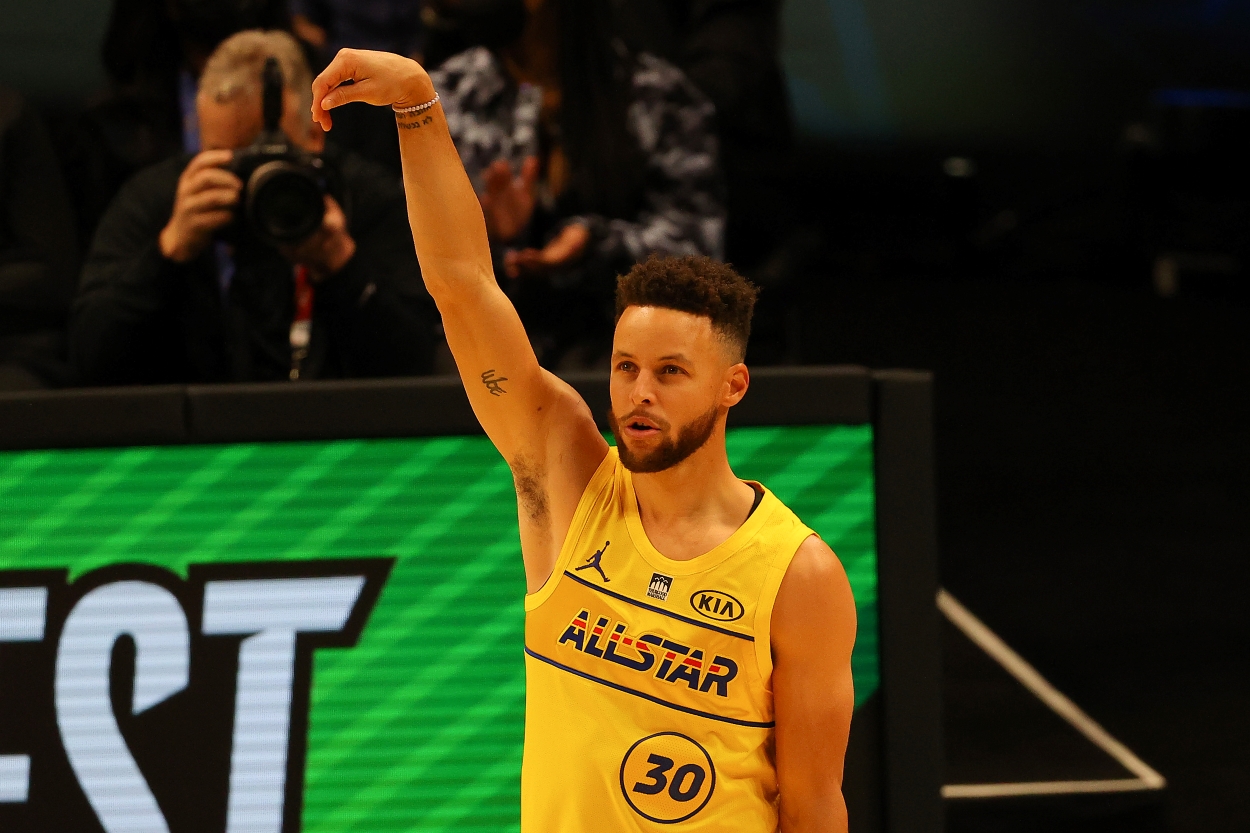 Steph is heading into the Warriors' Dec. 14 game at MSG, just a pair of threes away from breaking Allen's record. He's also currently second all-time in attempts and seventh in 3-point shooting percentage.
So he almost takes (and is about to make) more threes than anyone, and at a higher clip considering the volume at which he shoots them.
Allen and Reggie Miller were considered the two greatest 3-point shooters in league history before Steph came along. He's shot (pun intended) past them and is about to bypass Allen's record. Curry's shooting numbers will be nearly untouchable by the time he retires.
But we should have seen this coming as far back as the 2010 All-Star Weekend.
Steph nearly won the 3-point contest as a rookie
Curry was invited to participate in the NBA All-Star Weekend's 3-Point Contest as a rookie. Via a story on ESPN, Curry was just glad to be involved in something he had watched since he was a kid:
"I'd watched the three-point contest my entire life," Curry told ESPN. "My dad had been in it plenty of times. A lot of guys that I looked up to, Reggie [Miller], Ray [Allen], Rex [Chapman], a lot of dudes that I know that experienced that and I was so excited just to have the first opportunity."
Steph advanced to the championship round, where he eventually lost to Paul Pierce. But the league took notice.
"Here comes my guy right here!" Miller said.
"Reggie, he shoots like you," Charles Barkley commented. "Even when he miss, it looks good."
Curry took notice too. After competing against — and almost beating — Pierce, Steph knew he belonged.
"I wasn't even shooting that well my rookie year, I just had a reputation that kind of preceded me because of my dad, because of how I played at Davidson. That was the first time I really was like — and it's Paul Pierce, too, in '09. That's like Paul Pierce — and it was like, 'This is dope.' People think I can shoot the ball as well as I do, so that's kind of cool."
It was clear to a pair of Hall of Famers — including one of the most legendary sharpshooters in NBA history — that Steph was just on a different level.
The Warriors star is about to take in another step in being considered the greatest shooter of all time
As if Allen's record wasn't enough, Steph is also on pace to break his own record of 450 triples made in a season.
He hit nine 3-pointers in a game for the 38th time in a win over Cleveland earlier this year. No other player has done that more than 10 times in a career.
When interviewed for the ESPN story, Miller was asked if Curry has "surpassed him and Allen as the greatest shooter in NBA history." His answer was simple.
"Yes," Miller said. "He is. He is."
The conversation may already be over. But Steph is about to add another notch to his belt to further prove it.
All statistics courtesy of Basketball Reference.