Stephen Curry Sought Personal Advice From Tom Brady About Something Unrelated to Sports
Golden State Warriors point guard Stephen Curry's age (33) hardly proved preventative in terms of his ability to play at an MVP-caliber level. However, Cury is intent on discovering avenues to enhance his longevity. He wants to know how Tampa Bay Buccaneers quarterback Tom Brady ages so magnificently.
Curry's pure shooting ability is likely to help him age better than some of his basketball contemporaries. Still, he relies quite a bit on quickness and agility both on and off the ball. He'll have to keep his body in good shape if he hopes to keep pace with some of the younger guards in the NBA.
This is where Brady comes in, apparently.
Tom Brady has taken immaculate care of himself during his career
Age is but a number to Tom Brady. In fact, he became even more of a winner as he got older.
Brady won three Super Bowls in a span of four seasons at the start of his career. It took him 10 seasons to capture his next Lombardi Trophy, though he suffered two Super Bowl losses beforehand and played at a tremendous individual level.
That next breakthrough (during the 2014 season) started an unprecedented run of winning. Brady made it to the Super Bowl in two of the next three seasons, winning both of those appearances. He suffered an early playoff loss in his final season with the New England Patriots, only to win his seventh Lombardi with the Tampa Bay Buccaneers this past season.
It's not just that Brady remains every bit as brilliant and successful at age 44 as he was in his "prime," but also the fact injuries have seldom beset him. He suffered an ACL and MCL tear in 2008. That's about the extent of it.
Brady has played all 16 games in nearly every season. He played 15 games in 2001 when he replaced Drew Bledsoe as the starter in New England. The knee injury cost him nearly the entirety of the 2008 campaign. He missed four games at the start of the 2016 season due to the "Deflategate" suspension. Other than that, Brady's always been on the field.
Football is a physical sport, and quarterbacks are every bit as susceptible as others on the gridiron. For Brady to remain so healthy and effective is a testament to his self-care, something Stephen Curry wants to emulate as his Warriors tenure continues.
Stephen Curry asked Brady about the best ways to extend his career
Stephen Curry's age is not reflective of his dynamism on the basketball court. Not dynamism in terms of athleticism, per se, but rather his ability to make plays from anywhere on the floor and use some of his better attributes to his benefit.
Curry was magnificent over the course of this past season. He led the NBA at 32.0 points per contest, also averaging 5.8 assists and 5.8 rebounds. The advanced numbers were also special. Curry's true shooting percentage and box plus-minus marks were each the third-highest of his career.
But Curry doesn't want this to be an anomaly. He wants to maintain this level of excellence as he ages. The Warriors star asked Brady about that subject and staying in-tuned mentally.
"I've actually talked to [Brady], personally, about this," Curry said, via Monte Poole of NBC Sports Bay Area. "He's at the point now where he can look back and talk about that with some authority and experience.
"But even he said, in the moment, when he was in his early-30s, mid-30s, late-30s, it was always, 'I think I've still got two more years in me. Stay. Do everything I can to sustain yourself and stay physically and mentally sharp.' And then you look up and you're saying that again, saying it the next two years. And you're saying it again."
Brady's forward-thinking mindset seemingly continues to play a role in his ability to play at a high level and still be one of the best football players on the planet. Curry aspires to have the same attitude.
Tom Brady's age has been essentially irrelevant to his career arc in part because of his determination to keep up mentally and physically. Can Curry find similar late-career success?
Curry and the Warriors enter a new era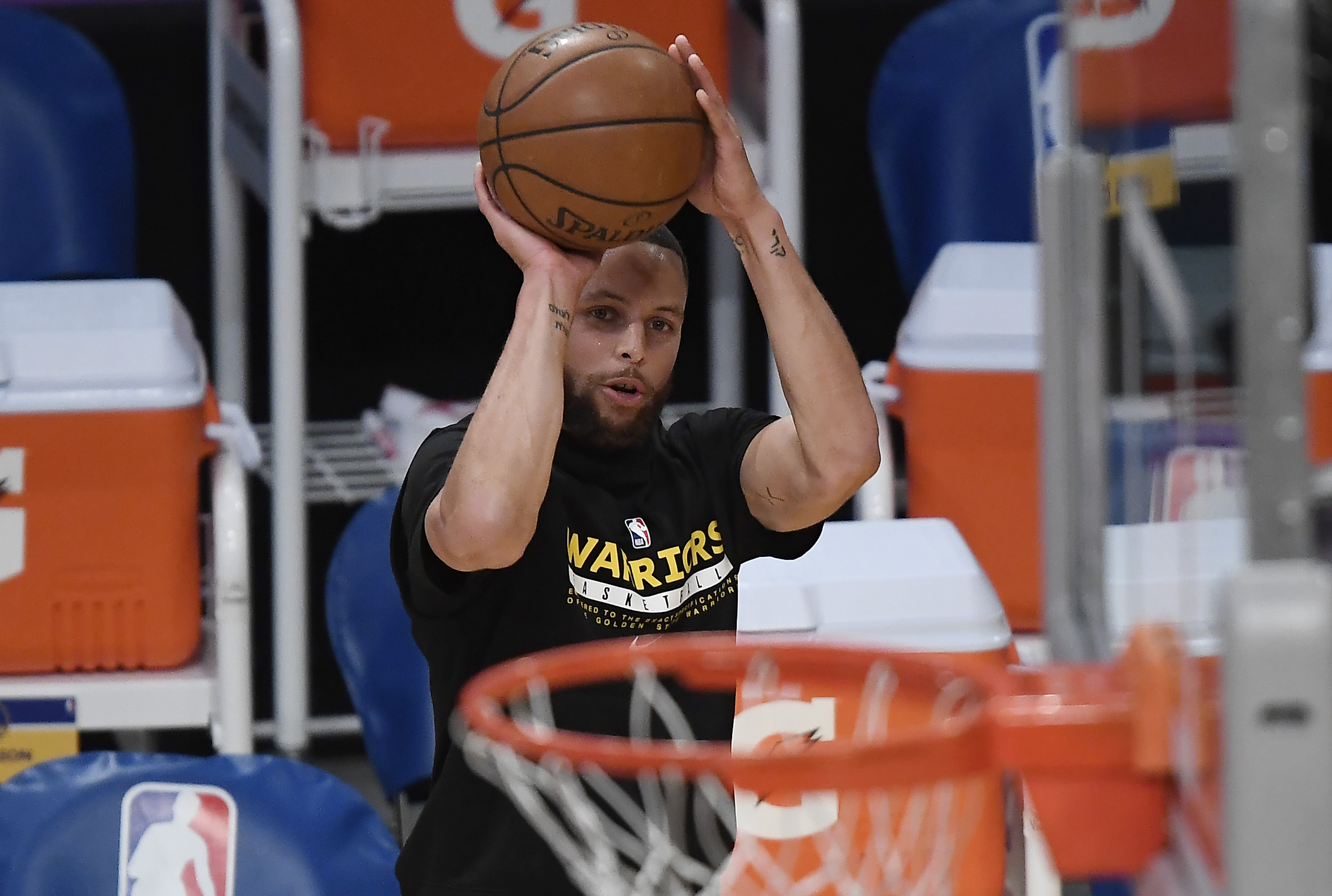 Just as Curry might have to adapt as he ages, the Warriors also need to adapt to a deeper Western Conference that is more plentiful in talent.
The Dubs used to be at the epicenter of the NBA. From 2015 to 2019, the Warriors made the Finals in five consecutive seasons and won three championships.
Things have changed quite a bit since then, though. Kevin Durant is no longer in the Bay Area. The members of the Warriors core are entering the latter stages of their respective careers, with Klay Thompson coming off a couple of major procedures. Youngsters like James Wiseman, Moses Moody, and Jonathan Kuminga could play every bit as big a role as the old heads in determining Golden State's success.
All the while, Stephen Curry's age will weigh heavily in the mind of the Baby-Faced Assassin. He is aspiring to get back to the NBA mountaintop and likely hopes a Brady-like approach to aging and staying in shape will help him do just that.
Stats courtesy of Basketball Reference and Pro Football Reference.
RELATED: The Buccaneers Have a Hilarious Description for Tom Brady's Commanding Presence in the Locker Room: 'Nobody's a Turd When Tom's Around'