Stephen Curry Makes Strong Comments About His New but Old Warriors Teammate: 'The Dude's Motivated'
The crew is back together; well, at least part of it is. Stephen Curry and the Golden State Warriors are welcoming back Andre Iguodala, who was there for all five of their consecutive trips to the NBA Finals, and they now hope to climb atop the NBA standings again.
Iguodala, though, is getting up there in terms of basketball years, as he's 37. He also even failed to average 5.0 points in each of the last two seasons. But Curry doesn't think Iguodala is just going to Golden State to end his career where he won all his titles; he thinks the 2014-15 NBA Finals MVP wants to be a key contributor. He believes his new — but old — teammate is "motivated."
Andre Iguodala is returning to the Golden State Warriors
After playing in Miami for the past two years, Andre Iguodala became a free agent this offseason when the Heat declined his team option. He then announced his return to the Warriors before officially signing a contract with the team on Aug. 10.
Iguodala had a tremendous amount of success with Stephen Curry and the Warriors from 2013-14 through 2018-19, as he was a key role player on championship teams. He proved his actual value on the defensive end, though, especially in the postseason. During the 2015 NBA Finals, Iguodala came up big offensively, scoring 16.3 points and recording 4.0 assists per game, but his defense on LeBron James helped the Warriors beat the Cleveland Cavaliers in six games. It also helped him win Finals MVP.
That title was the first of three that Iguodala was a part of on the Warriors and the first of five straight trips to the finals. After losing in the 2019 championship series, though, the team traded Iguodala to the Memphis Grizzlies, who then traded him to the Heat.
Iguodala played in his sixth straight finals with the Heat in 2020, but he only averaged 4.4 points, 3.6 rebounds, and 0.8 steals with Miami the last two seasons.
Stephen Curry said his new but old Warriors teammate is 'motivated'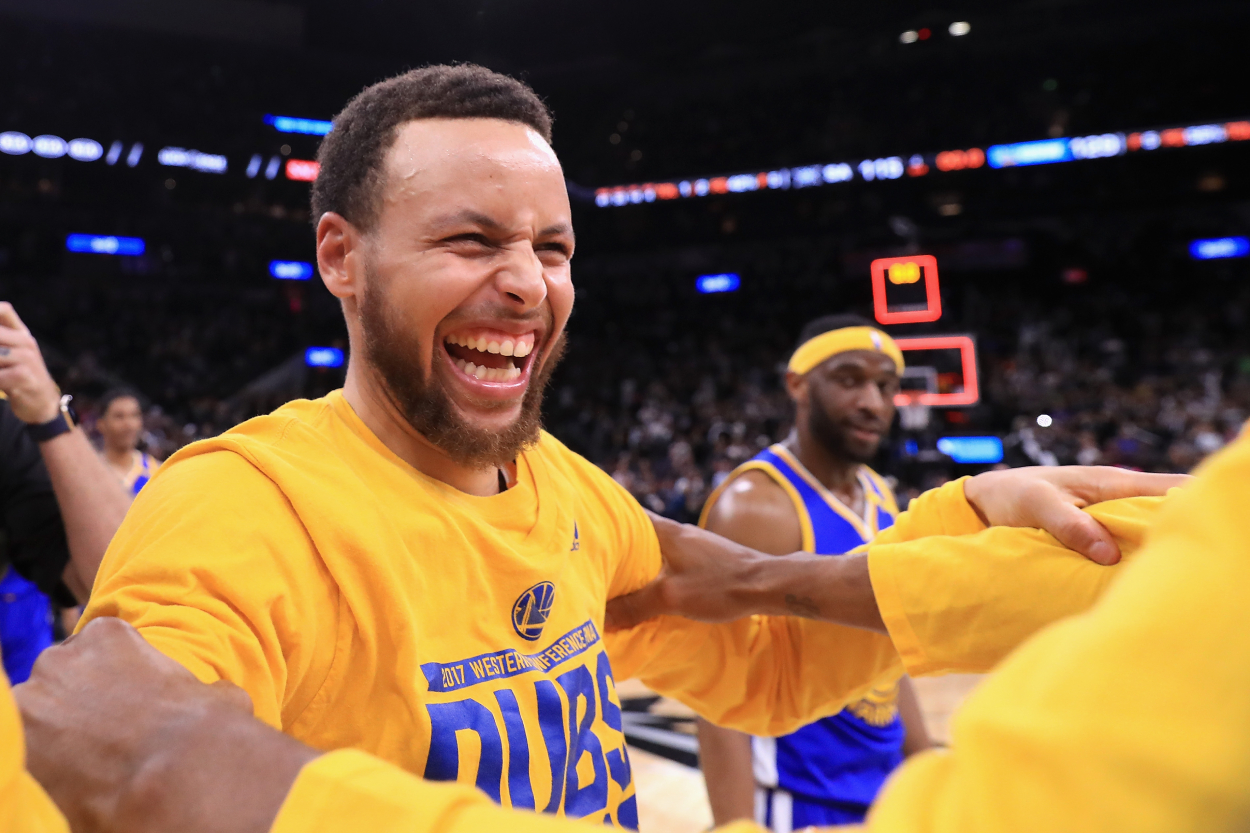 While amidst an NBA offseason in which he just signed a four-year, $215 million contract extension with the Warriors, Curry revealed he has, in fact, talked to Iguodala. And he seems to think the Arizona product is ready to find success.
"I think there was a question of, like, did he have a year or two left in the tank to even make a decision of wanting to come back?" Curry said, per The Athletic. "The way I've heard him talk and saw him the other day, the dude's motivated. It's not just, 'I'm coming back to be a chaperone and try to fade into the sunset in the Warrior jersey.'"
He continued: "He actually is going to want to produce and be out there, be available throughout the year. … He's in a good space mentally and physically, I think, in terms of what he's expecting from himself come this year."
Curry also seems excited about the fact Iguodala already has experience with the franchise.
"And to know it's somebody that's been around, knows how we operate, can help the young guys, can be eyes and ears in the locker room and on the court to help unlock some potential and me, Draymond, and Klay as leaders (too). It's going to be awesome," he added, per The Athletic.
It appears the two-time NBA MVP is excited to have his friend back, but how successful can Golden State be in 2021-22?
Stephen Curry and the Warriors hope to contend for NBA titles again
Andre Iguodala isn't going to be the difference between the Warriors going on a deep playoff run and getting bounced in the first or second round. But his leadership on a team filled with several young guys, in addition to the veterans like Curry, Draymond Green, Klay Thompson, and Andrew Wiggins, will be crucial.
The Warriors hope to finally have Thompson back after he missed the last two seasons due to injury. His presence alone should help solidify their spot as a playoff team.
However, the success of their young guys will determine how far the Warriors can go. 
Golden State now has three 2020 and 2021 top-15 picks in James Wiseman, Jonathan Kuminga, and Moses Moody. Wiseman already had a role in the Warriors' offense last season, so if he can develop into the player Golden State expects him to become, and if Kuminga and Moody can contribute a little as rookies, the Warriors certainly have a shot at competing for a championship.
If those three fail to reach individual expectations, though, teams like the Los Angeles Lakers and Phoenix Suns may be too much for Golden State to handle.
All in all, the Warriors will be an interesting team to follow in 2021-22. Are they contenders? Or, like Iguodala's successful career, is their incredible run coming to an end? Both possibilities should make for intriguing storylines.
Stats courtesy of Basketball Reference