Stephen Curry Took a Shot at Dwyane Wade for Helping a Current Player on the Miami Heat
The coronavirus pandemic has resulted in famous athletes taking time to connect with fans on social media more. This is especially the case with Golden State Warriors star guard Stephen Curry. However, Curry has done more than connect with fans. While on Instagram Live recently, Curry took a shot at Miami Heat legend Dwyane Wade. Is this quarantine going to start new rivalries that did not exist beforehand?
Stephen Curry and other athletes try to stay busy during quarantine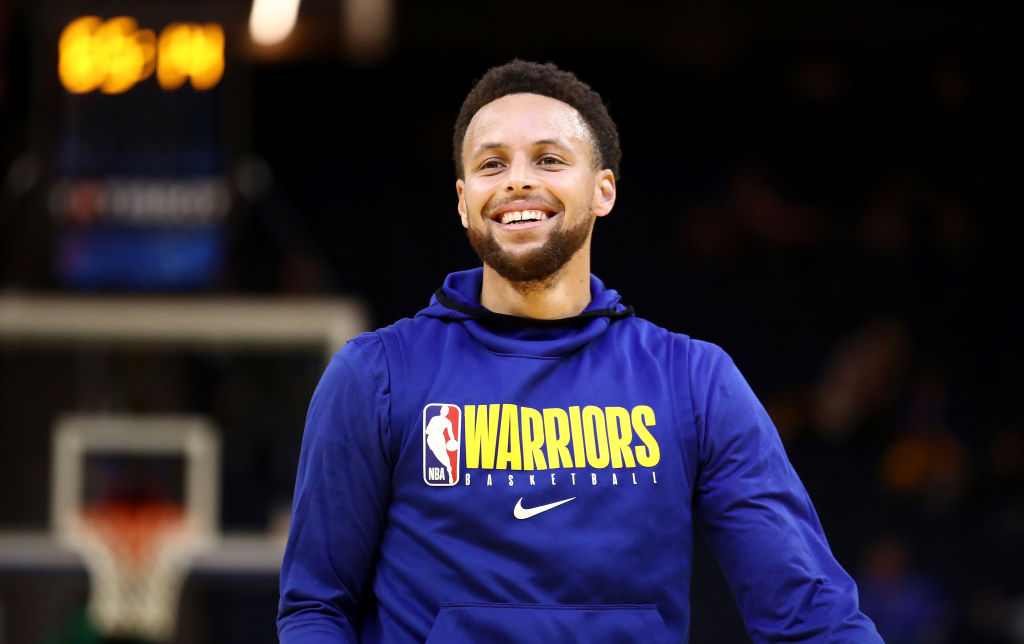 Once the COVID-19 pandemic hit the sports world, it took it down quickly. Utah Jazz center Rudy Gobert tested positive for COVID-19 on March 11 and then the NBA suspended its season that night. The NCAA then followed suit by canceling its college basketball tournaments as well as the rest of winter and spring sports championships. Then the MLB canceled the rest of spring training and suspended all operations. Additionally, on March 24 the International Olympic Committee postponed the 2020 Olympics.
Athletes have done various things to stay busy while they are quarantined. Guys like Rob Gronkowski, Travis Kelce, Trevor Baur, Danny Amendola, and Mike Clevinger are competing in a virtual beer pong tournament. Also, other NBA guys like Kevin Durant, Devin Booker, Donovan Mitchell, and Trae Young are competing in an NBA 2K tournament on ESPN. Then, of course, you have a lot of guys doing videos on Instagram Live. This includes guys like LeBron James, Dwyane Wade, and, of course, Stephen Curry.
Curry did a Q&A with Dr. Anthony Fauci, the director of the National Institute of Allergy and Infectious Diseases, on March 26. He then hosted a pop quiz game show on the NBA's Instagram Live on April 3.
Dwyane Wade was a judge at the 2020 Slam Dunk Contest
The 2020 Slam Dunk Contest had a controversial ending. It came down to Miami Heat forward Derrick Jones Jr. and Orlando Magic forward Aaron Gordon. The contest had two tiebreaker dunk-offs. The judges planned to have the second dunk-off end in a tie too because both Jones' and Gordon's dunks were so good.
"We thought it was going to be tied. We were like, 'This is a tie!'" hip-hop artist Common, who was a judge, told ESPN. "But somebody didn't do it right. I don't know who it is."

Common
Los Angeles Sparks star Candace Parker, who was also a judge, also confirmed to ESPN that they had intended for it to result in a tie. In that second dunk-off, Jones threw down a windmill dunk with his left hand and it resulted in a 48. Gordon then brought out Boston Celtics rookie Tacko Fall, who is seven-foot-five, for his final dunk. Gordon jumped over him and took the ball from his hands. He then finished the jump off with a dunk. Gordon ultimately got a 47, so Jones got the win.
Parker and Common each gave Gordon a 10 for his dunk. The other judges, Dwyane Wade, Scottie Pippen, and actor Chadwick Boseman, each gave him a 9. If either one of them, including Wade, would have given Gordon a 10 then it would have ended in a tie. They didn't, though, so Wade's fellow Miami Heat left with the win.
Curry took a shot at Wade for the dunk contest
Curry's brother Seth Curry ended up winning his pop quiz game show on Instagram Live. This was Stephen Curry's response to his brother getting the win.
"Seth Curry with the win," Stephen Curry said. "Is this like when D-Wade gave Derrick Jones the dunk [contest]? No, it ain't like that. Maybe it is."

Stepen Curry
Stephen does have a point. The winner was a Miami Heat player, so of course, Dwyane Wade probably wanted someone on his former team to win. If Wade would have given Gordon a 10, then it would have resulted in another tie.
So, did Wade give the dunk contest to Derrick Jones? Maybe, it is certainly possible. We'll see if he gives a response to Curry to clear things up in the near future, though.