Stephen Curry's Warriors Could Add a Former All-Star to Give Their Bench a Much-Needed Boost in Their Pursuit of a Championship
After a two-year hiatus, Stephen Curry and his Golden State Warriors hope to be on top of the NBA again this season. They'll not only have Klay Thompson back at some point, but they will also have multiple young pieces who can help them contend for a title.
However, veteran leadership is crucial, and it appears Golden State wants to add a former All-Star who can give them just that, as a recent report suggested that the Warriors have shown an interest in Paul Millsap.
Millsap, though, wouldn't just be a key voice in the locker room. The 2015-16 All-Defensive Team honoree would also likely have a chance to give the Warriors a much-needed boost off the bench.
Paul Millsap is a four-time NBA All-Star
Throughout his 15-year NBA career, Paul Millsap has been one of the more underrated power forwards in the league.
After developing into a strong role player in his first four seasons on the Utah Jazz, Millsap became a solid scorer in 2010-11, averaging 17.3 points and 7.6 rebounds.
But once he moved to the Atlanta Hawks, he became an All-Star, averaging nearly 18.0 points and 8.5 rebounds per game during the 2013-14 campaign. He ultimately earned his first of four consecutive All-Star selections that year and recorded 17.4 points and 8.3 rebounds per game throughout those four seasons in Atlanta.
Since 2017-18, Millsap has been a strong role player for the up-and-coming Denver Nuggets. In 2020-21, at 35 years old, the Louisiana Tech product recorded 9.0 points and 4.7 rebounds per game.
Now, however, he's a free agent and reportedly has multiple contenders looking at him.
The Warriors are reportedly interested in adding him to their title-hungry roster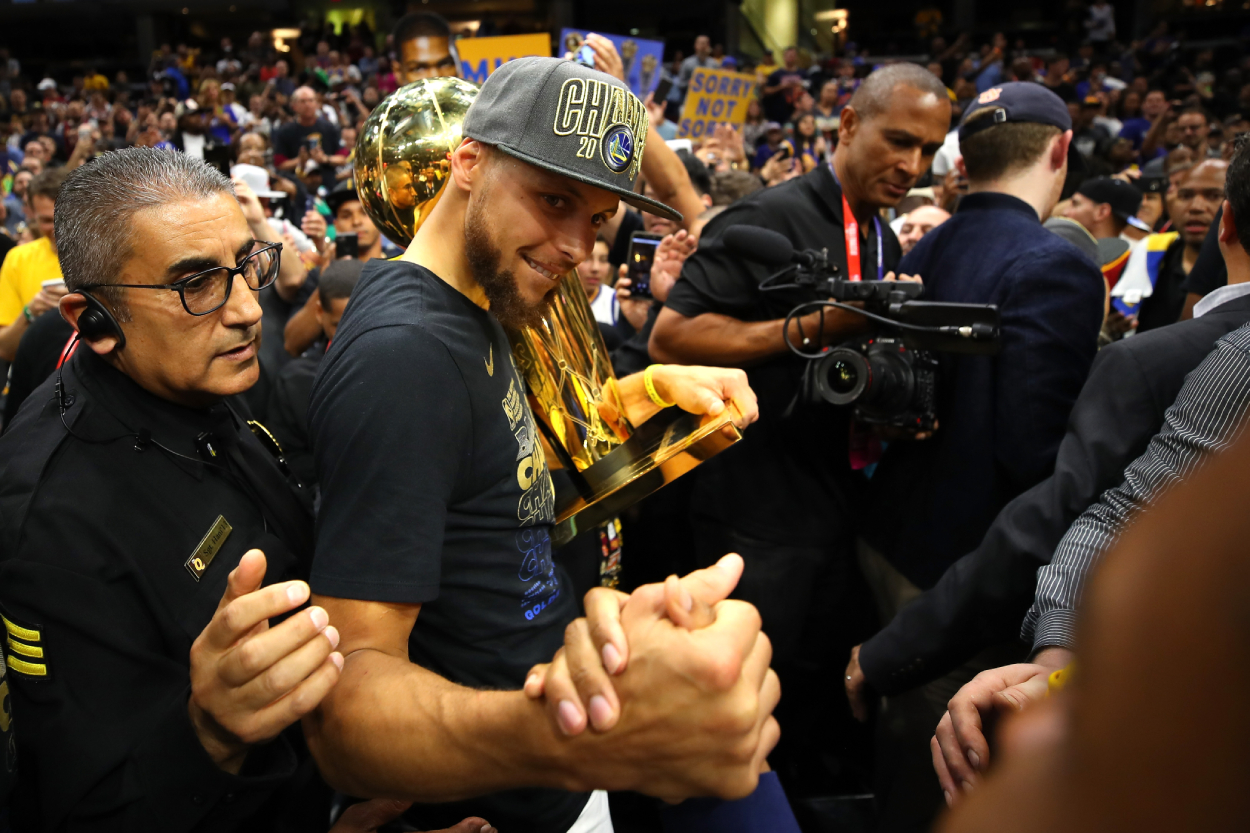 The top free agents of the 2021 offseason are pretty much off the board and signed to their teams, but there are still some strong guys out there who can provide depth for contenders, and Paul Millsap is one of them.
According to Mike Singer of The Denver Post, both the Warriors and the Brooklyn Nets have reportedly looked into adding Millsap.
Leadership-wise, Millsap would be great for either of those teams. He not only helped lead the Hawks to four straight playoff appearances, including a 60-22 season and a trip to the conference finals in 2014-15, but the Nuggets have also been to the playoffs each of the past three years after they had missed the postseason in the five previous campaigns.
However, Millsap would also help those squads on the court, specifically Stephen Curry's Warriors.
What would Paul Millsap bring to Stephen Curry's Golden State Warriors?
The Warriors are coming off a season where Stephen Curry was incredible and led the NBA in scoring with 32.0 points per game. However, while they reached the play-in tournament, the Warriors failed to win both of their two games and missed out on the playoffs.
Now that Golden State will likely have Klay Thompson back around Christmas, though (per CBS Sports), they have a chance to contend in the Western Conference again. So, Millsap would be able to help them significantly.
Draymond Green is the team's starting power forward, but he doesn't give Golden State much in terms of points, as he only scored 7.0 per game last season. Eric Paschall, who averaged 9.5 points and 3.2 rebounds last year, was the Warriors' top scorer at the four (not counting Andrew Wiggins), but he's now on the Jazz.
Millsap would give the Warriors someone who can score just as much as Paschall, but he's also a better rebounder, shooter from 3-point range, and defender. He would give Golden State a much-needed boost at power forward off the bench and veteran leadership to help young guys like James Wiseman, Moses Moody, and Jonathan Kuminga.
Sure, everyone will look to Curry, Thompson, Green, Wiseman, and even Andrew Wiggins if the Warriors contend for a title in 2021-22. But if they add Millsap, he would be precisely what they need to push them over the top.
Stats courtesy of Basketball Reference