Stephen Curry and the Warriors Went After LeBron James Before They Ever Dreamt of Signing Kevin Durant
"In a move that will change the course of NBA history, LeBron James has taken his talents to the Golden State Warriors to join forces with Stephen Curry."
OK, that never actually happened. But it could have.
When LeBron's contract with the Miami Heat expired, he took meetings with other franchises as possible free-agent destinations. Famously, he ended up going home to Cleveland and eventually beating Steph and the Warriors for the Cavs' only championship.
But Golden State was dead-set on bringing The King to Oakland.
Before LeBron James' second Decision, he jumped aboard the free-agent carousel again
Lebron James' Decision to join the Heat and play alongside Dwyane Wade and Chris Bosh is one of the most critical events in NBA history.
LeBron teamed up with his buddies to win not one, not two, not three, not four, not five, not six, not seven championships.
The trio is often considered the original Big Three. (It's not).
James and the Heat did win two titles — 2012 and 2013 — before he entered free agency again.
In the summer of 2014, we LeBron went through the same process he did four years prior. This time, the rumored destinations were the Dallas Mavericks, Cleveland Cavaliers, and Los Angeles Lakers, according to Bleacher Report.
Staying in Miami with his buddies was yet another option. Eventually, James ended up going home to Cleveland. But Golden State frantically tried to get in on the action, hoping to create a dynamic duo of LBJ and Steph.
The Warriors were desperate to team LeBron with Stephen Curry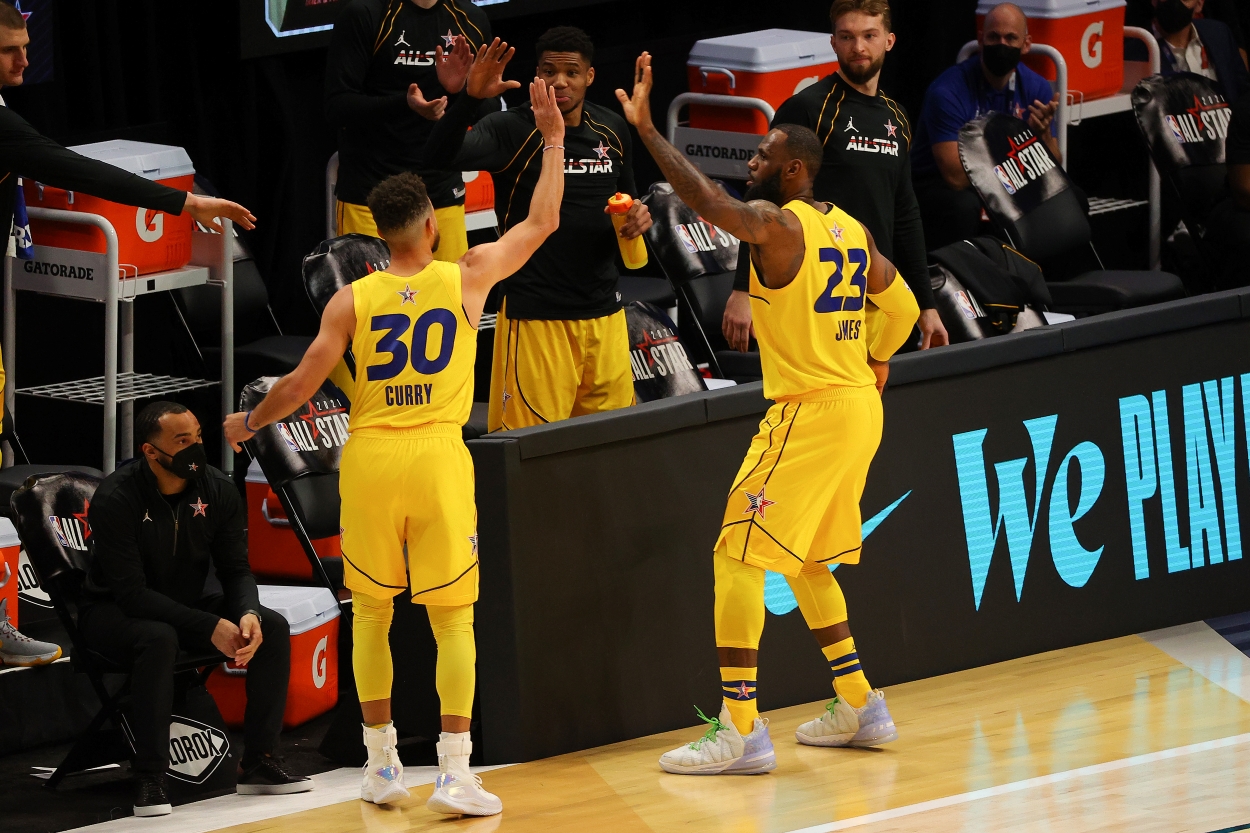 So after four seasons and two titles with The Heatles, James was possibly on the move once again.
Speculation ran rampant, as it did in 2010 and again in 2018. But one of the scenarios that could have played out was King James teaming up with Chef Curry and the Warriors.
In a 2018 story on The Athletic, Marcus Thompson detailed how much Golden State wanted LeBron:
The Warriors worked behind the scenes to get a meeting with LeBron. Couldn't do it. James' agent Rich Paul met with the Rockets, Mavericks, Lakers and Suns that summer. He eventually announced he was returning to Cleveland.

The Warriors, who had Andre Iguodala as their starting small forward and Harrison Barnes coming off the bench, were missing a No. 2 star — it was (David) Lee at the time — and LeBron's position was wide open. The Warriors would have traded Iguodala and/or Barnes in a heartbeat for LeBron (in a sign-and-trade). It would've been Curry, (Klay) Thompson, LeBron, Lee and Andrew Bogut.

And then, as occurred in that 2014 training camp, Lee would have gotten hurt, Green would've started in his place, and LeBron would've been the leader of the most talented young supporting cast he's ever had.

But the Warriors couldn't get a meeting.

The Athletic's Marcus Thompson on the Warriors' attempt to sign LeBron in 2014
If James and Paul had only known then what we all know now, maybe they would have at least heard the Warriors out. But in fairness, hindsight is 20-20, and bringing a title to Cleveland is likely LeBron's career-defining moment anyway.
Both players went on to win titles … but can you imagine?
James and Curry went head-to-head in the NBA Finals four straight years after LeBron went home.
Golden State won in 2015, Cleveland won in 2016, and then the Warriors went back-to-back in 2017 and '18. Whatever the expectations were after the Akron native signed with the Cavs, they were blown out of the water.
Kevin Durant played a significant part in bringing Golden State its 2017 and 2018 championships. But he never would have partnered with Steph had LeBron decided to head to Oakland.
The two played against each other in four straight Finals. Could they have played together in four straight? Could they have won four straight?
We'll never know. But it's a fascinating thought experiment.
Where would the NBA be now if LeBron and Steph became teammates in 2014?
All statistics courtesy of Basketball Reference.