Stephen Curry Weighing An Olympic-Sized Decision
Stephen Curry has assembled an impressive resume during his basketball career. Two-time All-American at Davidson College, six (soon to be seven) All-NBA selections, two NBA MVP awards, three NBA championships; he's checked off a lot of the boxes of the all-time greats.
For good measure, Curry's picked up two NBA scoring titles, is the leading free-throw shooter in league history, and, just for fun, is considered by many to be the best shooter the game has ever seen. Yet, despite all of that, there is one notable blank line on that resume, and Curry is not yet sure he wants to take a shot at it.
Whatever he decides to do, Curry will need to decide quickly. There's a ticking clock in the background.
Stephen Curry is missing an Olympic gold medal
While Stephen Curry has been a member of two gold-medal-winning U.S. men's national teams, he's never been an Olympic champion. Curry was a reserve for the USMNT at the 2010 FIBA World Championships in Turkey. He averaged 4.6 points and 2.1 assists while shooting 45.2% from the floor and 36.8% from 3-point range.
He played a more significant role in Spain for the 2014 FIBA World Cup (the name change occurred between the two events). Starting all nine games, Curry put up 10.7 points and 2.9 assists as the U.S. rolled to the gold medal, winning each game by at least 21 points. However, his shooting wasn't stellar; he made only 40.8% of his attempts but was a 43.8% marksman from deep.
In 2016, Curry opted out of the Rio de Janeiro Olympics. He came out of the NBA Finals that year nursing ankle and knee injuries. Regardless of Curry's choice, the USMNT had just two Olympic veterans in Rio and had several close calls en route to a gold medal. In the group stage, the Americans held off Australia by 10 points and posted three-point victories over France and Serbia. A six-point win in the semifinals over Spain was their only other close call.
Will Curry chase the elusive gold in Tokyo?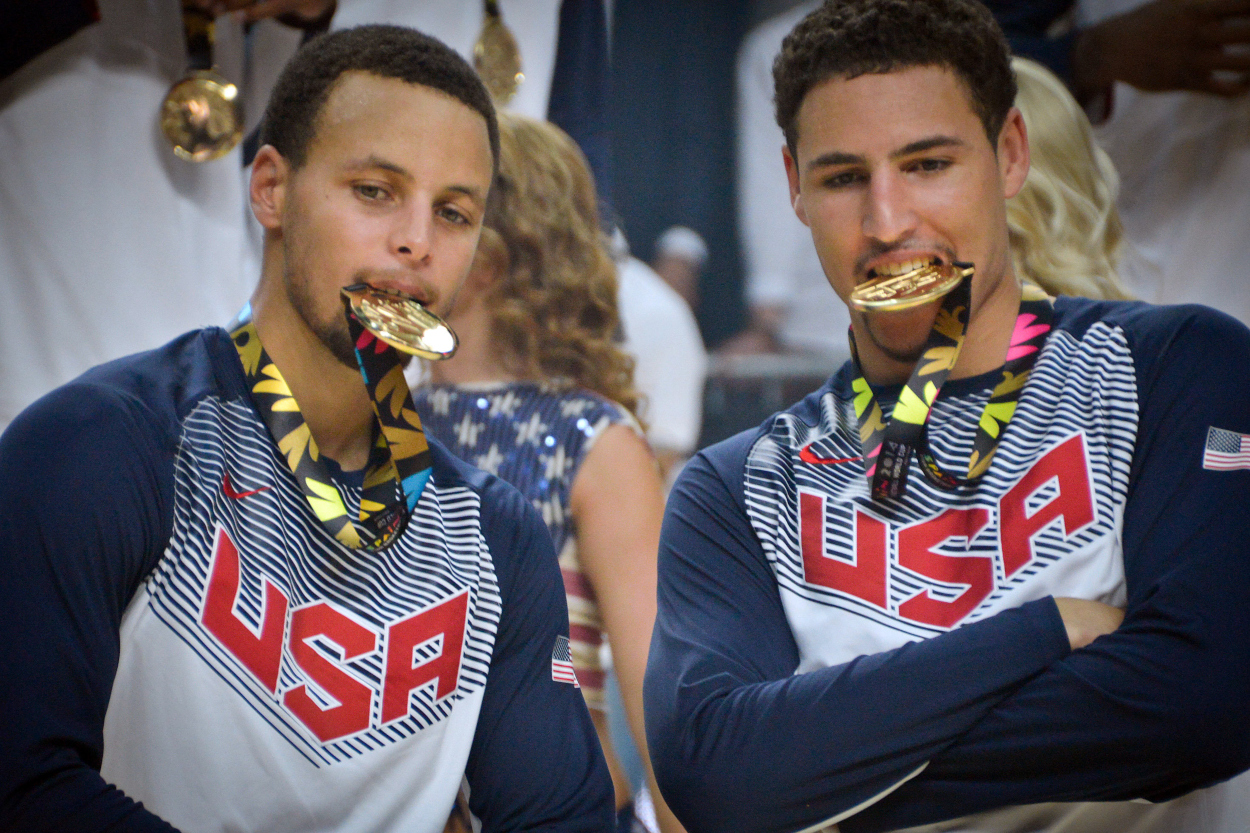 The U.S. will play in Group A at the 2020 Tokyo Games (moved to 2021 after the pandemic). Iran, France, and whichever team comes out of the qualifying tournament in Victoria, Canada. Greece, China, and Canada are in one group at the qualifier, with Uruguay, the Czech Republic, and Turkey in the other.
Curry told the San Francisco Chronicle that he is still very much on the fence.
"I'm literally 50-50. I probably need to decide in the next two weeks."

Stephen Curry
The group phase in Tokyo begins July 25, with the knockout stage opening with the quarterfinals on Aug. 3. The gold medal game is on Aug. 7.
There are other considerations Curry is weighing. The pandemic is easing but is not over, making international travel an ongoing concern. Also, the USMNT is in a state of flux, with six weeks or so remaining before the opening ceremonies. Finally, Los Angeles Lakers stars LeBron James and Anthony Davis are all but locks to skip Tokyo and Curry said he wants to know who is committing before making up his mind.
Superstar interest in the U.S. national team has once again waned
Professional players were first eligible for the Olympic Games in 1992, and the basketball team the U.S. sent to Barcelona that year was legendary. The Dream Team's 11 NBA players are now all in the Hall of Fame as individuals. The team itself entered the Hall in 2010. The U.S. repeated with a slightly less-gaudy roster in 1996 and 2000.
But by 2004, Team USA had Tim Duncan, Allen Iverson, and many young guys not quite ready for prime time. They opened the tournament by getting hammered by Puerto Rico and later lost to Lithuania in the group stage. Argentina knocked off the U.S. in the semifinals of the medal round, and the Americans wound up with the bronze by avenging its earlier loss to Lithuania.
That led to the so-called Redeem Team that stormed through Beijing in 2008. The U.S. followed with gold medals in London and Rio in 2012 and 2016, respectively. But a seventh-place finish at the 2019 FIBA World Cup in China was marked by a roster almost entirely devoid of the country's biggest stars (unless we're counting Mason Plumlee and Joe Harris in that category).
San Antonio Spurs coach Gregg Popovich will coach the U.S. in Tokyo after a rough opening as Mike Krzyzewski's replacement in 2019. Will Popovich have Stephen Curry to serve as the team's leader? In Curry's own words, that's still a coin flip at this point.
Biographical data courtesy of USA Basketball.
RELATED: Baron Davis Already Has His Eyes on a Bizarre 'Space Jam 3' Plot Featuring LeBron James and Stephen Curry