Stephen Curry's Incredible Dominance Highlighted by 2 Absurd Stats, but They Still Aren't Enough to Make Him MVP Front-Runner
When it comes to gaudy stats, Golden State Warriors point guard Stephen Curry often tops the list. The reigning scoring champion sets historic paces with his unmatched prodigiousness from beyond the arc. The Dubs' NBA-best 12-2 mark reflects Curry's impact, and that record looks even better with a motivated Klay Thompson receiving clearance for 5-on-5 activity.
Indeed, two specific stats highlight Curry's remarkable play. In any other season, they might illustrate why he sits atop the NBA MVP watch. But not this season.
Stephen Curry dwarfs all other players in plus-minus
Stephen Curry always had to carry the Warriors without his fellow Splash Brother. He's done just that.
Although plus-minus is an imperfect measure, it's still a decent estimate of general player impact when they're on the floor. It feels particularly salient as it pertains to Curry.
Through 14 games, the Warriors outscored opponents by 195 points with Stephen Curry on the floor, according to StatMuse. The difference between Curry and Luke Kennard, second in plus-minus at +154, is nearly as large as the difference between Kennard and Warriors swingman Andre Iguodala, who ranks 10th in plus-minus.
Golden State is trouncing opponents with Curry on the floor. Another illustration of this comes in the form of Steph's on-off splits. The Warriors' offensive rating is 102.4 when Curry sits compared to 117.6 when he's on the floor. In other words, the Dubs are 15.2 points better per 100 possessions with the Baby-Faced Assassin in the rotation.
One of the reasons the Warriors have so much success with Curry on the floor is Steph's effectiveness off the ball. Naturally, another reason is his ability to shoot from pretty much anywhere.
Curry setting another torrid three-point pace
Curry's 2015-16 unanimous MVP season is regarded as one of the best in league history. It's undoubtedly the best shooting season ever. But Steph's pace this season sets him up for an even more prolific long-distance assault.
Curry made an astonishing 402 3-pointers in 2015-16, smashing his old single-season record of 286 triples. This season, Steph is on pace to make a ridiculous 445 threes. As Micah Adams of Sporting News noted, Curry breaking his record by that much would be equivalent to smashing Wilt Chamberlain's scoring average record by over five points per contest.
The 33-year-old is averaging a career-high 13.4 threes, converting on 40.6% of those attempts. Curry has made at least two triples in every game. He has also made at least nine 3-pointers in three different games, including a Nov. 16 win over former teammate Kevin Durant, who scored just 19 points despite his Twitter activity suggesting he could pop off.
Stephen Curry is the engine behind the NBA's best team and looks like he could finish the season with more record-breaking stats when all is said and done. However, he is not the current front-runner for the 2021-22 NBA MVP Award.
Nikola Jokic still boasts a slight edge over the Warriors star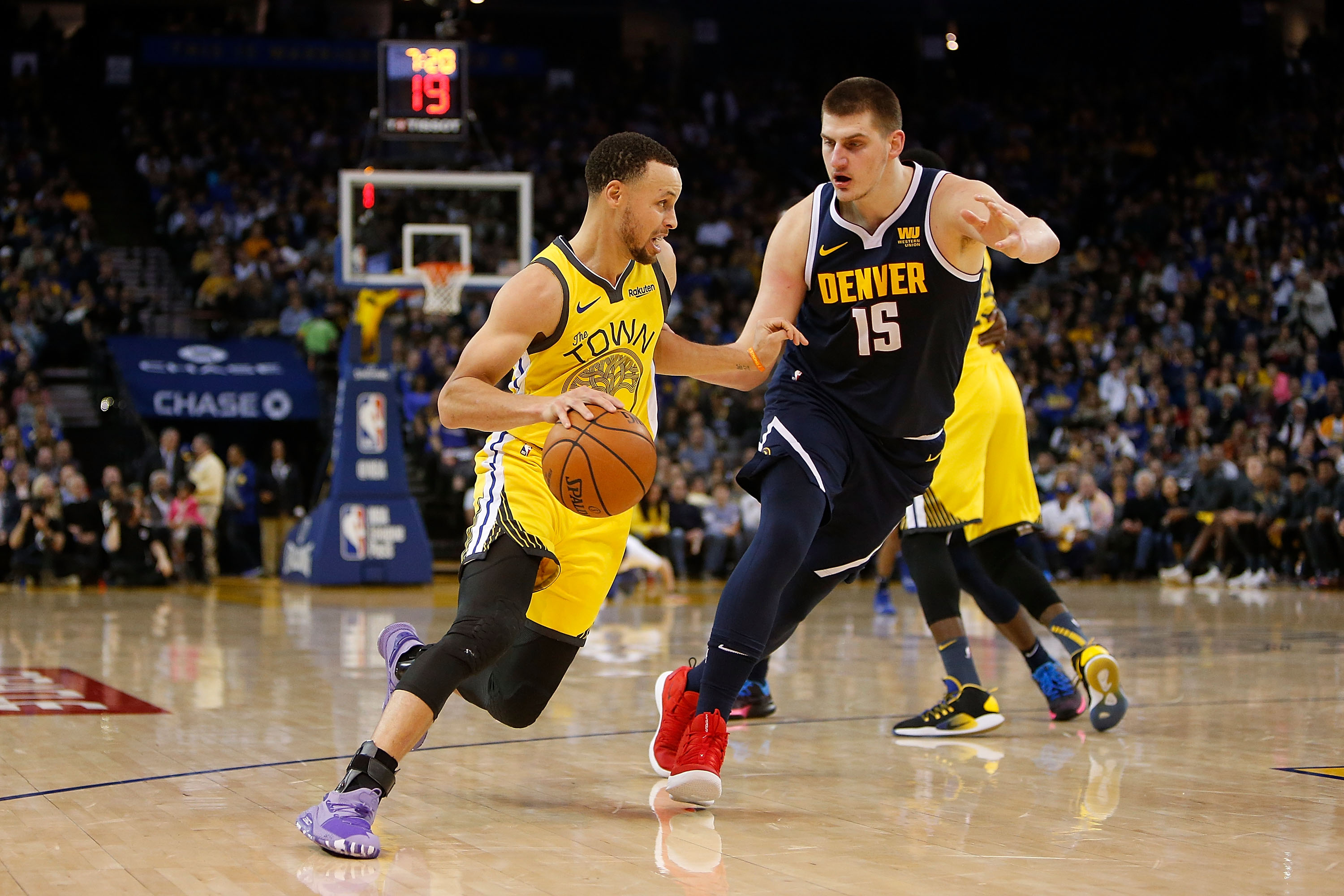 Being a history-making player on the NBA's best team usually bodes well for MVP candidates. Still, Denver Nuggets center and reigning league MVP Nikola Jokic's incredible start gives him the slight edge over Curry.
Jokic leads the NBA in just about every advanced metric. He ranks first in value over replacement player (VORP), win shares, and box plus-minus. His 35.4 player efficiency rating (PER) is currently the highest mark in league history, well above Giannis Antetokounmpo's 31.86 rating during the 2019-20 campaign. He handily leads the NBA in player impact (PIE), according to NBA.com, and recently tied Larry Bird in career triple-doubles.
The Serbian center carries Denver's offense, averaging 26.1 points on close to 60% shooting while also grabbing 13.8 rebounds and dishing out 6.3 assists per contest. The Nuggets are 12.3 points better per 100 possessions with him on the floor. However, Jokic's edge over Curry actually stems from his excellence on the other end of the floor.
Jokic ranks second in defensive rating and first in defensive box plus-minus. Opponents have a 98.8 offensive rating when The Joker is on the floor. That number skyrockets to 111.8 when he sits. Curry's on-off defensive splits aren't nearly as pronounced. The Dubs are just 1.4 points per 100 possessions better on the defensive end with Steph in the game.
Stephen Curry is absolutely worthy of MVP recognition and should continue to rack up the stats. Yet his record paces still aren't enough to trump Jokic at this point in time.
Stats courtesy of Basketball Reference unless otherwise noted.