Stephen Curry's Record-Setting Night Also Demands Some Reminders About How Good Ray Allen Was in His Prime
Stephen Curry dominated all the headlines Tuesday with a record-setting night at Madison Square Garden. The Golden State Warriors star took the all-time 3-point crown from Hall of Famer Ray Allen, who used to watch young Steph huck jumpers during Milwaukee Bucks shootarounds.
The moment gave basketball fans the chance to appreciate Curry's historic greatness. Those fans should also show appreciation to Allen, a dominant combo guard in his heyday.
Stephen Curry and Ray Allen always had pure shooting skills
Pure shooting ability has always been a constant for Stephen Curry and Ray Allen.
Both men came into the league with elite long-range abilities they honed at Davidson College and the University of Connecticut, respectively. Those gifts translated to the NBA.
As of Dec. 15, Steph ranks seventh in all-time 3-point percentage (43.1%). He has shot above 40% from deep in every year of his career, though he sits at 39.% for the current campaign. That doesn't include 2019-20, when Curry played just five games.
Allen might not be quite as efficient as the Baby-Faced Assasin, but he was still one of the most dangerous snipers in NBA history. Jesus Shuttlesworth ranks 47th all-time in 3-point percentage (40%) and had eight seasons shooting at least 40% or better from beyond the arc.
Stephen Curry and Ray Allen will forever be linked by the record-setting moment at MSG. However, the two legends are more than just shooters. In fact, Ray used to be one of the most explosive guards in the entire league, someone who could surprise opposing bigs with thunderous finishes at the rim.
Steph and Ray-Ray: More than just rocket launchers
Curry brings plenty of other gifts to the basketball court. Steph is an elite screener for a guard, someone who can free up his teammates and spur offensive action or screen to free up space for himself.
The Warriors point guard is also one of the greatest ball-handlers ever. It's why he's able to consistently create space to get that beautiful jumper off. He keeps defenses honest by getting into the paint and finishing through contact at the rim or scoring via an assortment of floaters and runners. Plus, as Draymond Green pointed out, Steph is defending at a high level this season.
It's easy to also think of Allen merely as a pure shooter. However, those who witnessed his rise with the Bucks and Seattle SuperSonics likely remember a version of Ray-Ray who could explode to the rim for poster dunks and acrobatic finishes. He was capable of getting into the restricted area off the bounce or taking dribble-handoffs and baseline passes right to the cup for big slams.
Additionally, the former UConn star might be the best at running around screens. He relentlessly worked to create space and tire out defenders with an endless motor.
Curry is generally appreciated as an all-time great point guard, in part because of his total impact on the sport. It's only fair to view Allen's greatness through a more holistic window.
Records do not define players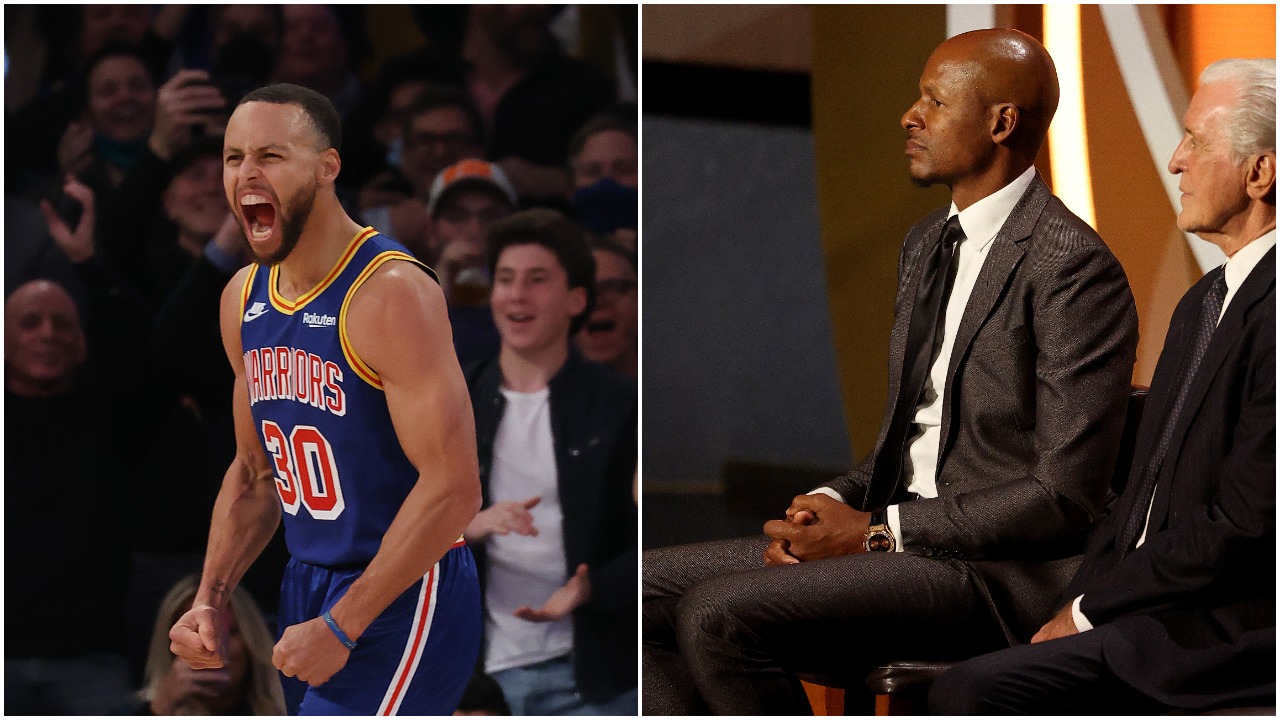 Being the leading man in an all-time category is surely something Allen enjoyed. Curry will likely cherish it every bit as much and could relish being No. 1 if he reaches "unbreakable" territory.
Perhaps Curry's achievement cinches the idea that he's the greatest shooter in NBA history. Ray said he feels the Baby-Faced Assassin deserves that title. But the bottom line is this: Who really cares? Records do not define players, nor do arbitrary labels.
The summation of a player's talent speaks more to the legacies they leave. Just as Curry's legacy will be about far more than just shooting, so, too, should Allen garner recognition for the kind of player he was at every stage of his career.
Stats courtesy of Basketball Reference.