Stephen Jackson Has a Large Net Worth Despite His Unconventional Path to Becoming an NBA Star
Former NBA player Stephen Jackson had an unconventional journey to the NBA. He ended up becoming a star, though, and even won an NBA championship with the San Antonio Spurs. The success Jackson had in his NBA career ultimately helped him make a lot of money in the league, which then helped him rack up a pretty large net worth.
Stephen Jackson eventually became a star in the NBA
In the 1997 NBA draft, the Phoenix Suns selected Stephen Jackson with the No. 42 overall pick out of Butler County Community College. He, however, did not make his NBA debut until October 2000. Before making his NBA debut, Jackson played in the Continental Basketball Association, in addition to playing in Australia, Venezuela, and the Dominican Republic, according to NBA.com.
He, however, signed with the New Jersey Nets and played with them in 2000-01. Jackson had a decent season with the Nets that year, averaging 8.2 points per game.
Jackson then played with the San Antonio Spurs in the next two seasons. After only playing in 23 games in 2001-02, Jackson averaged 11.8 points per game for the Spurs in 2002-03. He ended up winning an NBA championship with the Spurs that season too and scored 10.3 points per game in the NBA Finals.
During the next four seasons, Jackson had stops on the Atlanta Hawks, Indiana Pacers, and Golden State Warriors. He averaged 17 points per game and four rebounds over those four seasons.
He was then really good for the Warriors in 2007-08 and 2008-09, scoring over 20 points per game each of those seasons. In 2008-09 he even averaged 6.5 assists and 5.1 rebounds. Jackson averaged 20.6 points per game for the Warriors and Charlotte Bobcats in 2009-10. However, that was the last season he scored 20 points per game or more.
The latter stages of his career and retirement
In 2010-11, Stephen Jackson still averaged 18.5 points per game for the Bobcats. However, in the next three seasons, he was just a nice role player in a limited amount of games.
Jackson averaged 9.8 points per game in 47 games on the Milwaukee Bucks and San Antonio Spurs in 2011-12. He then averaged 6.2 points per game in 2012-13 for the Spurs before only playing in nine games with the Los Angeles Clippers in 2013-14. He has not played in the NBA since that season. 
In retirement, Jackson has had a lot of success with his All The Smoke podcast that he co-hosts with Matt Barnes. Current and former NBA players talk about their experiences on it. This includes Jackson, who once said that he does not regret the "Malice at the Palace" incident in 2004, a brawl he was a part of while playing for the Pacers.
"I don't regret it. I was there for my teammate and it was something I took pride in doing," Jackson said, according to the LA Times and Slam. "I just hate the way I got judged. I'm far from a thug. I'm a loyal friend who will always have your back."

Stephen Jackson
Jackson's success throughout his life has ultimately helped him become a rich man.
Stephen Jackson has a nice net worth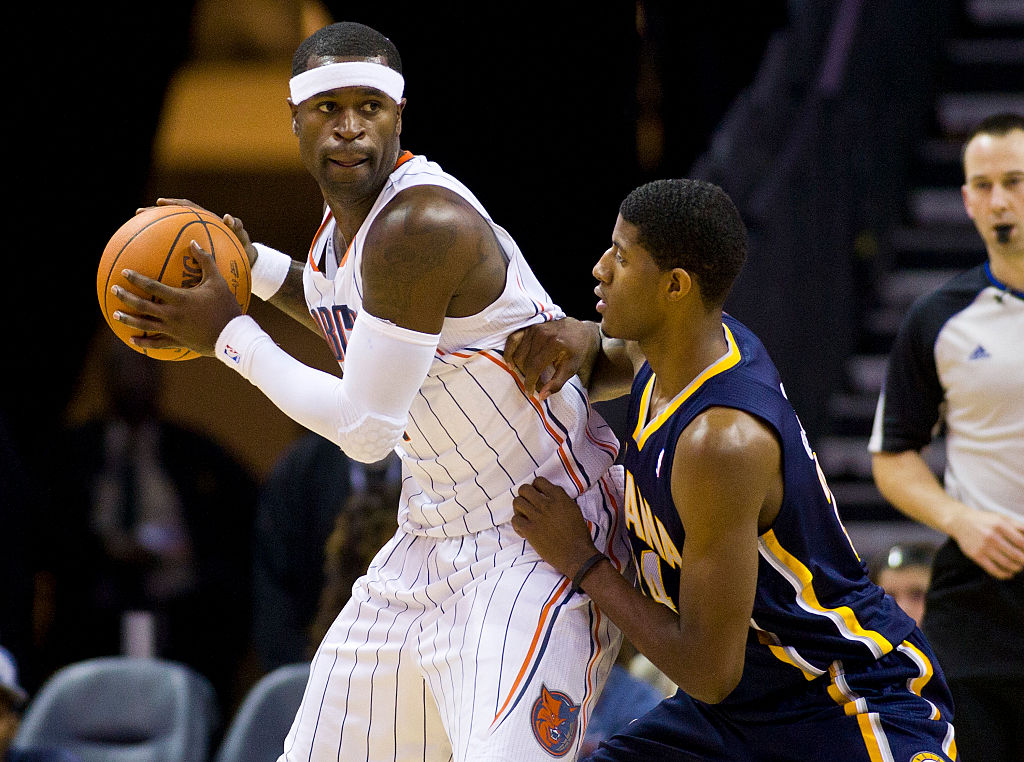 Because of all of the success Stephen Jackson ultimately had in his basketball career, even with the crazy route he took to get there, Jackson has earned a lot of money in his life. The money he has made has also helped him accumulate a healthy net worth.
Celebrity Net Worth estimates that Stephen Jackson has a $25 million net worth. That's a lot for someone who had such an abnormal route to the NBA. 
Yes, Stephen Jackson did not have the typical route to becoming an NBA star, but he eventually did it. He ultimately became an NBA champion. Now, Jackson is set for life and is still succeeding in retirement.
All stats courtesy of Basketball Reference