Stephen A. Smith Is Willing to Sacrifice His Own Teammate If It Means Fixing the New York Giants
ESPN talking head Stephen A. Smith has reached his breaking point. Unfortunately for those who enjoy responsible commentary and insightful analysis, that new state of mind doesn't mean they'll see the 54-year-old adopt either philosophy anytime soon.
Smith, much like many others in the Northeast, is fed up with the New York Giants. Rather than boo at MetLife Stadium or lead a protest, ESPN's $12 million man is ready to sacrifice one of his teammates.
Stephen A. Smith wants the New York Giants to replace Dave Gettleman with Louis Riddick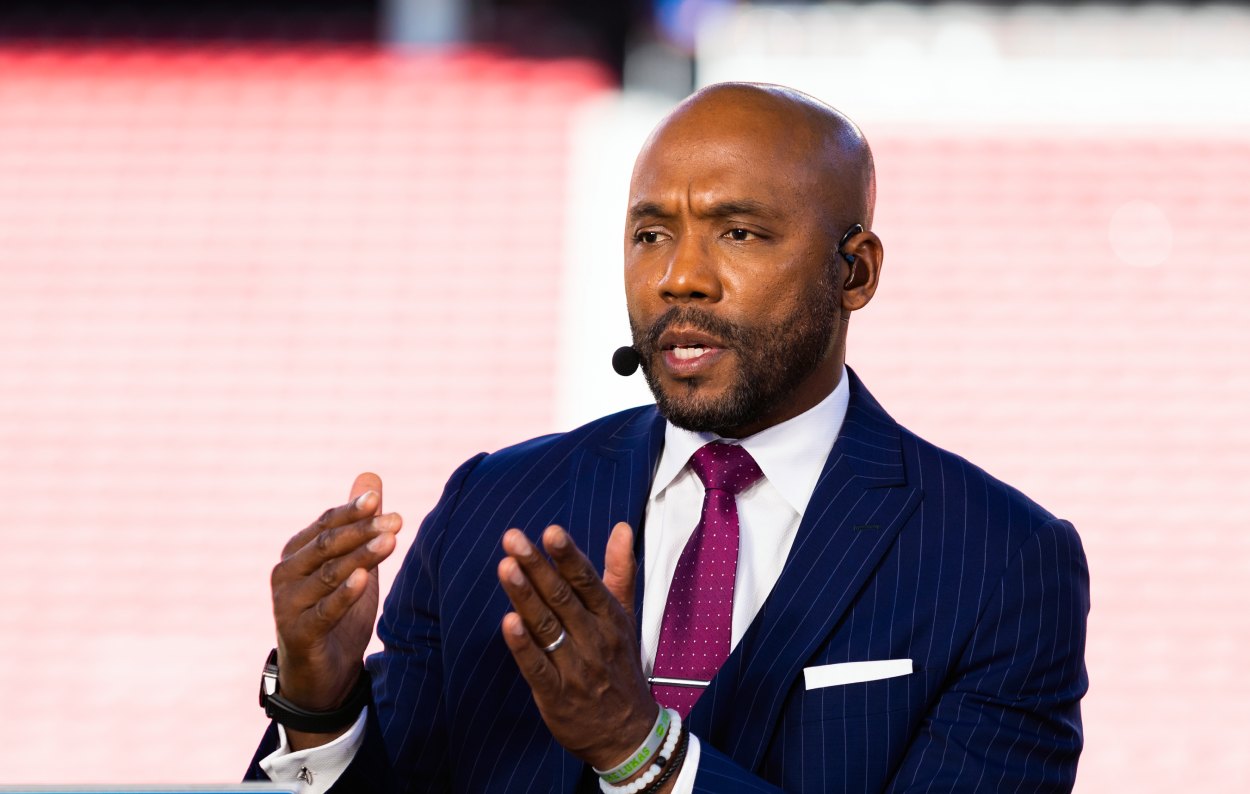 At 1-5, the Giants are a disaster and on pace to miss the postseason for the ninth time in 10 years. The once-proud franchise also became the victim of Smith's latest rant.
On the Oct. 18 episode of First Take, Smith called on the Giants to fire general manager Dave Gettleman. The four-time Super Bowl champions are an ugly 16-38 since the widely-criticized GM took over ahead of the 2018 season.
If or when the Giants do part ways with Gettleman, Smith said he already has an ideal candidate in mind.
"The New York Giants and [owner] John Mara need to come to ESPN and ask Louis Riddick to come out of the booth so he can be the new GM of the New York Giants, which is the selection they should have made when they were interviewing both him and Gettleman for the job."

Stephen A. Smith
Riddick, who is in his second season calling Monday Night Football, interviewed with three teams regarding their general manager vacancy this past offseason. Although the 52-year-old has never been a general manager, he held several front office roles with the Washington Football Team and Philadelphia Eagles from 2001-13.
Smith is correct that the Giants need a completely fresh start
At times, Smith shows he truly has mastered the art of playing dumb. Underneath all of his hot takes and desire for clicks and viral hits is someone extremely capable of sharp opinions and intriguing ideas.
It's hard to disagree with Smith's belief that the Giants should pursue Riddick, even if it'll be his first general manager job. The Giants clearly thought enough of the former Atlanta Falcons safety to interview him when the position became available late in the 2017 season.
The Giants have long preferred keeping the general manager role in-house. Ernie Accorsi, who built the foundation for the 2007 and 2011 title teams, was the assistant general manager from 1994-97 before taking over as GM in 1998. He turned things over to Reese, a longtime Giants scout and executive, upon retiring in 2007. When the organization fired Reece in 2017, they brought back Gettleman, who worked with the team from 1998-2012 before becoming Carolina's GM in 2013.
It's time for a fresh start. Riddick has zero ties to the organization and will bring in new perspectives. Although he's nearly a decade removed from working in a front office, he's seen the game evolve from his roles at ESPN. He even openly criticized Gettleman and the Giants' recent mismanagement during a Get Up segment in August.
On the one hand, longtime NFL Network analyst Mike Mayock's disastrous tenure in Las Vegas could understandably create pessimism regarding Riddick's chances. However, Riddick at least spent over a decade as a scout and a pro personnel executive. Mayock, who played for the Giants from 1982-83, spent three decades in broadcasting before the Raiders hired him after the 2018 season.
Gettleman's potential replacement also needs to explore firing Joe Judge
Whether the next general manager is Riddick, Mayock, or Smith himself, the first move needs to be parting ways with head coach Joe Judge and truly starting over.
The Giants are a miserable 7-15 in Judge's tenure as head coach and have been outscored 534-390 in that span. Media members, including New York sports radio host Craig Carton, have criticized him for relying on cliches in press conferences. The three-time Super Bowl champion had off-field clashes with former Giants offensive line coach Marc Colombo and ex-tight end Kelvin Benjamin.
The Giants need to win eight of their final 11 games to even finish at 9-8. There's a sooner chance that the team fires Gettleman while you're reading this and immediately hires Riddick to replace him.
If Giants fans are tortured enough given the current situation, just imagine what would happen if Riddick named Smith as his head of public relations. Somehow, that'd be less painful than the Gettleman and Judge era.
Like Sportscasting on Facebook. Follow us on Twitter @sportscasting19.
RELATED: NY Sports Radio Host Craig Carton Fiercely Accuses Giants Coach Joe Judge of Being 'Afraid' to Go On His Show: 'The Answer Is No'