Stephon Gilmore's Arrival Could Create an Unexpected Long-Term Issue for the Panthers in 2022
Let the Carolina Panthers' recent trade for All-Pro cornerback Stephon Gilmore erase any doubts that second-year head coach Matt Rhule is ready to build off his team's 3-1 start.
Gilmore, who missed the New England Patriots' first four games because of a quad injury and a holdout, will restart his career in Carolina. ​​The four-time Pro Bowler's potential long-term future with the Panthers could force some unexpected changes next spring.
The Panthers aren't immediately committing to Gilmore's future in Carolina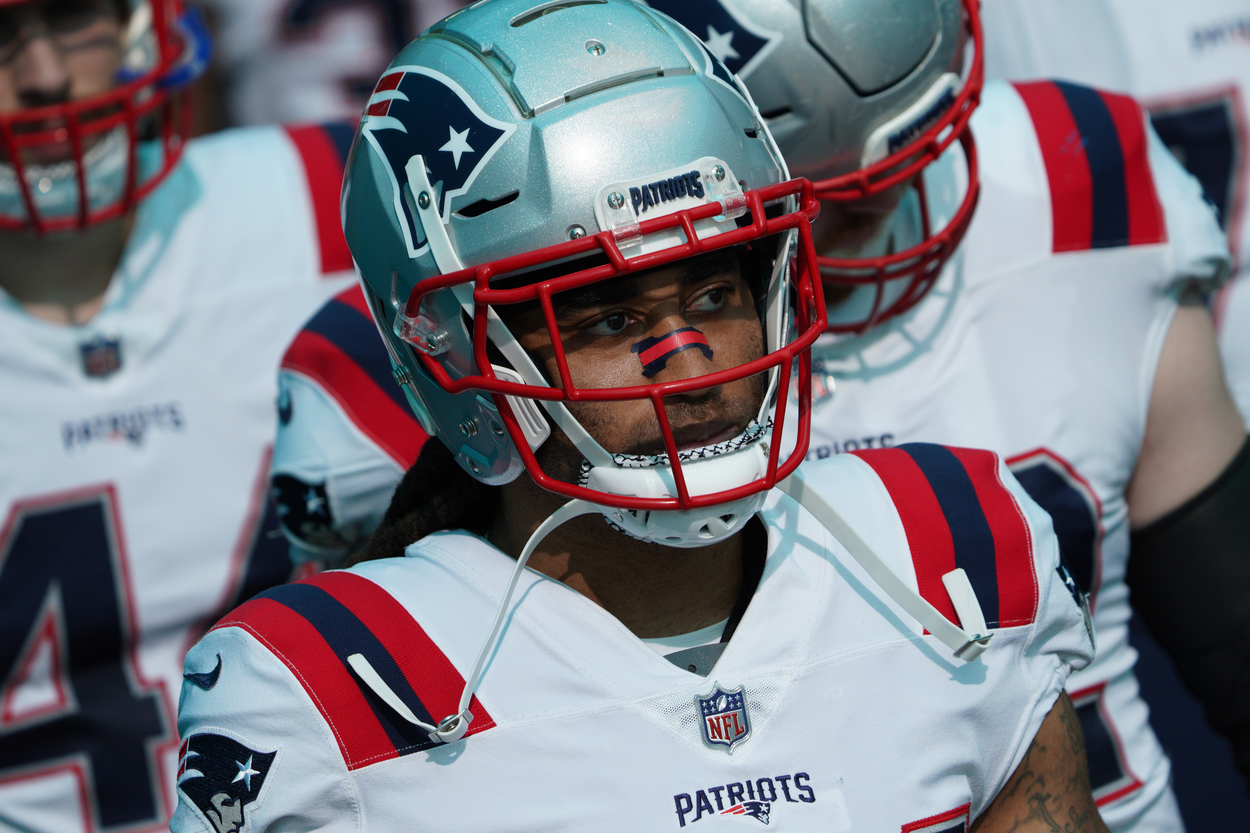 Gilmore desperately wanted a new contract from the Patriots, and at least for now, he's not going to get that extension in Carolina.
According to ProFootballTalk, Panthers general manager Scott Fitterer told reporters that the team will not immediately extend Gilmore. However, the organization is open to re-signing the 31-year-old at a later point.
Even with the 17-game season, the Panthers won't have anything close to a full season of Gilmore. The veteran cornerback, who is currently on the physically unable to perform list, won't make his 2021 debut until Week 7 at the earliest. The Panthers will face Joe Judge's New York Giants that week on the road.
If Gilmore struggles, the Panthers can let him walk, and they'll sleep well knowing they only gave up a sixth-round pick in the 2023 draft. At least, they'll be fine until that draft choice results in Bill Belichick finding the next Jerry Rice.
However, the Panthers acquired Gilmore hoping that he'd continue playing at a Pro Bowl level. Such an impact could have a significant impact on the team's cornerback room going forward, especially if the team doesn't intend to extend him anytime soon.
Panthers GM Scott Fitterer could be forced to make difficult decisions next spring
Fitterer is aware of the stakes, and he made it clear when he spoke with reporters that he doesn't expect Gilmore's arrival to drastically change the team's cornerback situation in 2022.
The potential odd man out in this scenario is fourth-year cornerback Donte Jackson. Although his lack of Pro Bowl appearances might not make him a household name yet, the LSU product has grown into a steady starting cornerback. According to Pro Football Reference, quarterbacks had only completed 58.3% of the passes thrown his way.
Jackson, a second-round pick in 2018, will hit free agency after the season. Fitterer told reporters he believes the team still has a favorable cap outlook, and the franchise is still working to re-sign the veteran defensive back.
Fitterer is saying all of the right things, and we don't blame him. However, Panthers quarterback Sam Darnold is only under contract through the end of the 2022 season. In the coming months, Carolina will need to decide whether or not to extend the fourth-year quarterback, especially after his excellent start to the 2021 campaign.
Let's say the Panthers extend both players ahead of next season. There is only so much money the franchise will still have at their disposal. Suppose Carolina opts to avoid parting ways with starters for cap reasons. In that case, the franchise could always ask running back Christian McCaffrey to restructure his contract the way Dallas Cowboys running back Ezekiel Elliott did earlier this year.
Panthers fans should consider tempering their expectations about Gilmore's potential impact
Gilmore's arrival doesn't turn the Panthers into Super Bowl contenders. In fact, they're still not even the favorites to win the NFC South division. That title belongs to Tom Brady and the Tampa Bay Buccaneers until we have reason to believe otherwise.
With respect to the All-Pro cornerback, we're not going to pencil him as an impact player yet. Gilmore's resume speaks for itself, but he's a 31-year-old cornerback coming off a quad injury. He's also transitioning to a new team and a new coaching staff in a far more competitive division.
Panthers fans should temper their expectations, at least for now. Let Gilmore work through any early problems and reduced snap counts. As of now, the Panthers are already on pace to overachieve; the DraftKings sportsbook placed the Panthers' win-loss total at 7.5 entering this season.
Carolina already has three wins to its name. We'll see if Gilmore can help them post a winning record for the first time since 2017.
How to get help: In the U.S., contact the National Council on Problem Gambling helpline at 1-800-522-4700.
RELATED: Sam Darnold's Hot Start for the Carolina Panthers Proves the New York Jets Were the Problem