Stephon Marbury Tried Waging War With 'Sell-Out' Michael Jordan: 'Sell Your Team'
Michael Jordan has made no shortage of enemies over the years, and Stephon Marbury has entered the fray numerous times.
Marbury has publicly challenged Jordan on some of his business tactics, including the price of Jordan Brand shoes. At one point, Marbury, who has long respected Jordan as a player, even called Jordan a "sell-out" who should stop being an NBA owner. 
Stephon Marbury tried waging war with Michael Jordan in 2011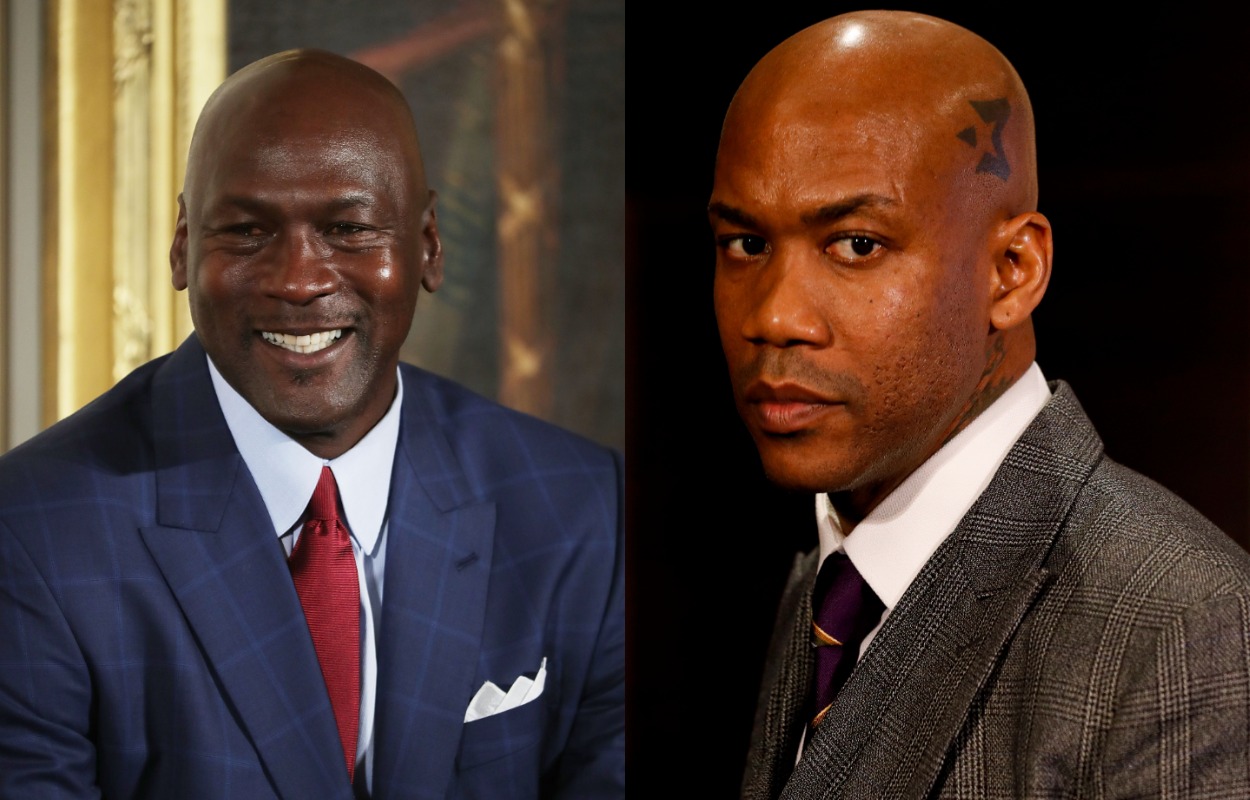 RELATED: Stephon Marbury Thanks His Older Brothers for His Basketball Career
In fall 2011, Michael Jordan had a problem on his hands.
Jordan bought the Charlotte Bobcats in early 2010, but there were no games to be played in November 2011. The NBA, along with the NFL, was amid an offseason work stoppage.
Jordan, who had verbally spared with owners during a lockout in his own career, now wanted players to compromise and settle. Stephon Marbury, playing in China at that point, was far from pleased with Jordan's attitude change.
In now-deleted tweets that ESPN transcribed in November 2011, Marbury called Jordan a "sell-out" who had turned his back on the players.
"MJ went from MJ the black cat to a guy who forgot he was a player. Sell your team if you can't make a profit … [You're] just a regular dude now!"

Michael Jordan
The NBA reached an agreement with the player's union in early December. Regular-season games began on Christmas Day.
Jordan ignored Marbury and the outside noise
RELATED: LaMelo Ball Is So Spectacular That He Gets to Call Michael Jordan a Name No One Else Does
In hindsight, Michael Jordan deserves credit for showing restraint and not getting into a verbal war with Stephon Marbury.
Jordan is among the most revered figures in sports history, but his legacy could have taken a massive hit during the 2011 NBA lockout. Nick Young, then playing for the Washington Wizards, even briefly boycotted Jordan Brand because he was upset with Jordan's pro-owner stance.
Jordan holds considerable power as an owner and NBA legend. Rather than risk saying something controversial by responding to Marbury, Jordan focused on the task at hand: reaching an agreement with the union.
Stephon Marbury still respects Michael Jordan's NBA legacy
RELATED: Michael Jordan Is Making Kobe Bryant's Dream Come True With a Touching Tribute
Stephon Marbury may not always agree with Michael Jordan, but he's willing to kiss the rings.
Marbury has never hidden his admiration and respect for Jordan as a player. In the spring of 2020, Marbury appeared on the Scoop B Radio podcast and said the comparison between Jordan and LeBron James made no sense to him:
"Jordan shouldn't even be ranked. It should be Kobe, then LeBron, and then you can pick guys after that. There's just no comparison, man. It's not the same. It's just different worlds. Different mentalities. I don't know why Jordan's name is mentioned in the same conversation sometimes."

Stephon Marbury
Marbury may have disagreed with Jordan in the past, but it's telling that he still publicly regards the Bulls legend with such admiration. We can all learn from Marbury and his desire to put facts over personal emotions. 
Like Sportscasting on Facebook. Follow us on Twitter @sportscasting19.