Steroid Connections Aren't Why Barry Bonds Wasn't in Baseball Video Games
Barry Bonds' dominance at the plate should have translated to video games, too. For a time, it did, and Bonds was as dangerous in games as he was in real life. But in the mid-2000s, Bonds stopped appearing in video games and he was replaced by different-looking players with different names.
Why wasn't Barry Bonds in sports video games, and can that change in the coming years? Here are the answers.
Video games couldn't use Barry Bonds because of legal issues
Barry Bonds' alleged ties to steroids and performance-enhancing drugs had nothing to do with why he wasn't in baseball video games. Bonds withdrew from the MLB Players Association's licensing agreement and it would have been illegal for those companies to ship a game using his likeness.
Those games could also not include players like former Red Sox first baseman Kevin Millar who were not members of the player's association.
Bonds told the MLBPA in November 2003 he intended to pursue licensing opportunities on his own. In addition to video games, that prevented Bonds from appearing in trading card sets unless he reached separate deals with companies such as Topps.
Text-based simulation games were not always affected by this rule. Barry Bonds is in the Out of the Park Baseball series, a popular text-based baseball simulation. Bonds remained in the game even after Out of the Park partnered with Major League Baseball.
Bonds went by different aliases in video games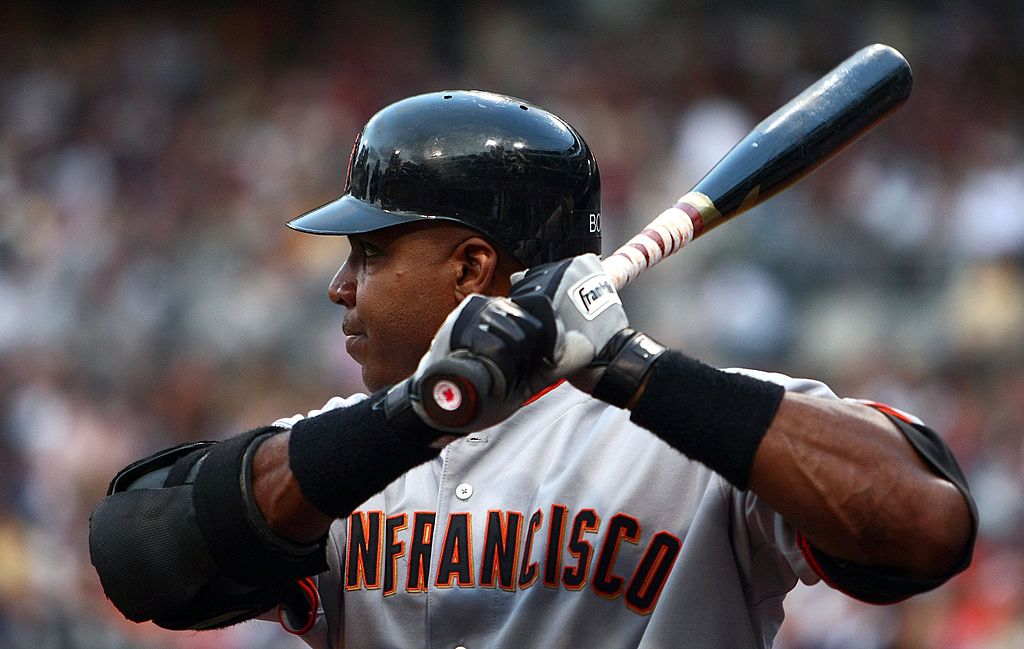 Video games weren't just going to leave the San Francisco Giants' starting left fielder out of the game. But because they couldn't use Barry Bonds or his likeness, those companies had to improvise. EA Sports, for example, famously listed the Giants' starting left fielder as Jon Dowd in MVP Baseball 2005.
Contrary to popular belief, Jon Dowd's name didn't come from John M. Dowd, the attorney who led the 1989 report that resulted in Pete Rose's lifetime ban from baseball. Barry Bonds' MVP 05 alias instead came from an EA Sports production member named Jon Dowd.
In a clever play on words, Sony San Diego Studio changed Barry Bonds to Reggie Stocker in the MLB: The Show games. "Stocker" represented stockbrokers and replaced "Bonds," as in security bonds. MLB 2K renamed Barry Bonds to Joe Young.
Interestingly, both the MVP Baseball and MLB 2K games portrayed Bonds, a large, African-American man, as a caucasian player.
Several of those games allowed players to rename and recreate the non-Bonds into his normal self.
Players could also use the in-game create-a-player feature to make a legitimate Bonds, although he wouldn't have his historical stats.
Will Barry Bonds ever legitimately appear in sports video games?
Aside from text-simulators like Out of the Park, Barry Bonds remains away from the two console baseball games on the market: MLB: The Show and RBI Baseball. MLB: The Show has reintroduced old players in recent years through the popular Diamond Dynasty mode. Sony can only use those players if they acquire the rights, regardless if the player is alive or not.
Barry Bonds is healthy and alive as of April 2020, though he would need to consent to his name being used. The Reggie Stocker avatar appeared in MLB The Show 16 both in the franchise mode — Bonds was the Marlins' hitting coach that season — and in Diamond Dynasty. Players were unable to rename Bonds in either mode, though.
Barry Bonds was not among the MLB legends included in RBI Baseball 20. If EA Sports or 2K Sports intended to return to creating baseball video games, they would be in the same situation as the other companies barring a change on Bonds' end.