Steve Kerr Explains 1 Huge Difference Between Michael Jordan and Tim Duncan
Steve Kerr has played a part in three of the most storied NBA teams of the last thirty years in different capacities. As a result, he has a lot of stories about many of the best players of that timeframe. From coming up with the Michael Jordan Bulls to going down with the Tim Duncan Spurs, Kerr's playing career may have shaped him into the championship-winning coach he is today.

He recently commented on his time with Jordan and Duncan with Bill Simmons, and he spoke about how the two are different from one another.

A look at Steve Kerr's NBA career
One look at Steve Kerr's career stats does not tell the entire story of his place in NBA history. After being a late-second round pick in the 1988 NBA Draft by the Phoenix Suns, he enjoyed a 15-year career, which served as a bridge between the days of Magic Johnson and Larry Bird to the lead-up of the LeBron James and Dwyane Wade era of the NBA.

Kerr was never a starter, and he never truly served as a sixth man, either. Instead, he made his name as a sharpshooting role player on nearly every team that he played for. His relationship with Jordan cannot be spoken about without mentioning the fact that his first exposure to him largely came as a member of the Cleveland Cavaliers, a team Jordan had a knack for breaking the heart of year after year.
The 1992-93 season saw Kerr split it between Cleveland and Orlando. His next step helped secure his place in the minds of NBA fans.

Steve Kerr joins the Jordan-less Bulls
Kerr's most successful seasons came with the Chicago Bulls after spending his first five years in Phoenix, Cleveland, and Orlando. He joined a Bulls team who was missing Michael Jordan after his first retirement. He helped boost the Bulls depth during the Pippen-led year-and-a-half the Bulls saw while Jordan was swinging bats in Birmingham.

Kerr stuck around, however, and saw Jordan's return to the NBA. There, he saw three NBA championships coming off the bench and hitting threes when the Bulls needed them. While winning was fun, Jordan wasn't always easy to play with. An infamous NBA story tells of Jordan punching Kerr in the face after the two got tangled up, but they grew to respect either through the feistiness. That was quite different than his next team.

His time with Tim Duncan and the Spurs
From there, Kerr spent four of the next five seasons in San Antonio with a brief stop in Portland in the 2001-02 season. He won two more Championships with the Spurs, and he became synonymous with role players who knew how to use their gifts to lift their teams in the big moments. He bookended the Lakers' three-peat with Shaquille O'Neal and Kobe Bryant with championships.

The Spurs are a different organization than the Bulls were, however, and Tim Duncan is a different personality. Duncan is known for his easy-going nature, and while Popovich is a feisty coach, he is known for having great relationships with his players. Kerr has credited speaking with Popovich with helping him become the coach that he is today.
In his talk with Simmons, however, he compared playing with Duncan versus Jordan.

What did Kerr say about Jordan and Duncan?
When telling Simmons about playing with Duncan and Jordan, Steve Kerr was very candid about the differing experiences. Duncan was always about the team, while Jordan was always the focal point of wherever he played, and Kerr learned that firsthand.

"It was a lot easier to play with Tim Duncan," Kerr said. "The difference between Michael and Tim is you always felt like you were playing with Tim, and there were times where you felt like you were playing for Michael."

As seen in his scuffle with Kerr, Jordan liked to lead by fear, not friendliness.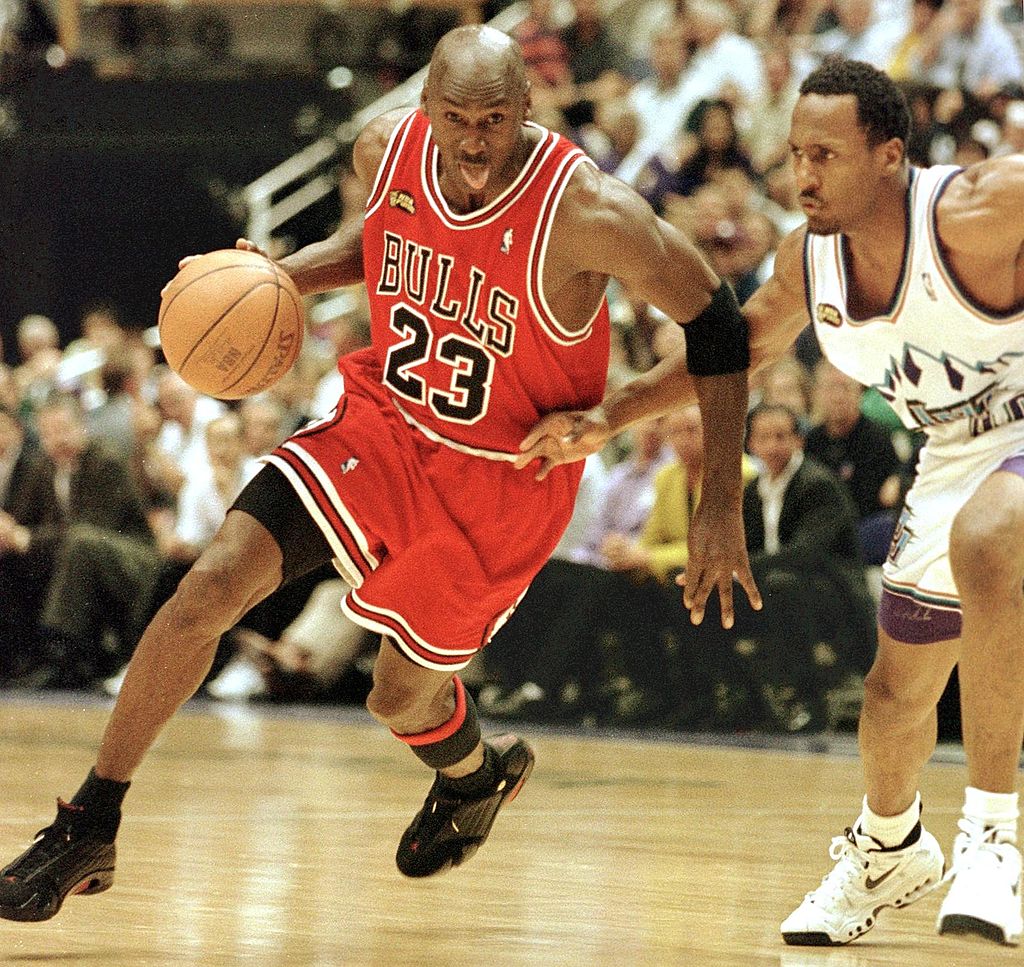 "You were scared to death of him," Kerr said. "He was the most dominant force on the floor in every regard. It wasn't just the talent — it was the force of will. People, opponents were defeated by Michael before they even walked on the floor."
Kerr also said that Jordan saw his teammates as people who were there to complement him, but he says that it helped turn him into the better player. By the time he was with Duncan, he had seen it all and seen the highs and lows of an NBA player. Perhaps it is that type of dichotomy that helps him put up with different personalities like Stephen Curry, Klay Thompson, and Draymond Green as a head coach years later.