Steve Kerr Reveals the Secret to Michael Jordan's Success as a Player
Not many NBA players, past or present, know about Michael Jordan better than Steve Kerr. They played together on the Bulls for five seasons, enjoying much success together as teammates on three Bulls teams that won NBA titles. They got to know each other well during their time together, so when Kerr speaks about his former teammate, he knows what he's talking about. Kerr was recently quoted when explaining how Jordan has so much success as a player — and it usually started before he even stepped foot on the court for a game.

Michael Jordan's career accomplishments
Michael Jordan is one of the best players in NBA history. If he wasn't earning individual awards and honors for the way he played, he was leading the Bulls to NBA titles. He has six championship rings from his time with the Bulls, with the team winning three straight NBA Finals twice during his tenure with the team. And he was named the NBA Finals MVP all six times the Bulls won the title.

Jordan played in the league for 15 seasons — 13 with the Bulls and two with the Wizards — and he played in the All-Star Game every season but one. But that's not all:

Jordan won 10 scoring titles.
He was the league's MVP five teams during his career.
He won the All-Star game's MVP award three times.
And he might have even more individual accolades and championships if he didn't take almost two seasons off for a (temporary) retirement, opting to try his hand at a Minor League Baseball career that didn't go well. He currently stands in the top five all-time in field goals made and points scored.

Steve Kerr's Bulls career
Steve Kerr moved around more than Michael Jordan during his playing career, suiting up for six different teams in his 15-year career. Five of his seasons came with the Bulls, including the second set of three titles that the team won during the Jordan era in 1996, 1997, and 1998.

Kerr was a good complementary player to Jordan, serving as a role player that was critical to the team's success despite not always being on the court. He averaged 23.2 minutes per game during his Bulls career. He wasn't known as being a big scorer, but his specialty was hitting shots from beyond the arc. More than 15 years after he retired, Kerr is still the NBA's all-time leader in 3-point field goal percentage, having made 45.4% of the shots he took from long distance in his career. He finished first or second in the category in three of his four seasons with the Bulls.

Steve Kerr talks about Michael Jordan's success
In the midst of coaching of the Golden State Warriors, Steve Kerr appeared on Bill Simmons' "Book of Basketball" podcast when the host asked him about the different leadership styles he experienced as a player in the league. That, unsurprisingly, started a discussion about Michael Jordan.

Kerr said he found it to be "fascinating" to play with Jordan, who is now the Hornets' owner. He compared Jordan to former Spurs teammate Tim Duncan by saying, "you always felt like you were playing with Tim," but it sometimes "felt like you were playing for Michael." But there was a method of Jordan's madness, according to Kerr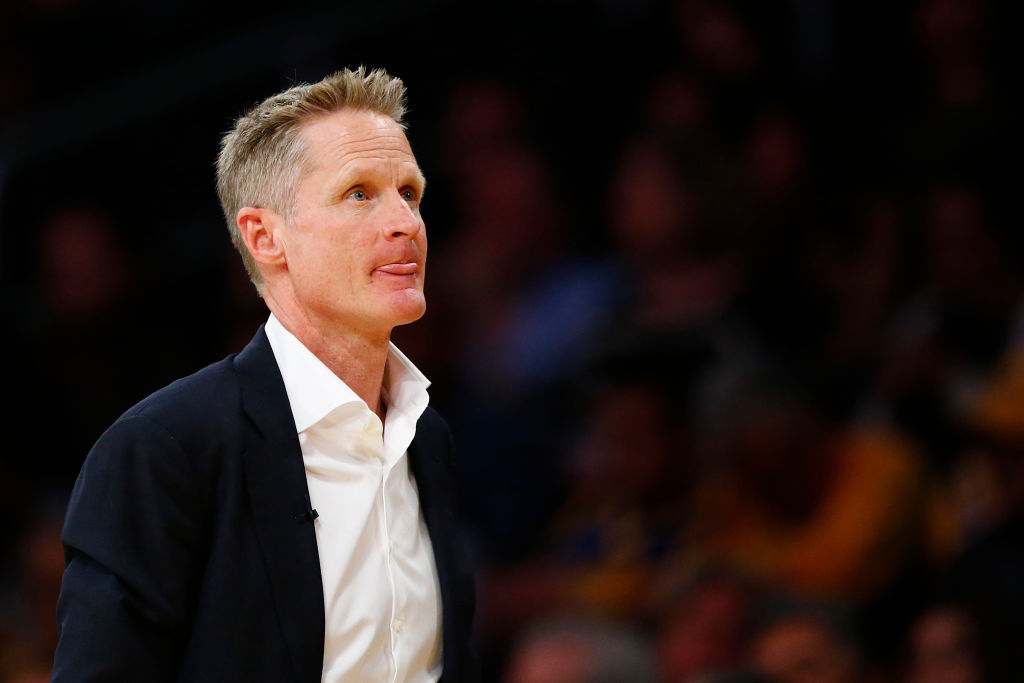 "He was the most dominant force on the floor in every regard. It wasn't just the talent — it was the force of will. People, opponents were defeated by Michael before they even walked on the floor," Kerr said on the podcast, per Entrepreneur. 

Michael Jordan was such an intimidating figure given his stature as the best player of his generation — and perhaps ever — that opponents were psyched out even before tipoff. Ultimately, Kerr — who played with some big stars in his career — said it was "unbelievable" to be Jordan's teammate, even though he was almost as tough on his teammates as he was on opponents:

"You knew he was going to be harsh on you. You knew he was going to be tough on you, was going to talk trash to everybody in practice, test you. And his reasoning was: If you couldn't handle the trash talk in practice, there's no way you could handle the pressure of the NBA playoffs. It made perfect sense."