Steve Kerr Shared the 1 Characteristic He and Draymond Green Have in Common: 'We Are More Alike Than People Would Guess'
The Golden State Warriors are defined by the "Splash Brothers" duo of Stephen Curry and Klay Thompson. But the Warriors likely wouldn't have reached their championship peak without the contributions of Draymond Green and head coach Steve Kerr. Together, the four led Golden State to five NBA Finals appearances and three titles.
Chemistry for Golden State has never been perfect, particularly between Green and Kerr. And questions regarding their relationship intensified over the summer after Green's revealing interview with former Warrior Kevin Durant. But Kerr understands something many might not: he and his passionate, abrasive All-Star share more in common than we realize.
Steve Kerr divulged the main thing that unites him and Draymond Green
Some look at Kerr and Green as oil and water. It's hard not to, especially after the two nearly came to blows back in 2016. But that fiery temper is something Kerr sees as a positive, as well as something that unites them (h/t The Athletic).
"We both have the ability to snap, to completely lose our minds. … We are more alike than people would guess. I think the competitive fire inside us is actually very similar. It drives us. It's what drove me from the time I was a little kid to now. It's what's driven Draymond. That competitiveness is always going to drive us."

Draymond Green
Tim Kawakami of The Athletic, who interviewed Kerr, agrees with the assessment that both players have similar personalities to one another.
"I've written many times that Kerr and Draymond are much more similar than many people presume," said Kawakami. "They're both quite edgy when they're in the middle of high competition and sometimes that leads to great things from both of them and sometimes it leads to temporary eruptions of anger. The point is, the relationship has worked just fine for the Warriors about 98 percent of the time, and they wouldn't have three championships without it."
Kerr has had his fair share of angry moments
Watching a Warriors game, you're far more likely to see Green have a moment of rage than Kerr. But the eight-time NBA champion isn't one to shy away from showing his emotions.
During a game against the Sacramento Kings in 2020, Kerr lashed out at the referees by telling them to, "Wake the f*** up", immediately earning an ejection. The year before against the Portland Trail Blazers, the coach spiked his clipboard after a controversial foul ball, prompting another ejection. And of course, Kerr decided to have a go at Michael Jordan during their days with the Chicago Bulls, resulting in a swift punch to the face.
But the incident with Jordan gives some insight into Kerr's intensity and why he respects other players who have it as well.
"I would say it definitely helped [mine and Jordan's] relationship, and that probably sounds really weird," Kerr said on NBA on TNT. "I wouldn't recommend that to anybody at home. … For me in that case, Michael was definitely testing me, and I responded. I feel like I kind of passed the test and he trusted me more afterward." 
Kerr and Green's shared intensity is the backbone of the Golden State Warriors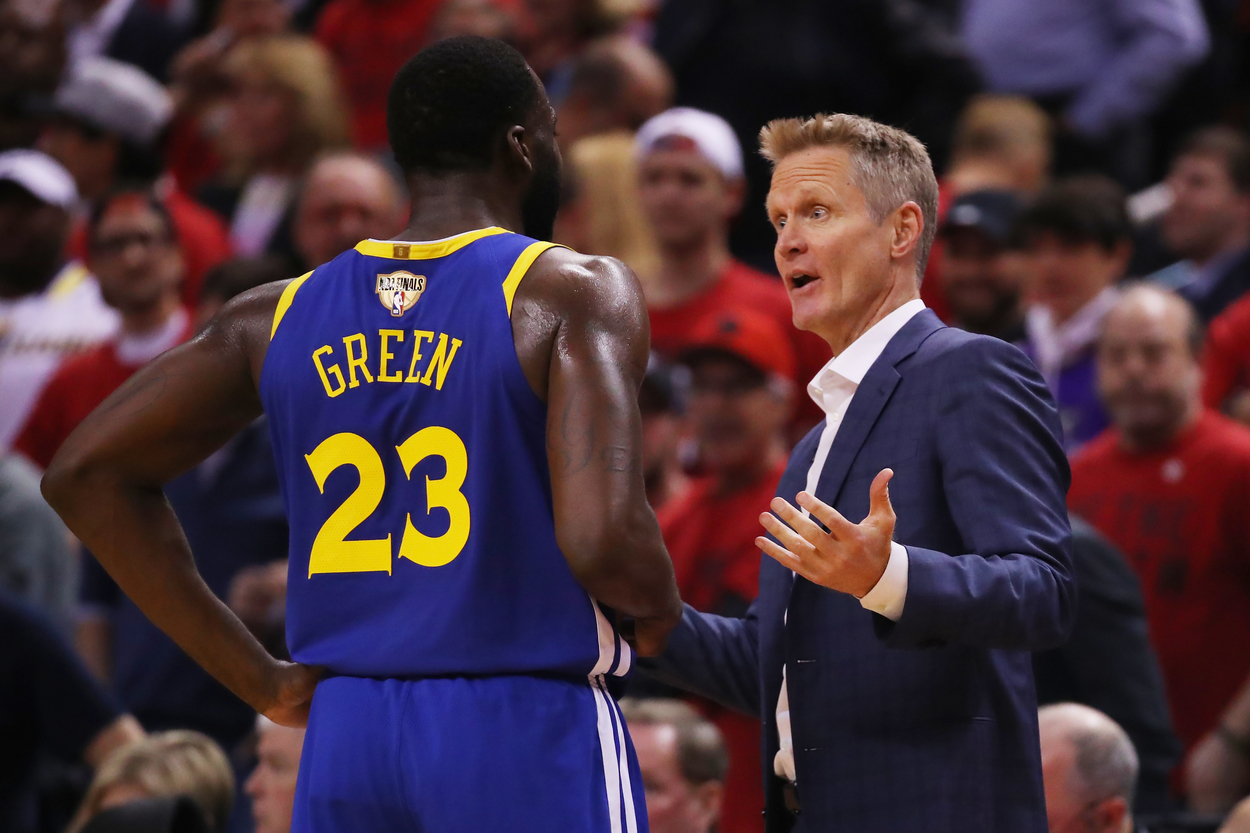 The Warriors won their titles in large part because of Curry, Thompson, and Durant's offensive brilliance. But Green provides the rebounding, defense, and toughness needed to keep other teams on their toes. Unsurprisingly, Kerr appreciates that more than anyone.
"'Draymond — don't ever change,'" Kerr said during his Coach of the Year acceptance speech in 2016. "'Keep yelling at me, I'm gonna keep yelling at you. It's the best.' He provides the edge that this team needs. Without Draymond, we'd be in trouble. We would be too quiet, and too nice. We need that edge. And when he brings it every day, and we have all that emotion, and that fire, it literally ignites the team."
Golden State's dynasty may be over, but Steve Kerr and company are still threats in the Western Conference. Curry is coming off of an MVP-caliber season, while Thompson hopes to return to the court following back-to-back season-ending injuries. The Warriors also have Andrew Wiggins, James Wiseman, and other young players ready to contribute. But as long as Green and Kerr are together, the Dubs will still give teams the needed edge on a nightly basis.
"It's part of who we are organizationally; it's part of who we are individually," said Kerr. "It's something I look at, and every day I'm thankful to go to war with Draymond Green."
All statistics courtesy of Basketball Reference.
RELATED: Steph Curry Said Draymond Green Is the Smartest Player He's Ever Played With: 'He's a Master'