NBA: Was the 'Steve Nash Deal' One of the Worst Trades Ever?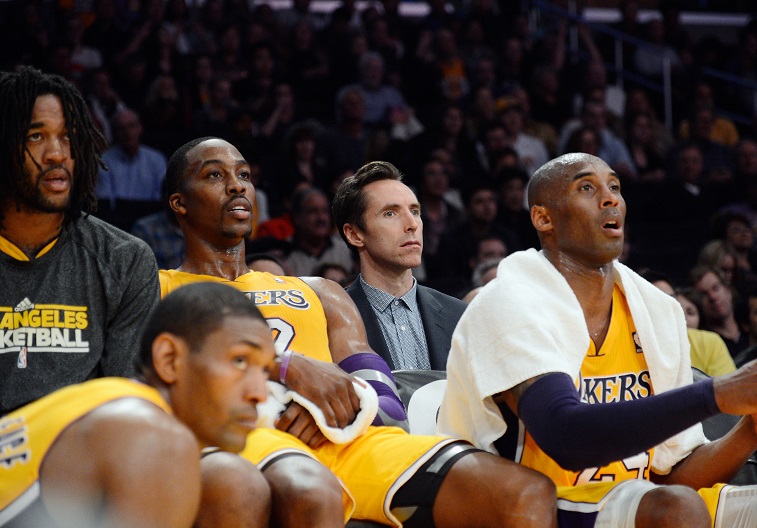 With the 2016 Trade Deadline just days away, we ask you to think back to a not-so-distant time. The 2012 Los Angeles Lakers could've really been something. In a perfect world (or at least, ESPN's perfect world) the Lakers would've matched up against the Miami Heat, and the NBA would've finally had its much anticipated but never actualized Kobe/LeBron finals. James, who would've been in the second year of his Miami vacation, would've been flanked by Dwyane Wade and Chris Bosh, while Kobe would've had Dwight Howard, Pau Gasol, and Steve Nash. Given good health on both sides, it's hard to imagine which team would've come out on top.
What if, indeed. Kobe's still in Los Angeles, but Dwight fled to Texas and Nash took up permanent residence on the injured reserve — frustrating all parties involved both personally and professionally, but perhaps none more than the Lakers. L.A., who had effortlessly coasted from championship roster to championship roster for about 30 years leading up to the Nash trade, had sent four draft picks to Phoenix in exchange for the two-time MVP award winner. At the time of his retirement, Nash had played just 65 games in purple and gold.
The picks sent out by L.A. haven't netted Phoenix a great deal of return yet (unless you're really excited about Brandon Wright or Brandon Knight, both acquired with some of those picks), but they're certainly going to be more valuable to the Suns than Nash was to Los Angeles. Was the trade for a guy who had his career eulogized by former teammate Dirk Nowitzki as "injured, and being slow, and white and unathletic" the worst trade for a potential star ever?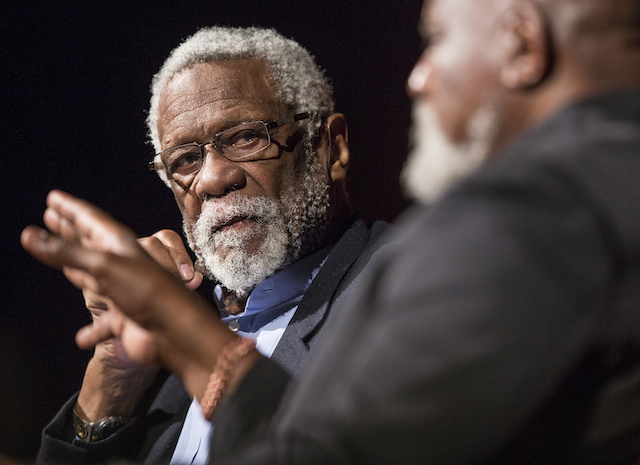 We're almost obligated to mention the Bill Russell trade here, since he's the most successful player in NBA history and he was rather famously traded for a now-defunct figure skating group (alongside Ed Macauley, Cliff Hagan, and the seventh overall pick of that year), but that's unfair for a few reasons, most important of which is the dramatic difference in the NBA of the 1950s and the NBA of today. The St. Louis Hawks and the Rochester Royals didn't know what was going on with Russell — that's hardly the case for Phoenix and Los Angeles.
Closer corollaries might be the Paul Pierce/Kevin Garnett trade, which brought Boston an army of assets, or the Dwight Howard trade, wherein the Lakers sent out their 2017 first round pick along with Andrew Bynum into a four-team deal that went pretty poorly for all parties involved except the Magic. Bynum was a nonfactor for the 76ers, so he's the closest to Nash in terms of on-the-floor production, and his lackluster season precipitated the tanking efforts that we now associate with Philly, but the Sixers sent beloved wing Andre Iguodala out in the deal, so they certainly gave away more than the Lakers have. Iggy's still in the league, too: Filling in the cracks for an on-fire Golden State Warriors squad and ultimately earning the NBA Finals MVP award with the Bay Area team.
For his announcement, Nash took to Derek Jeter's PR platform The Players' Tribune to talk about what life was going to be like without NBA basketball. It's an interesting, if surface level, read. In it, he discusses signing with LA as a way to "be in the 'fire,' and play for high risk and high reward in my last NBA chapter," at the expense of other, more lucrative deals. While the 2012 Los Angeles Lakers were prohibitive title favorites on paper, we'll always remember them for Steve Nash's broken leg, Dwight's candy addiction, and the way Southern California's premier basketball team collapsed under the weight of its own expectations.