Steve Nash Inexplicably Refusing to Remove Blake Griffin From Nets Starting Lineup Despite His Early-Season Woes
The Brooklyn Nets are struggling to live up to their status as preseason title favorites in the early goings of the 2021-22 NBA season, and head coach Steve Nash is refusing even to consider a move that would likely maximize Brooklyn's potential.
Blake Griffin's season is off to a wretched start, while LaMarcus Aldridge gives the Nets far more production whenever he's on the floor. Yet Nash keeps showing an absurd level of allegiance to Griffin, potentially endangering Brooklyn's chances of building momentum.
Steve Nash is sticking with Blake Griffin in the starting lineup
The Nets are having a tough time scoring the ball, as they rank just 22nd in offensive rating. It stands to reason, then, that Steve Nash would look for ways to make Brooklyn more explosive, right? That seems to be up for interpretation.
Nash said (h/t New York Post) Sunday that the Nets have no plans to move Blake Griffin to the bench despite his struggles, adding he prefers to avoid changing player roles this early season.
"There's no [plan to pull Griffin from the starting lineup]. We're not really thinking about changing roles. BG's been successful there for us in the past, and LaMarcus is successful coming off the bench right now. So there's no reason to make any big changes."

–Steve Nash, via the New York Post
Nash already made it clear at numerous points that his Nets team would need time to get up to speed in terms of chemistry and conditioning. He also said he feels Griffin is simply working through the kinks. It's still quite early.
However, Nash's refusal to even consider inserting Aldridge into the starting lineup is downright foolish. The numbers prove as much. If the Nets want to maximize their offensive potential and make both James Harden and Kevin Durant even more dangerous, then they have to think about increasing Aldridge's role in the rotation.
The numbers overwhelmingly favor LaMarcus Aldridge over Griffin
LaMarcus Aldridge is far more impressionable on the offensive end of the floor than Blake Griffin.
The Nets' offensive rating when Aldridge is on the floor is a stellar 117.9 points per 100 possessions when he's on the floor. That number falls to 98.0 when he sits. He is averaging 12.7 points on a whopping 68% shooting while also pulling down close to two offensive rebounds per contest.
Conversely, the Nets have a higher offensive rating when Griffin is on the bench (105.4) than when he's in the game (104.8). It's not as if Griffin makes Brooklyn that much better defensively, either. Opponents actually have the exact same offensive rating (102.4) when Griffin or Aldrige is in the game.
Granted, Steve Nash is probably trying to ensure Aldridge remains healthy. The seven-time All-Star left the team last season because of heart concerns. Doctors cleared him to play ahead of the 2021-22 season, paving the way for him to return to the Nets. Still, Nash is exhibiting caution.
Aldridge is playing just over 20 minutes per game. That's far less than he played even during his brief stint in Brooklyn last season, when he averaged over 26 minutes.
Nash might like what Aldridge gives the Nets off the bench. But he's better served in the starting lineup.
Nash needs to show more openness to making a change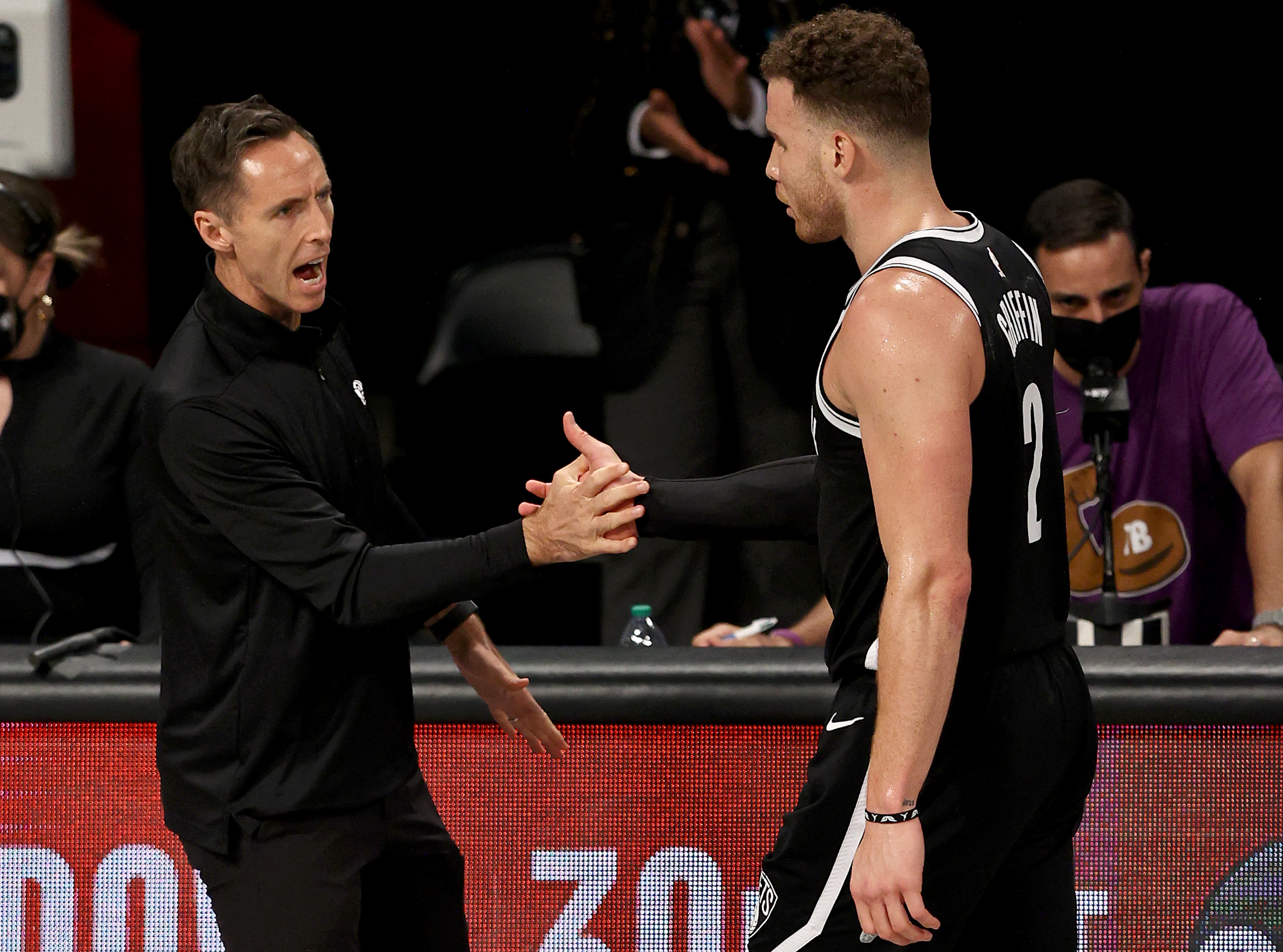 It's all well and good for Steve Nash to profess faith in Blake Griffin, but BG simply doesn't offer the Nets much of anything right now.
Griffin's post game has become all but nonexistent in recent years. He's best served as a floor-spacing forward who runs the floor in transition and moves without the ball. The problem is that Griffin doesn't give the Nets extra opportunities and is having difficulty shooting the ball.
The 32-year-old is 2-of-17 from beyond the arc. He's shooting just 6-of-15 at the rim. Those are both abysmal numbers.
Aldridge, on the other hand, gives Brooklyn's offense a different dimension. He can score with his back to the basket and is a terrific midrange threat who can pick-and-pop opponents to death. That's the kind of guy Harden and Durant need on the floor, especially with Kyrie Irving still out of the rotation.
It's fair to point out that Aldridge is currently getting more minutes than Griffin. But Nash should be more open to giving Aldridge as much time as possible with the first unit. That subtle change could have a resounding impact on the Nets.
Stats courtesy of Basketball Reference.
RELATED: Max Kellerman Reveals an Understated Reason Beyond Kyrie Irving's Absence and James Harden's Struggles for the Brooklyn Nets Horrid Start