Steve Smith Sr. Places Blame on Baker Mayfield for the Disappointing Odell Beckham Jr. Era in Cleveland: "You're Not Very Good'
The Odell Beckham Jr. era in Cleveland is officially over. The Browns and the former Pro Bowler are parting ways, opening the door for OBJ to hit waivers and play elsewhere. NFL Network analyst Steve Smith Sr. brutally roasted Baker Mayfield on the most recent Thursday Night Football broadcast, blaming him for Beckham Jr. not working out in Cleveland.
Smith is clearly not a fan of Mayfield's skills on the football field.
The Browns officially released Odell Beckham Jr.
The rumors can now cease. The Cleveland Browns officially cut ties with Odell Beckham Jr. NFL Network's Ian Rapoport reported that both sides came to a resolution and agreed to part ways.
The release means that Beckham Jr. will now head to waivers. If he clears waivers, the wideout would be free to sign with an NFL team.
The Browns' front office made the right decision by releasing OBJ because they had already let it go too far. As a result, another NFL team will get a major upgrade at the wide receiver position.
The New Orleans native just couldn't seem to get on the same page with quarterback Baker Mayfield. The relationship between the two players came into question recently after Odell Beckham Sr. posted a video defending his son. He suggests the video shows OBJ being wide open on multiple occasions and Mayfield intentionally not getting him the ball.
Cleveland has been a massive disappointment in 2021 after getting plenty of media attention in the offseason for its loaded roster. The Browns are sitting at 4-4 and will have to make a push for the playoffs without one of their most talented players.
Steve Smith Sr. blames Baker Mayfield for the failed experiment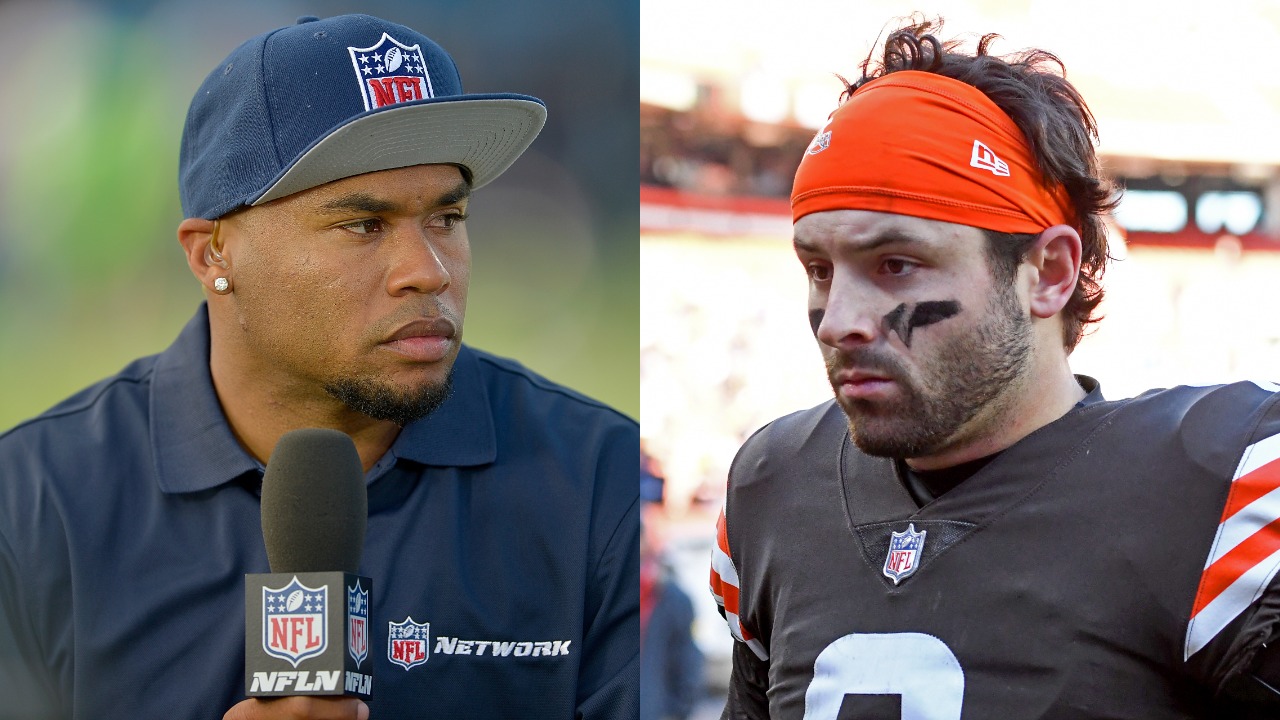 No matter what side of the coin you're on, it's evident that Odell Beckham Jr. and Baker Mayfield didn't mesh with one another on the football field.
A lot of people in and around the NFL have strong opinions about what went wrong in Cleveland. Carolina Panthers legend and NFL Network analyst Steve Smith Sr. had some strong words for the Browns' quarterback before the Thursday Night Football game between the Indianapolis Colts and New York Jets.
"I know Baker may not like this because I know he hears things," said Smith Sr. "But son, let me tell you something. You're not very good. And Odell is moving on because of you, bro. Bottom line."
Mayfield denies deliberately targeting other receivers over Beckham Jr., but that doesn't matter. In their last game together, Mayfield targeted OBJ one time. That's unacceptable, and it's not going to get the job done.
As a former wide receiver, Smith naturally is siding with Beckham Jr. While the disgruntled wideout probably contributed to the problem, he definitely wasn't the primary reason.
Baker Mayfield has yet to play like a No. 1 overall draft pick consistently, and that's something the Browns will still need to address.
The Browns will regret not figuring it out with OBJ
The Cleveland Browns probably thought they hit the jackpot when they acquired Odell Beckham Jr. from the New York Giants. However, things haven't panned out exactly as they planned.
OBJ and Baker Mayfield had some flashes in their first season together. The LSU product recorded 74 receptions for 1,035 yards and four touchdowns in 2019.
Despite his immense talent, Beckham Jr. hasn't regained the elite form he displayed in his first three seasons with the Giants. He's battled injuries, and that plays a huge role in the lack of top-tier production.
Availability is the first step in football, but OBJ still possesses No. 1 receiver upside when healthy. He's only 29 years old and has plenty of football in front of him.
The Browns organization needs to look in the mirror and take accountability for why the Odell Beckham Jr. era didn't work out in Cleveland. Baker Mayfield is their priority, good, bad, or indifferent.
Please don't make the mistake of thinking OBJ is washed up, though. It didn't work out in Cleveland, but the three-time Pro Bowl selection has an opportunity to revive his career in a better situation.
All stats courtesy of Pro Football Reference.
RELATED: Chad Johnson Calls Out Baker Mayfield and the Browns for Wasting Odell Beckham Jr.'s Talent: 'There's No Reason Odell Should Have 1 Catch'