Steve Young Got the Best Advice From Roger Staubach That Helped Him Earn Millions
To learn that one of the greatest quarterbacks in NFL history made hundreds of millions of dollars is nothing new. However, for Steve Young, his wealth doesn't tell the same story as some modern athletes. Yes, Young made a lot of money throughout his NFL career. But he played at a time when that meant far less than today's payment. The real story is how Young parlayed his hefty earnings into even better paychecks.
Steve Young's unusual origins
Young had a different career than the typical Hall of Famer. After a storied college career at BYU, which bears the name of his great-great-great-grandson Young did not immediately go to the NFL. Instead, he was paid handsomely to bypass the NFL for the upstart USFL, where he played for the Los Angeles Express. He did so under a four-year contract that offered him $40 million spread over 43 years. Had young contributed to the annuity of the deal, he would still be getting paid.
The USFL eventually folded and Young signed with the Tampa Bay Buccaneers. Here, after a successful run in the failed USFL, Young struggled to get many wins. In two years at Tampa, he threw for 11 touchdowns and 21 interceptions. Even worse, the team was just 3-16 with Young at the quarterback position. When Young left the team in 1987, the last thing on the Buccaneers' minds was that they traded an all-time great.
A change of scenery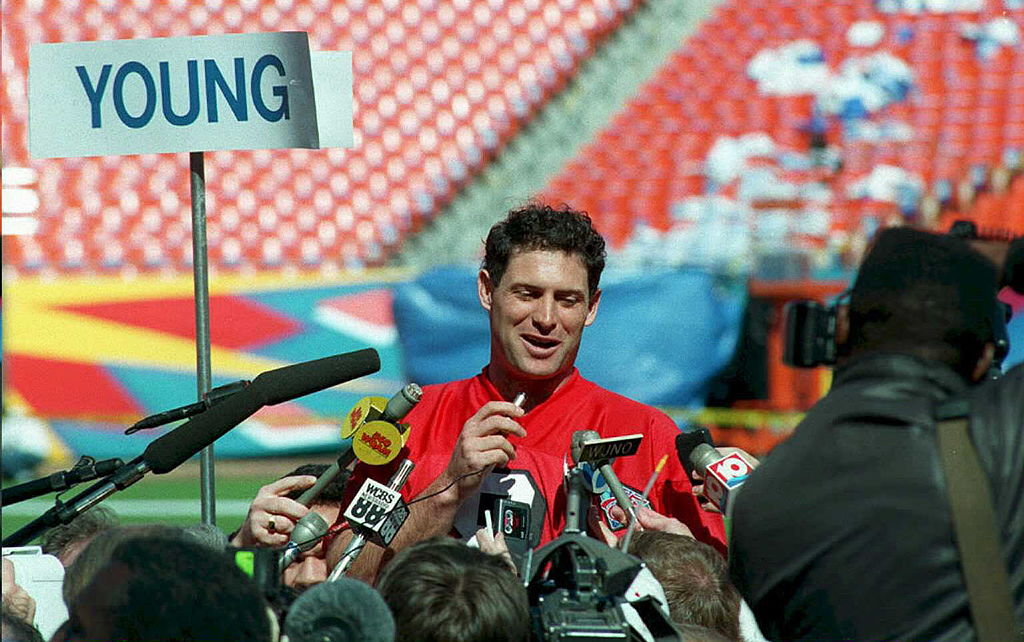 Young spent most of his first four years in San Francisco riding on the bench behind fellow superstar Joe Montana. Learning behind Montana on two Super Bowl teams, however, he grew into a complete player. After Montana went down with an elbow injury, Young became the team's quarterback in 1991. He struggled out of the gate, with the team going 4-4 in his first few starts. Eventually, however, Young led the team to a 10-6 record. Despite this, they missed the playoffs.
The following year, Young retained the starting job as Montana continued to recover from his injury. This was Young's intro to NFL stardom. At 31 years old, he was playing the best football of his career. Montana was out and Young was in as the starter. Gone were the terrible accuracy and bountiful interceptions. Over the next seven years, Young was the face of the 49ers, winning two MVP awards, three All-Pro honors, and countless other accolades. In 1995, he won his only Super Bowl as a starting quarterback.
According to Over the Cap, Young earned just under $50 million for his career.
Life after football
Some might see Young on TV analyzing games and think that this is his only day job. While he does get paid a lucrative $2 million a year for his television duties, when the cameras go off he's doing the work that really pays him. Young sees his television work as a networking opportunity to court some of the most successful business people on the planet. 
Bypassing lots of the typical investments of former athletes, Young invests heavily in private equity investments. One of these investments, HGGC, which Young co-founded in 2007, acquires majority stakes in software companies and builds them. To get investors on this project, Young buys a suite at nearly every Monday Night Football game with the hopes that he can schmooze with them and get them to come on board.
Speaking about this investment strategy, Young sees his business career as his passion project. He echoed the words of former NFL great Roger Staubach when explaining it.
"I see myself as a deal guy first," Young said (per Bloomberg). "I've put football behind me. Roger Staubach once told me—and I'll never forget it: 'When you retire, run. Never look back.' "
Steve Young learns from Roger Staubach
Like Joe Montana, Young has had a Hall of Fame career financially, as well as in football. He is now worth over $200 million, and that worth could keep growing with each investment. As Young learned from Staubach in the past, future generations can learn from him if they want to have a viable career after football. The sporting world has many great businessmen, but few have the knack that Young does making money.