Steve Young Is Absolutely Blown Away by Lamar Jackson and Patrick Mahomes
Looking for the best way to pin down whether a burgeoning NFL quarterback might be among the best of their generation? One can hardly do better than asking someone who's done it before themselves. And it turns out that Steve Young, former MVP and forever a San Francisco 49ers hero, has a lot to say on the subject.
Everybody's impressed by the way Lamar Jackson and Patrick Mahomes have changed the state of the game so early in their careers. Young is no exception, reserving his top praise for the two fresh-faced phenoms. Let's dive into what he had to say about these superstars and the future of the NFL.
Steve Young's generous comments about Patrick Mahomes
The Kansas City Chiefs' QB1, continuing off the momentum of his Super Bowl win, recently signed a mammoth $503 million contract. It'll most likely keep him in Kansas City for the rest of his career. And Young thinks he absolutely deserves it.
"[Mahomes] has an emotional, mental presence on a field as if he was 40 years old," Young told The Undisputed. "He has the same type of presence that I feel from a Drew Brees or a Tom Brady."
Not only does that comparison put Mahomes in rare company, but it has extra heft coming from someone with three Super Bowl rings himself.
He opines that it might come down to Mahomes growing up in pro sports. Pat Mahomes Sr. was an MLB journeyman, and SB Nation reports that his son had every tool to follow in his footsteps. Unlike many of his peers, the younger Mahomes entered the league with no illusions about what is demanded of a pro athlete.
Lamar Jackson's strong impression on Young
Young's take on Jackson landed more on the Baltimore Ravens phenom's preternatural skill. In particular, he calls out the innovative way Jackson runs his dropback passing game. It opens up more opportunities to switch to his much-vaunted running game, a level of decision making usually beyond the years of a third-year QB.
That, according to Young, is a sign that Jackson will continue to be successful for years to come. "I was 38 and still running around. No one runs like Lamar," Young said. "[…]If he can continue to find the truth in his passing game, he can be really effective with his legs for a long time."
Young doesn't think there's an effective way to shut Jackson down. His complete-game means taking advantage of mistakes, rather than having a set plan to consistently disrupt his offense. That's a relatively close summation to what unfolded when Jackson and Mahomes clashed on Monday Night Football.
How Patrick Mahomes matched up with Lamar Jackson in Week 3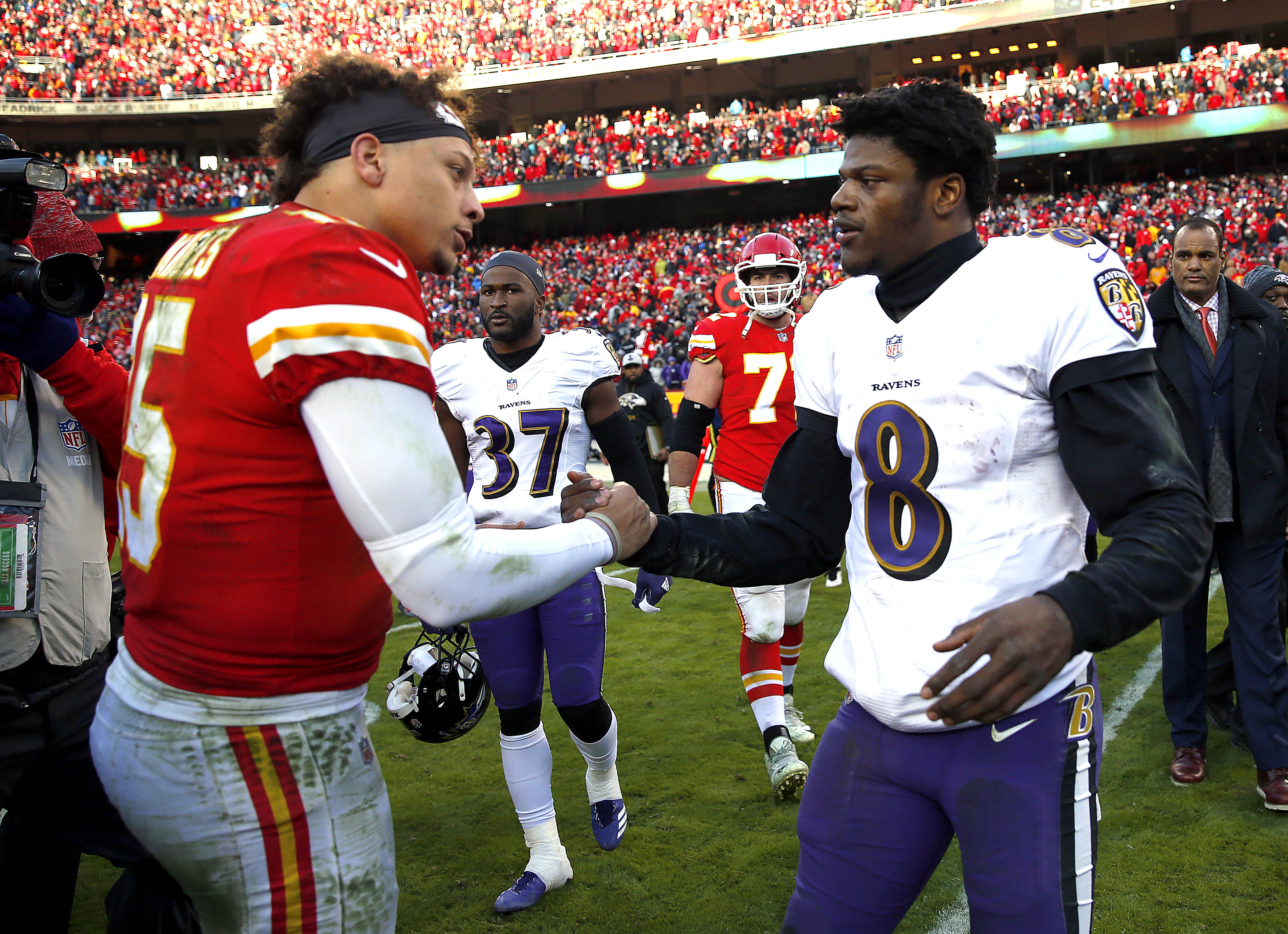 The Ravens and Chiefs matching up was the biggest must-watch moment of the 2020 NFL season so far. While there was a slim chance one winner wouldn't emerge — there was a tie game just last week — it's hard to imagine the possibility. Not with Jackson and Mahomes piloting each teams' respective offense.
CBS Sports reports that the Chiefs' 34-20 victory came down to Mahomes putting in his best performance of the season to date. His oppressive five touchdowns gave Jackson and company a difficult hill to climb on their end.
His cohesive performance didn't depend on any one star receiver; he was nearly flawless at simply getting the ball to whoever was open. This, against an oppressive Ravens defense, further cements that Mahomes is the real deal.
It was Jackson's mistakes that left him unable to keep up. His running game was perfectly on point, but his accuracy unexpectedly failed him. The Ravens struck first, and even looked like the stronger team through much of the first half.
But as the KC defense whittled away Jackson's opportunities to run the ball, their momentum wore down with it. This likely won't be the case, given how established Jackson's passing abilities are. But as Young pointed out, it's about capitalizing on mistakes, rather than having a foolproof plan against him.