Steve Young Won 3 Super Bowls but Felt Haunted by His Personal Life During His NFL Career
The San Francisco 49ers pulled off one of the most successful quarterback transitions in NFL history when they went from Joe Montana to Steve Young.
The longtime backup to Montana, Young took over as the 49ers' full-time starting quarterback in 1992. The 49ers remained an NFC powerhouse for much of his time behind center.
Although Young played well enough over the next few years to eventually earn a spot in the Pro Football Hall of Fame, he felt haunted by his personal life during that span.
Steve Young was bothered by being single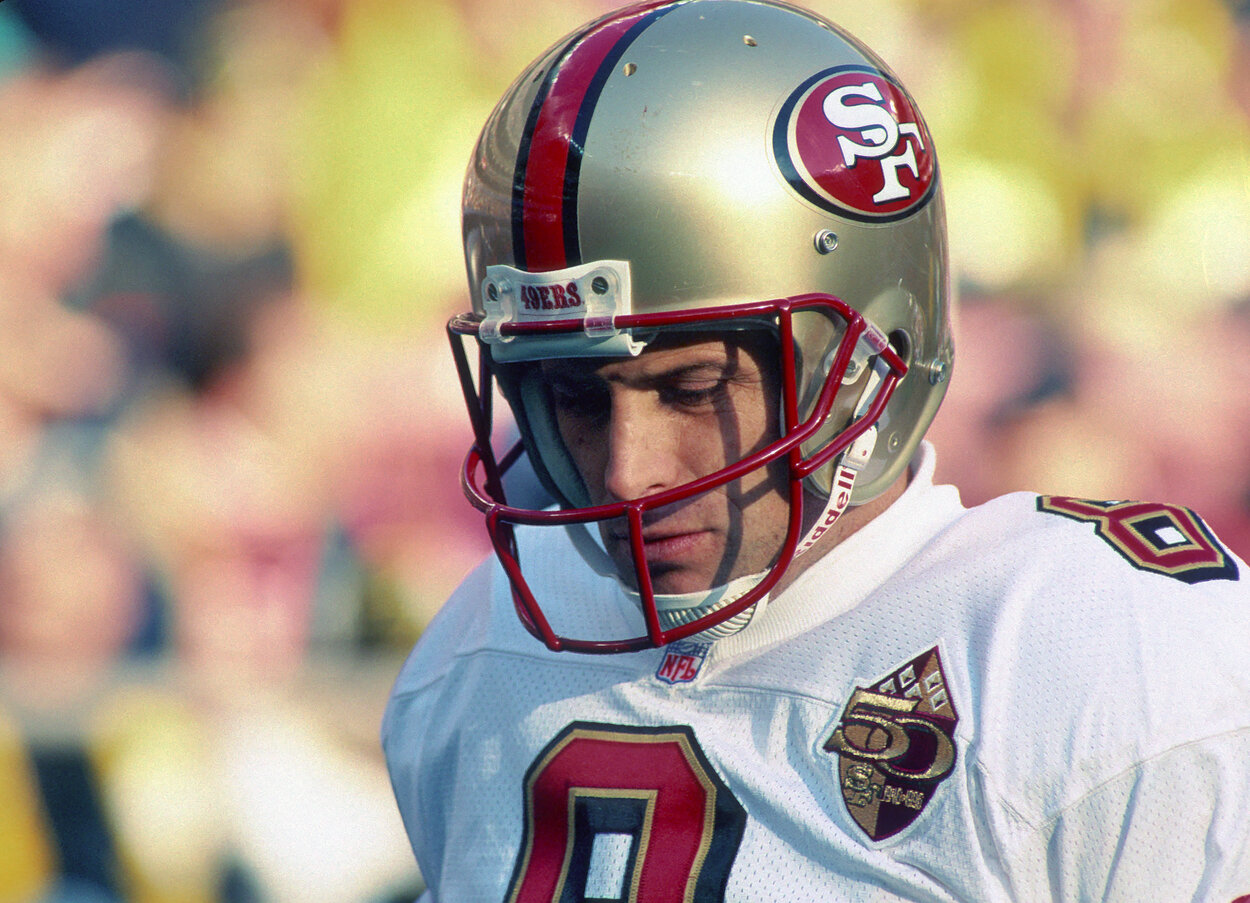 Steve Young has always been outspoken about his Mormon faith, and he's even related to Brigham Young, the namesake of BYU. Steve even attended BYU before he pursued an NFL career.
Those of Mormon faith tend to marry early, and Young remained unwed for most of his playing career. Although he was engaged twice, he didn't marry either of the women. 
Young referred to that aspect of his professional life as a "weight" in a 1997 interview with Sports Illustrated. But by that point, and as he approached the end of his career, he tried to take a different approach to not being married:
"I used to be all uptight about it. Not anymore. I've been through so many relationships. I'm almost like the relationship guru. The easy thing would have been to get married in college, but I believe in meeting the right person. Obviously, fame and the Mormon faith aren't that compatible, and it's been tough. But I think it'll happen. I have faith that it will."

Steve Young
At the time, Young still hoped to marry a Mormon woman before his playing career ended. He played his final NFL game in the fall of 1999.
Young lived with that 'weight' as he became an NFL legend
Football fans who watched Young each Sunday likely would never have guessed how he felt about his personal life.
The top pick in the 1984 NFL supplemental draft, Young spent that season in the USFL. He joined the Tampa Bay Buccaneers a year later and remained in Florida through the end of the 1986 season.
From 1987 through 1990, Young served as Joe Montana's backup on the 49ers. He started 10 games in 1991, throwing 17 touchdowns to eight interceptions, and became the full-time starter a year later.
From 1992 through 1998, Young went 77-24 as the starter and completed 66.9% of his passes for 24,266 yards, 178 touchdowns, and 68 touchdowns for the 49ers. A six-time Pro Bowl selection, he also ran for 29 touchdowns in that span.
The 2005 Hall of Fame inductee won eight of his 14 starts in the playoffs and led the 49ers to a Super Bowl victory following the 1994 season. That was his third Super Bowl ring and the first he won as a starter.
Young has been married since 2000
Young battled no shortage of injuries throughout his career, and he only lasted three games into the 1999 season before suffering a concussion.
In June 2000, he officially called it quits on his playing career. However, three months earlier, he had officially begun another life when he married Barbara Graham, a former model, in a Mormon ceremony in Hawaii.
Young spent his football career haunted by being single, but 2021 marked the 21st anniversary of his marriage to Barbara, and they have four children together.
Like Sportscasting on Facebook. Follow us on Twitter @sportscasting19.