Steven Adams Struggled to Overcome the Tragic Death of His Father
In 2012, basketball fans were extremely excited when they learned that Steven Adams would play college basketball in the U.S. The New Zealand native instantly became known for his height. He inherited his stature from his father, Sid. Adams often spoke of the struggles his dad endured as a result of his extremely tall height.
Adams once said, "That was when they were discriminating against freaks. That's what he called himself. He was really, really tall and they'd tease him." Adams regards his dad highly. This is why he struggled to overcome his father's tragic death.
Steven Adams' NBA career
RELATED: Oklahoma City Thunder Players Blow Off Lawmaker Threat and Kneel During Anthem
Despite the obstacles he faced in terms of his school and home life, Adams managed to become a successful student. As a result, the young athlete was offered a prestigious spot at the University of Pittsburgh. In 2012, Adams found himself one of the few freshmen to start in the college's history.
It is no surprise that fans and viewers had their eyes on him. In a bittersweet fashion, it was the only season Adams played in college. In 2013, Adams announced that he would enter the NBA draft. The basketball star was selected as the 12th overall pick by Oklahoma City. The veteran leader still plays for Thunder.
Adams' most memorable moments on the court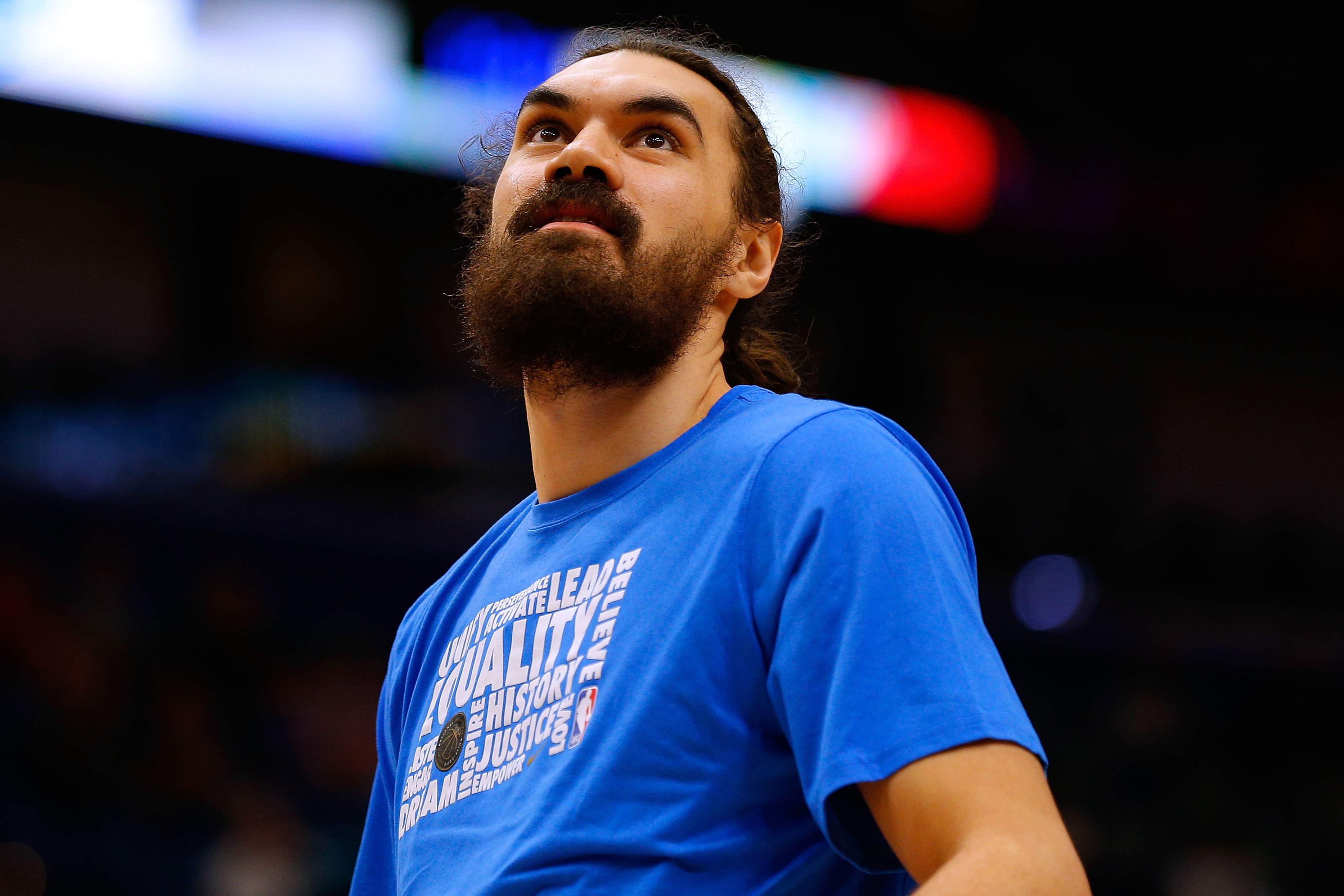 RELATED: Chris Paul and James Harden Don't Speak and Neither One of Them Seems To Care
Adams' determination helped him excel in all areas of his life but especially basketball. His constant training and willingness to push himself most likely played a huge part in getting him where he is today. Throughout his career, he has collected a variety of awards, accolades, and praise.
At the end of Adams' first NBA season, he found himself on the All-Rookie Second Team. During the 2018-19 season, Adams was recognized for "his career-high average of 13.9 points and recorded a career-high average of 9.5 rebounds and 1.6 assists." Luckily for his fans, it doesn't seem like the basketball star plans on slowing down anytime soon.
The tragic death of Steven Adams' father
Many people know Adams for his carefree personality, but this wasn't necessarily always the case. Unfortunately, when he was only 13 years old, his father died. Adams has spoken about how he feels his siblings had a much better opportunity when it came to getting to know their father. They were older than him after all.
Adams was his father's youngest child. Believe it or not, he actually had 18. Nonetheless, the tragic loss of Adams' father proved to be a difficult time. He started skipping school and getting involved with the wrong people. Luckily, one of his brothers, Warren Adams, took his little brother under his wing.
With the help of his brother and other role models in his life, he developed a new attitude. This seems like the catalyst that Adams needed to start to take control of his life. In an interview with the Pittsburgh Post-Gazette, Adams explained:
"It's not good being angry. At that time when dad passed away, I had a whole bunch of anger. Now it's just like, let it go. I try to feel happier. Don't give a [darn] about a lot of stuff. I kind of don't care much. I know what to stay focused on. All the other stuff to get angry about, I don't give a [darn]."
Though it doesn't seem like an easy journey, it definitely is a perspective worth sharing.