The Strangest NFL Injury Might Be the Fractured Throat of Frank Ragnow Who Couldn't Speak for Days
The NFL is America's favorite sports league. It's also the most dangerous, marred by concussion rates unseen in other pursuits. A head injury is the major fear NFL players face. But the rough nature of the sport often leads to other, weirder injuries.
The most infamous is Bo Jackson's hip injury, which no one thought spelled the end of his NFL career at the time. The strangest NFL injury might be more recent, however — one that left Detroit Lions center Frank Ragnow unable to speak for days.
Frank Ragnow's fast adjustment to the NFL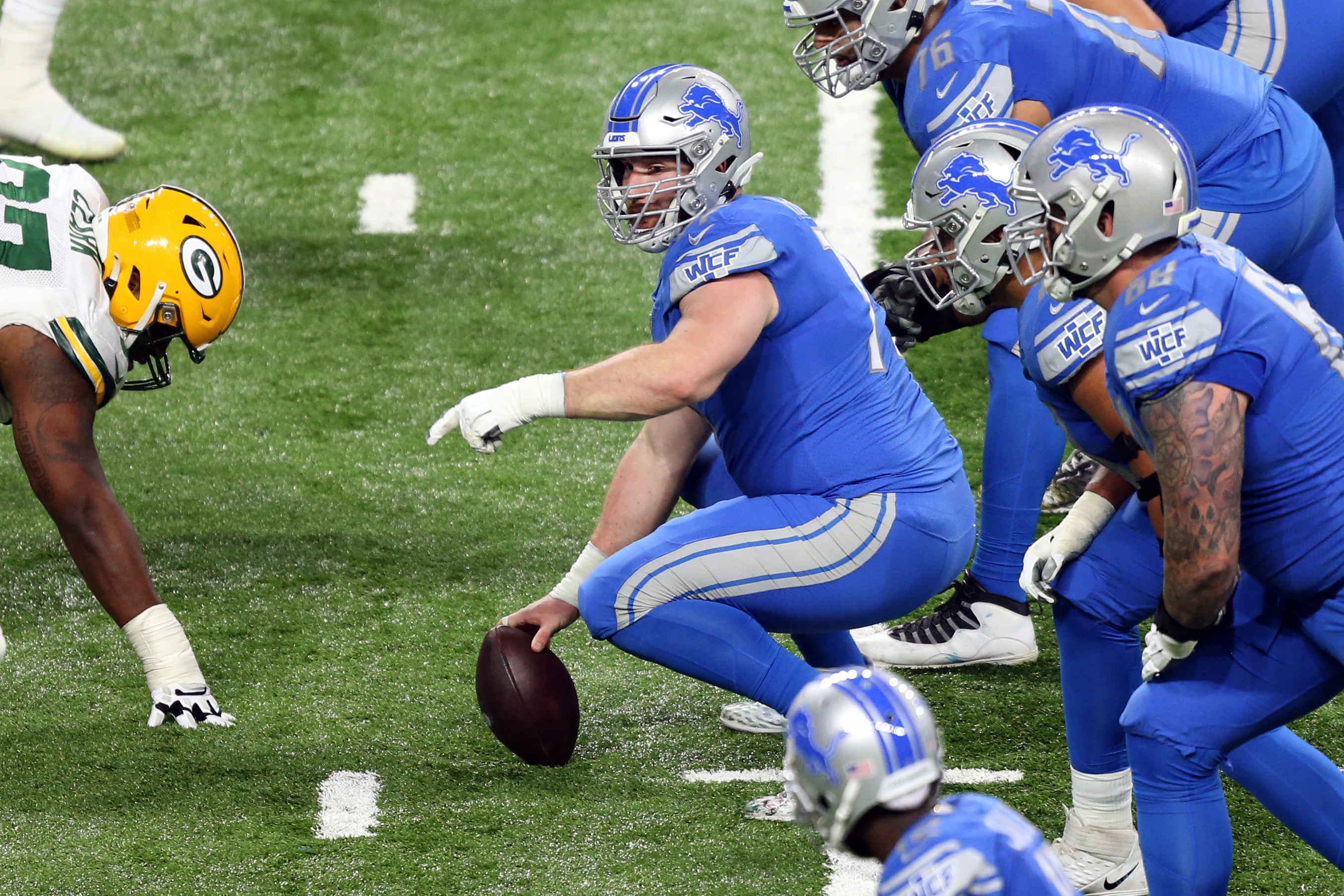 RELATED: This Tragic Injury Derailed Robert Edwards' Promising NFL Career
Ragnow's run on the national stage started with his four years with the Arkansas Razorbacks. He played at center, moved to right guard, and settled back at center by his senior year. Sports Reference reports that by his junior year, Ragnow became a pivotal player on the team. He played over 900 snaps, and earned a starting role at center for his senior year.
According to PFF, Ragnow was drafted by the Lions in the first round, 20th overall, in the 2018 NFL draft. He was immediately moved to offensive guard despite being drafted as a center. That decision proved the right way to go.
In his first full season at the new position, he played all 16 games and earned a spot in the 2021 Pro Bowl. Before he got to participate in that game, though, he ran into one of the stranger maladies in NFL history.
Ragnow's bizarre throat injury, explained
RELATED: Former Bears WR Johnny Knox's Injury Settlement Was Worth Nearly His Average NFL Salary
On December 13, 2020, the Lions suffered a 31-24 loss to the Green Bay Packers. Ragnow played through the game's end, contributing in most ways except one. It turned out, according to USA Today, that he suffered through a curious injury for almost the entire experience.
At some point during the game, he took a bump to the throat. He shook it off, not feeling much pain. Then, as he tried to call his response during a snap, he realized he couldn't speak. As soon as he could, he spoke to his teammates in a nearly inaudible, gravelly tone. Something was wrong. While he kept playing, he wouldn't be able to say anything over the crowd.
It turned out that he took on a rare injury: a throat fracture. According to Dr. Brian Sutterer's Youtube channel, the injury is associated with high-velocity blunt trauma, usually with more force of impact than what one might find in the NFL. It's not the most painful injury to play through. But Ragnow found himself in acute pain from talking and swallowing for several weeks.
Other strange NFL injuries over the years
While Ragnow's injury is rare, he's not alone in odd, painful NFL incidents over the years. In an interview with NFL.com 20 years after the fact, Gus Frerotte opened up about the bizarre way he landed on the team then known as the Washington Redskins' injury list.
After a touchdown in 1997, Frerotte was overcome with excitement. He inexplicably bashed his head against a concrete wall. The associated neck injury led to an xray, but he didn't miss much time.
One of the strangest causes of an NFL injury might be the one that went down in the Jacksonville Jaguars' locker room in 1993, the Chicago Tribune reported at the time. Chris Hanson injured his foot chopping at a tree stump that was meant as a metaphor for the team to "keep chopping wood" despite an early losing streak.
Hanson got the metaphor, but thought it would be funny to make it a bit more literal. It stopped being funny when he swung his hand axe straight into his foot, causing him to miss several games.