Struggling Rookie Zach Wilson Delivered a Brutally Honest Assessment About Mike White and the Future of the Jets: 'I Would Say My Style of Plays Needs to Get More Like That'
When the New York Jets turned in their draft card for BYU's Zach Wilson, they believed they were getting a certified franchise quarterback. For what it's worth, Wilson certainly looked the part during his final year of college ball. He passed for 33 touchdowns and 3,600-plus yards. His arm strength, in particular, had NFL scouts feeling confident about his ability to transfer to the NFL.
However, Wilson's rookie season is off to a troubling start. The No. 2 overall pick recorded nine interceptions through his first six starts, leading the Jets to a 1-5 record. He was eventually removed from action due to a knee injury, which he is still working his way through.
Mike White is trying to dethrone Zach Wilson as the Jets' QB1
To make matters worse for Wilson, the Jets' offense immediately improved after being replaced by 2018 fifth-round pick Mike White. During his first career start, the career backup passed for 405 yards and three touchdowns, knocking off the Joe Burrow-led Cincinnati Bengals in Week 8.
It was a somewhat awkward experience for everyone involved. The general thought process was that New York's below-average roster and coaching staff were making life harder than it needed to be for Wilson. However, a no-name backup like White coming in and dominating proved such a theory incorrect.
With White set to remain under center for the foreseeable future, Wilson is starting to look inward to why he struggled so greatly during his first taste of NFL action.
Zach Wilson says he needs to play more like Mike White
When asked about the difference between a Wilson-led Jets offense and a White-led one, Wilson revealed a lot of it has to do with White's willingness to take the check-down and play conservatively at times.
"I would say my style of plays needs to get more like that," Wilson said, referencing White's ability to avoid risky throws down the field.
While Wilson's arm strength is the primary trait that got him drafted No. 2 overall in the first place, he has a point here. Wilson spent most of his first few starts chucking up deep shots into tight coverage. This style of quarterbacking resulted in a lot of interceptions and a miserably low completion rate (57.5%).
There's a time and a place to take the deep shot and show off the arm strength — guys like Aaron Rodgers and Russell Wilson are known for it. However, as a rookie, Wilson unquestionably needed to start slower.
What next for the Jets?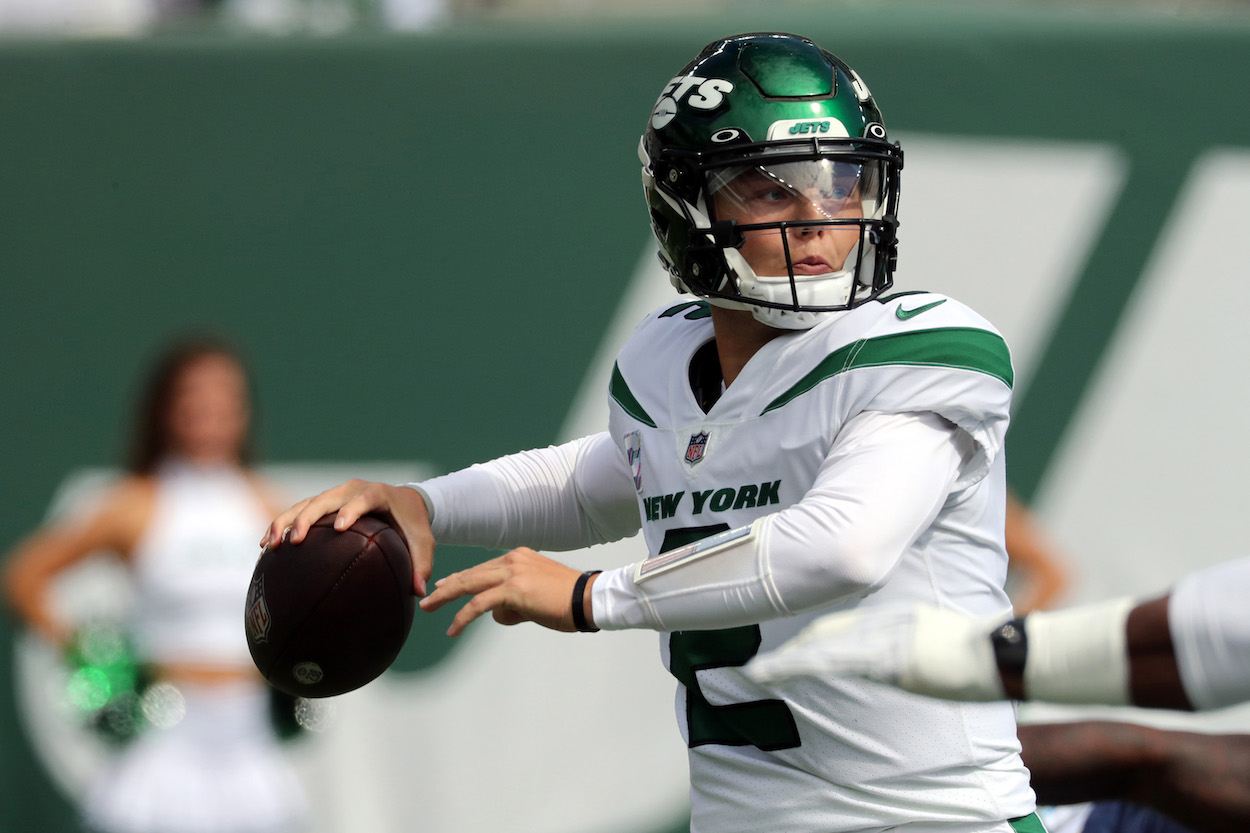 According to Ian Rapoport, the Jets aren't opposed to keeping White in the starting lineup moving forward. This sounds pretty silly considering the premium draft pick the team spent on Wilson. However, there's something to be said about allowing Wilson time to learn and grow.
The San Francisco 49ers, for example, are sticking to the plan of allowing Trey Lance an entire season to develop. Former first-round pick Jordan Love is in year two with the Green Bay Packers, and he's still only made one career start. This isn't an uncommon strategy.
Time will tell if the Jets resign Wilson to a bench role (one bad Mike White start could cause them to change course). However, Wilson acknowledging his over-aggressiveness is a step in the right direction for him personally.
All stats courtesy of Pro Football Reference.