MLB: 5 Stud Starting Pitchers are Struggling, and Here's Why
A baseball team can't win without an ace pitcher in their starting rotation. Elite starters can dominate and control a baseball game in ways other players can't. Unfortunately for five top-line starters, they've been unable to replicate their past success in 2019. Let's take a look at why these five stud starting pitchers are struggling. (All stats are as of June 27, 2019).

Blake Snell, Tampa Bay Rays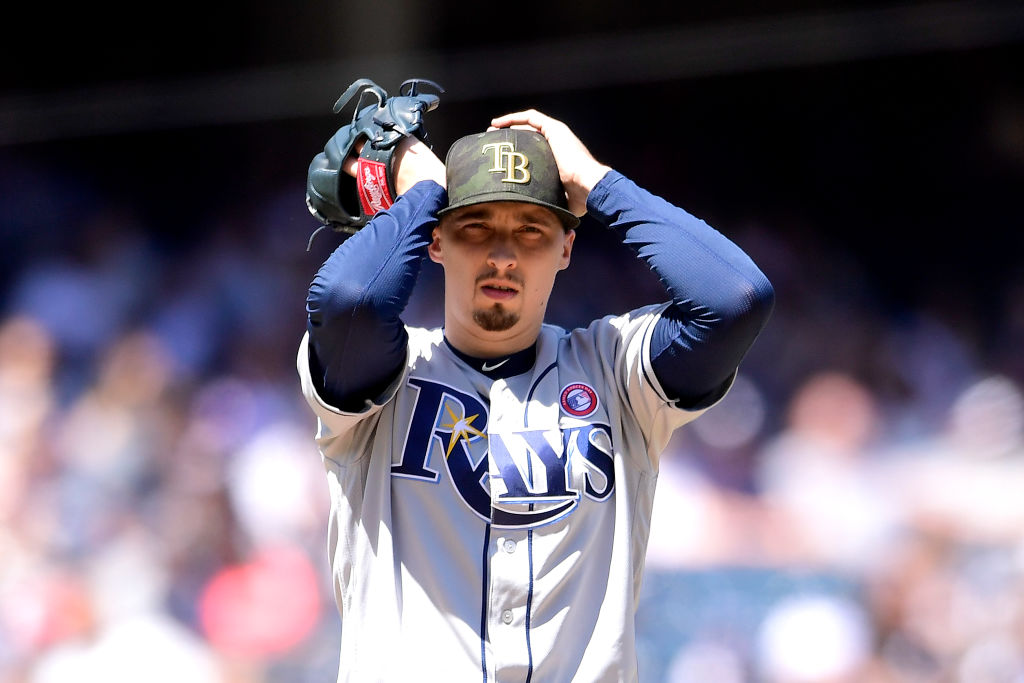 Blake Snell established himself as one of the best starting pitchers in baseball when he won the AL Cy Young Award in 2018. This year, he saw his ERA jump over two runs in June. He's had issues even before this month.

According to the Tampa Bay Times, Snell is having control issues this year due to over-reliance on his offspeed pitches. To improve, it appears Snell will need to mix in more fastballs while working with the Tampa coaching staff on getting better location on his breaking balls.

Aaron Nola, Philadelphia Phillies
Aaron Nola had it all last year for the Philadelphia Phillies. He went 17-6 with a 2.37 ERA. He played in the All-Star game, and he finished third in the Cy Young voting. That's why they gave him a fat extension.

This year? His ERA has skyrocketed to 4.55. What's Nola's issue?
It could be the home run ball. He gave up 17 all of last season. A week before the All-Star break and he's already surrendered 14. He's sure to surpass last year's total.

Jacob deGrom, New York Mets
Last year, Jacob deGrom was one of the best starting pitchers in baseball with an unfathomable 1.70 ERA. This year, he started 4-6 with a 3.25 ERA. For most pitchers, that's an ERA they can live with. But after deGrom's mind-boggling 2018, the elevated ERA has given Mets fans pause over why deGrom isn't pitching quite as well as before.
Earlier this season, SNY provided four explanations for deGrom's struggles:
His chase rate is down. That means that batters aren't swinging at balls outside the strike zone as much as they did before. It could betray a lack of command.
Hitters are making harder contact.
He's surrendering more line drives and fewer groundballs. Groundballs lead to outs and sometimes double plays. Line drives, many times, lead to base hits.
The launch angle on hits against him is way up. Batters are having an easier time driving the ball against deGrom.
Mike Foltynewicz, Atlanta Braves
On June 22, the Atlanta Braves lost to the Washington Nationals, 13-9. What was remarkable about that game, was that Mike Foltynewicz, a pitcher that last year went 13-10 with a 2.85 ERA, surrendered eight runs on eight hits.

Foltynewicz's ERA this season is an astronomical 6.37, and the Braves sent him down to AAA to work things out. It's a stunning departure for the 2018 All-Star. If you ask Foltynewicz, the cause is a spring training injury that gave him a "mental block."

The Braves are in a good position to win the NL East despite Foltynewicz's issues. Now it's up to him to iron out his problems in the minors and work his way back to being a top of the line starter in time for the Braves' playoff run.

Patrick Corbin, Washington Nationals
The NL East has all the bad luck when it comes to struggling starting pitchers. Corbin was one of this postseason's most sought after commodities. Both the Yankees and Nationals put the full court press on to sign him, with Washington coming out on top. He was supposed to make up a bulletproof top three for the Nationals behind Max Scherzer and Stephen Strasburg.

After pitching well in the earlier part of this season, Corbin has struggled as of late. Corbin is 7-5 overall this season with a 3.71. The record and ERA aren't horrible, but taking a closer look at his recent starts paints a different picture.

Corbin's ERA in June climbed to 4.50, and he's surrendered 11 home runs. It's hard to tell what's gone wrong for Corbin, but his big deal isn't looking like a great deal at the moment.

That doesn't mean the Nats made a bad investment — yet. The Nats are struggling, and if they have any chance of climbing back into the playoff race, they'll need Corbin to play a big role.