Sue Bird Forgot Megan Rapinoe's Dad's Name On Camera and Realized 'That's Gonna Haunt Me for the Rest of My Life'
Sue Bird is this generation's WNBA superstar, having now led the Seattle Storm to four championship wins under her watch. Megan Rapinoe captains the OL Rain and headlines the dominant USWNT in soccer. Together, they're a sports power couple.
They're also one of the more open celebrity couples. Rapinoe has always been a vocal figure in American sports, both refreshingly blunt and enthusiastic. The more reserved Bird prefers to let her time on the court do most of the talking. Together, they have an easy rapport that makes for great interviews. That includes sharing some of the goofier, embarrassing moments that any newly engaged couple runs into.
Sue Bird and Megan Rapinoe are at the height of their sports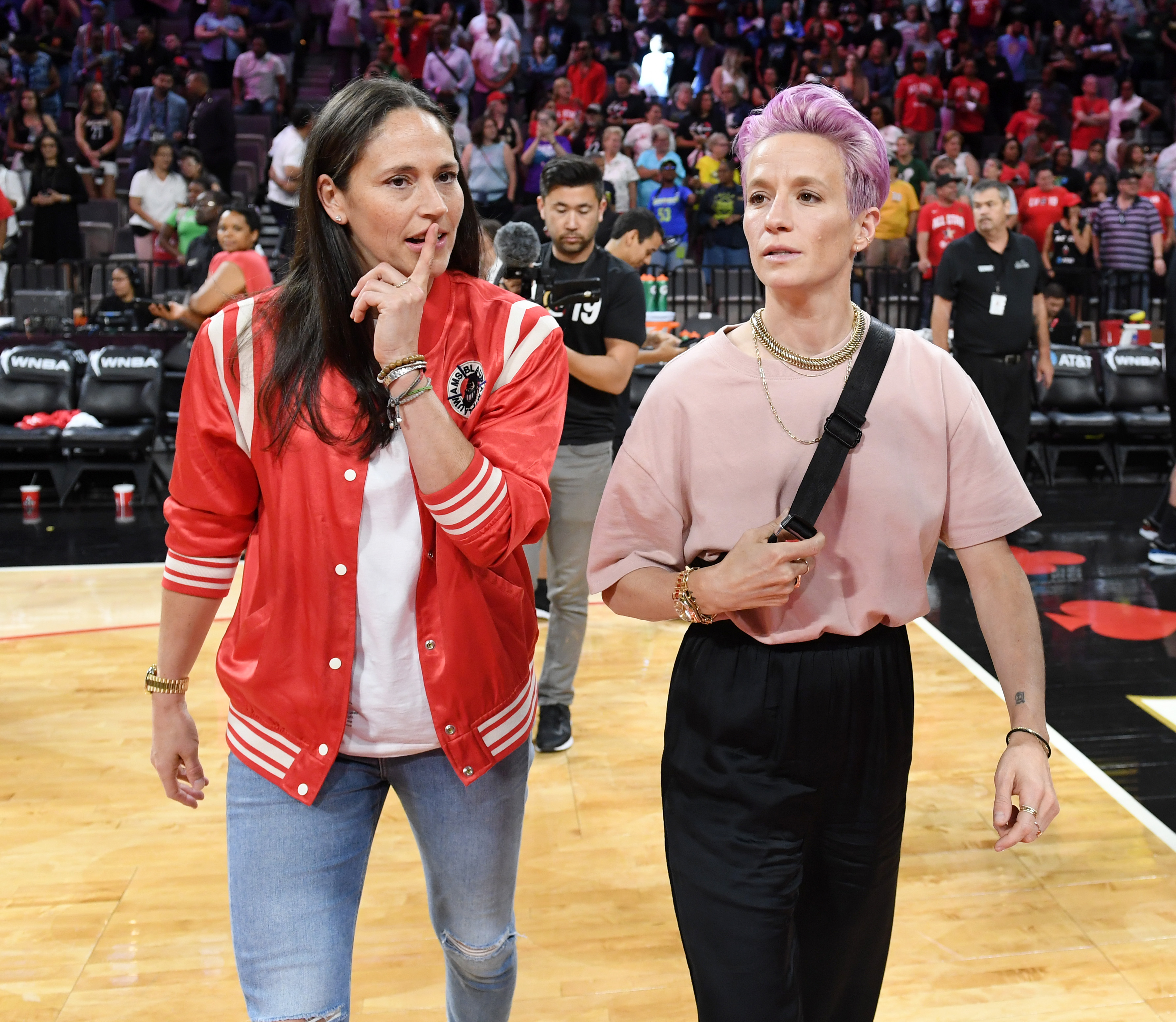 Bird came up through the famous UConn women's basketball system. Knee injuries knocked her out of her freshman year, the first sign of what would become a recurring injury. After her recovery, she emerged, as Yahoo Sports reports, as the biggest name on the best NCAA women's basketball squad of all time.
Drafted by the Storm just after that historic run, she continued her momentum. The knee issues that came back to steal her 2013 and 2019 seasons didn't stop her from winning four titles for Seattle so far. She also won four gold medals with the U.S. women's Olympic team.
Rapinoe's history is notably similar. She grew up with soccer and played for a notably strong women's program at the University of Portland. ESPN reports that a torn ACL ended one of her seasons there. She recovered and moved on to an Olympic gold medal performance in 2012. On the FIFA stage, after a second-place finish, she was instrumental in World Cup wins in both 2015 and 2019.
How Bird and Rapinoe met
Bird and Rapinoe's lives colliding, despite coming from entirely unconnected sports scenes, makes a sort of sense. Their greatness in their individual fields, puts them in rare company, alongside the best active athletes in all sports. Both at home and internationally, their names are etched into the record books forever.
According to Oprah Magazine, the pair met while both participating in the Rio de Janeiro Olympics in 2016. They had an agent in common, one focused on top-level athletes. That was the connection that put them in touch, and Rapinoe made the first move by, in her partner's words, "sliding into my DMs."
The texting didn't stop after the Olympics wound down. When they both found themselves back home in Seattle, they kept chatting and hanging out. It turned romantic, and within a year and a half the pair moved in together.
That time Bird forgot Rapinoe's dad's name
Earlier this month, Bird and Rapinoe participated in a GQ profile on their power couple status. They shared all sorts of charming stories about their relationship, including the details of their poolside proposal. At points, the interview turns serious, dealing with the difficulties of staying close while their demanding schedules so consistently keep them apart.
Most of it, however, comes off like the two have a lot of fun with each other. During one moment, while GQ had them ask 43 questions to each other, Bird recalled a hilarious and relatable moment. While meeting Rapinoe's parents, Bird found herself tongue-tied. She had forgotten her soon-to-be father-in-law's name!
The two had a big laugh over it, and it even comes up again later in the interview. "That's gonna haunt me for the rest of my life," Bird says with a wry smile. It's a side of her that rarely appears in her WNBA demeanor. But here, chatting with her partner, that smile is a constant.