Summer League Star Gary Payton II Is Quickly Emerging as a Missing Piece in Stephen Curry's Pursuit of a 4th Title
The Golden State Warriors know what they have in star point guard Stephen Curry. They're slowly realizing what they have in his potential backup, Gary Payton II.
Payton, the son of Seattle SuperSonics legend Gary Payton Sr., joined the Warriors late last season as a defensive-minded backup. The former Oregon State standout's recent performances in the Summer League, however, should have the Warriors thinking about what the veteran guard can do when the real games start.
Gary Payton II's stock is rising in the NBA's Summer League
At 28 years old, Gary Payton II is much older than the bulk of his Summer League competition. But age is only a number, and it's certainly not stopping him from taking advantage.
As of publication, Payton led the Warriors' Summer League team in rebounds (7.0) and steals (2.3) per game. He added 11.3 points on 73.7% shooting from the field and 3.7 assists in his first three games.
Normally, the Summer League is an opportunity for rookies like Detroit Pistons guard Cade Cunningham, the No. 1 overall pick, to show off their skills. However, Payton has been among those going viral for clutch plays and high-octane dunks in Las Vegas.
The veteran guard even caught Los Angeles Lakers star LeBron James' attention after a recent dunk. 
"Gary Payton II [that] was NASTY!!" James tweeted.
The Warriors have an intriguing decision to make on Payton's future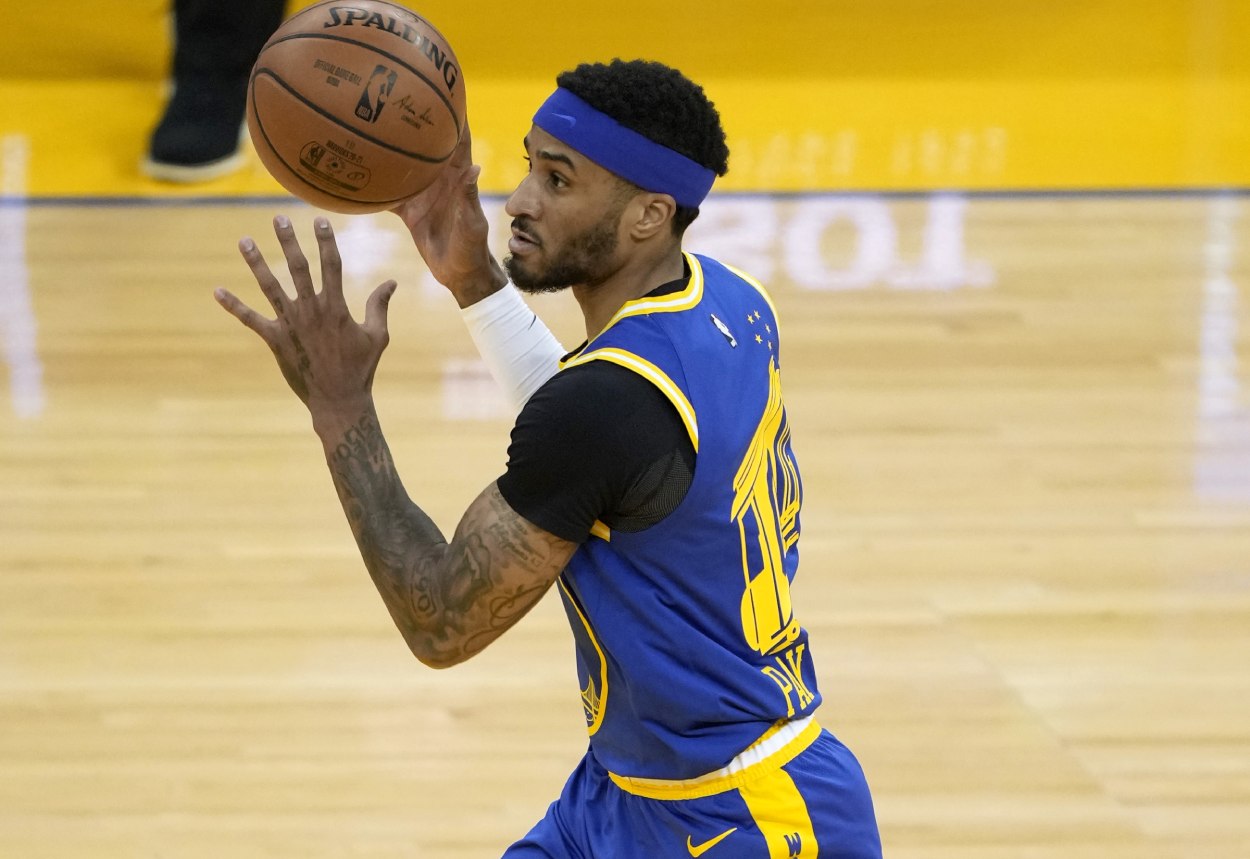 Many NBA Summer League players are either on their rookie contracts or competing for training camp offers. Technically, Payton doesn't fall into the latter group.
According to NBC Sports, the Warriors recently pushed back Payton's partial guarantee date back to the start of training camp. Originally, the Warriors had until Wednesday, August 11, to either waive him or pay him roughly $659,000.
Now is when things become extremely interesting. Payton cannot sign a two-way contract, meaning if the Warriors keep him for the 2021-22 season, he's on the active roster until further notice. In theory, the Warriors can save roughly $300,000 by waiving Payton and then re-signing him to a non-guaranteed contract.
However, Payton has played well enough that a team might want to take a chance on him if he hits the waiver wire. Although he turns 29 in December, he's also a point guard who can use his 6-foot-3 frame to grab rebounds and see action at small forward. Payton's defensive skills, both near the glass and when it comes to stealing the ball, make him an interesting player to keep near the end of the bench.
The Warriors need to do whatever they can to keep Payton around
Even if the Warriors keep Payton around, he's not likely to see significant minutes during the regular season. Curry remains one of the NBA's top players and his backup, Jordan Poole, averaged 12 points per game in 19.4 minutes last season.
With that said, Warriors head coach Steve Kerr has always appreciated those who excel at defense. Draymond Green blossomed into a star and triple-double machine under Kerr's tutelage. Juan Toscano-Anderson, who bounced around several professional leagues before finding a home with the Warriors in early 2020, has provided significant defensive value off the bench.
Maybe Payton is exactly what the Warriors need. He could be an 11th or 12th man who comes into games solely when Kerr needs a stopper, not a shooter, who can rotate in at shooting guard or small forward. Clutch defensive stops mattered as much as Curry's scoring prowess when the Warriors won three titles in the 2010s.
Again, no one is asking Payton to replace Klay Thompson as Curry's other Splash Brother. But if the Warriors want a defensive stopper who can help win games in an always-competitive Western Conference, they may not need to look very far.
Like Sportscasting on Facebook. Follow us on Twitter @sportscasting19.
RELATED: Steve Kerr Credits Warriors Rookie James Wiseman for Changing His Life for the Better