Sunday Night Football: Ranking Top Storylines to Watch as Green Bay Packers Clash With Chicago Bears in Week 14
Sunday Night Football in Week 14 brings us a heated matchup between the Green Bay Packers (9-3) and Chicago Bears (4-8). It's one of the oldest rivalries in the NFL, and it may be the nastiest.
Despite Aaron Rodgers playing for one and owning the other, these two franchises don't like each other.
Though the two teams couldn't be heading in a more opposite direction, there is still a lot to look for as Green Bay and Chicago clash under the bright lights of Lambeau Field in December.
Here's a ranking of the top storylines to watch on Sunday Night Football.
5. Who are the Packers giving the ball to on Sunday Night Football?
Green Bay is lucky enough to have a "thunder and lighting" situation in the backfield with Aaron Jones and A.J. Dillon.
Jones is a fast, explosive, and dynamic runner. He's shifty and can take a small gap and turn it into a 70-yard touchdown. Dillon is more of a ground-and-pound back. He's the guy you put in when you want to just beat up on the opposing defense.
Head coach Matt LaFleur has done a great job of using both backs as complements to each other this season. To that point, Jones has 133 rushes for 564 yards and three touchdowns. Dillon has 128 rushes for 543 yards and two touchdowns. Both running backs can also make an impact in the passing game.
With the weather getting cold in Green Bay, will LaFleur lean on the bigger and stronger Dillon in an effort to keep Jones fresh for the playoffs?
It will be interesting to see Green Bay's game plan in the backfield.
4. Is Justin Fields providing a spark for the Chicago Bears?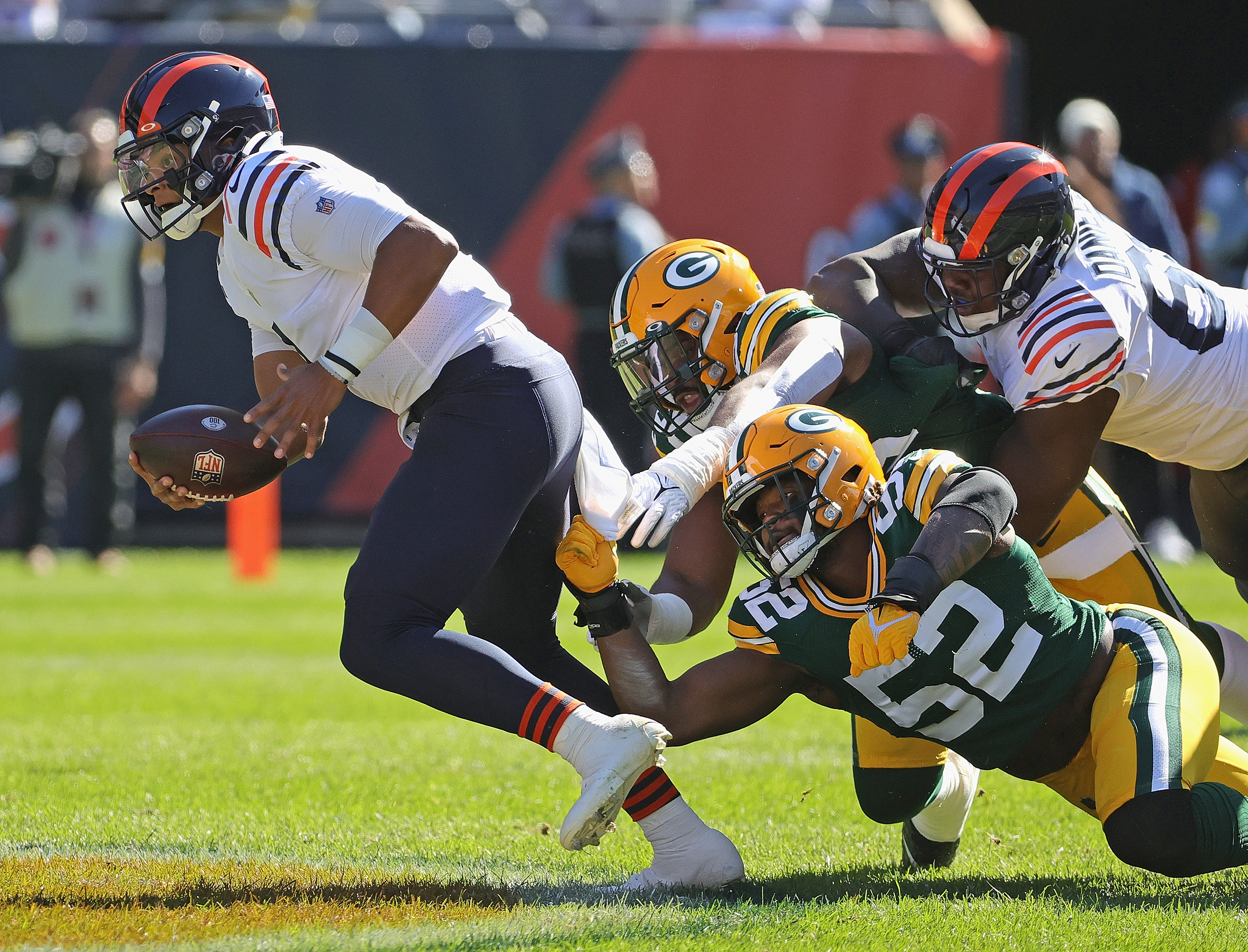 Rookie quarterback Justin Fields has been out for Chicago's past two games with a rib injury. He's been cleared to play in this contest, though he is expecting to play through some pain.
With that said, he's about the only bright spot for the Bears this season, and that's even considering the fact that he's thrown twice as many interceptions (eight) as touchdowns (four).
He's Chicago's best chance to make life challenging for an otherwise stout Green Bay defense, ranked No. 5 in the league heading into this game. If Fields can use his legs to get Green Bay in space and then make the Packers pay downfield when they overcommit, he could make what should be a blowout, on paper at least, interesting for Chicago.
3. How are Aaron Rodgers and his toe looking?
Rodgers may have the most famous pinky toe in the world. It's been written about in the Wall Street Journal and has even made a close-up in a press conference.
Silliness aside, the toe injury has been enough to keep Rodgers out of practice for a few weeks now. He recently said it has been feeling better, much in thanks to the bye week, but if that pain doesn't go away, it could seriously hinder the Packers as they prepare for what they hope is a long playoff run.
It will be interesting to see how the world's most famous toe holds up at night and in the cold at Lambeau Field.
2. Can the Green Bay Packers stay healthy?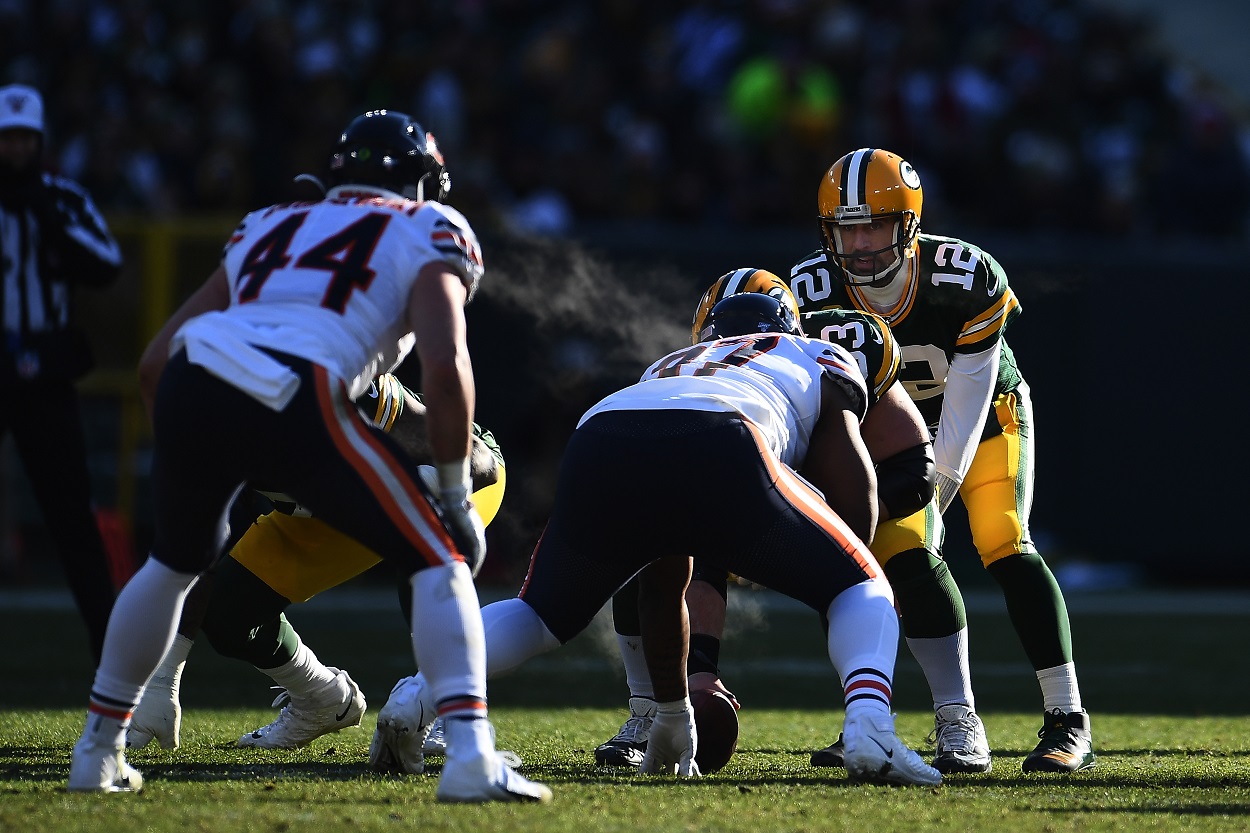 This point is a companion piece to the one above. The injury bug has hit the Packers harder than just about any other team in the NFL. They've been down several star players this season, but there's a chance Green Bay ends up getting healthy in time for the playoffs.
In particular, it will be interesting to see if and when Jaire Alexander, David Bakhtiari, and Za'Darius Smith can make it back into the lineup. None of the aforementioned superstars are expected to suit up against Chicago, but their return could be nullified if anyone else is injured in the lead-up to the playoffs.
Not only do the Packers need to get healthy, but they need to stay healthy as well.
The cold weather makes every bit of contact feel that much more intense. It will be interesting to see how Green Bay plays in the cold, considering the injury situation the Packers have been dealing with.
LaFleur will undoubtedly be pushing to get a big lead early so he can get some of his star players onto the bench.
1. Will the Bears show up for Matt Nagy on Sunday Night Football?
Head coach Matt Nagy is about as close to a lame-duck as an NFL head coach can get. He's been a disappointment for Chicago in many ways, and this 4-8 season has really brought out the worst of that feeling.
When "Fire Matt Nagy" chants pop up everywhere, from Illinois basketball games to his kid's very own high school football game, you know it's probably time to cut ties before things get out of hand.
Nagy, a supposed offensive genius, wasn't able to make anything out of Mitch Trubsiky, who the Bears drafted with the second overall pick in 2017. This season has shown that he really shouldn't be trusted with the development of Fields, either.
There was a rumor that he'd be fired after the Thanksgiving game in Detroit, which goes to show you just how far he's fallen since leading the Bears to a division win and a 12-4 playoff season in 2018.
His players probably know he's gone once the season wraps up, so just how much effort are they going to give him?
The Packers have a unique opportunity to steal the soul of the Bears by taking it to them on Sunday Night Football. If things go south in a hurry, will Chicago still play hard for its coach, or will the Bears fold like a cheap suit?
Stats courtesy of ESPN and Pro Football Reference.